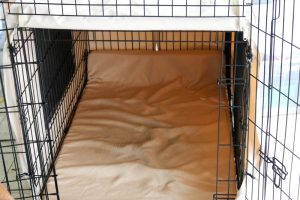 Using the best dog crates is a popular and effective training method for Dogs, they can be used from puppyhood all the way to adulthood. Dog crates are an effective training method and can be a home inside your home for your dog.
What is a dog crate?
A dog crate can also be known as a cage or a kennel and it's essentially a box-shaped home for your dog, typically the crates will have a door, sometimes two and it can be filled with the dog's bed, toys (for puppy and tough toys) and food (wet food or dry dog food) and drink. Most dog crates are cubed with 6 faces and can be usually sealed/closed. Dog crates are typically made of wire mesh, solid plastic or a solid, softer fabric.
The underside of the dog crate can have a removable tray in case your pooch has an accident while in there as well as making it easier to keep clean.
What should you look for in a good dog crate?
First of all, finding the best dog crate for you depends on what you need it for.
Best Wire Crates
Wire crates are probably best if it will be static in the house for a semi-permanent home for your dog, if you're training your dog to be housebroken and don't want them to be able to roam the house while you're out then the wire frame crate may be your best option.
Why choose a wire crate?
Sturdy and strong
Wire crates are typically made out of metal mesh which doesn't get damaged easily and the wire frames keep its cubic shape. The mesh will comfortably keep your dog inside safe and sound while giving the owner years of use, the strength of a crate is especially important for larger, stronger and more boisterous dogs.
Hygienic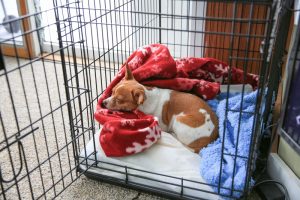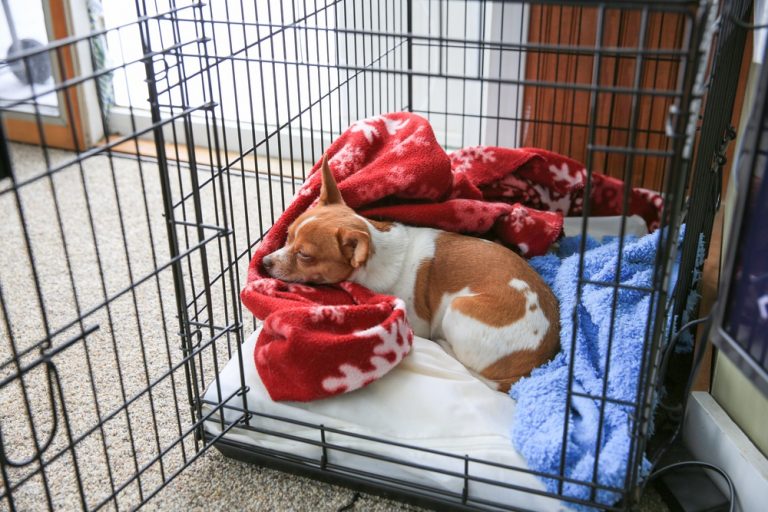 A wired crate is easy to clean with disinfectant sprays and the removable tray at the bottom. A power wash can thoroughly clean the wires themselves and it will dry without damage.
Breathable
Wire frames have excellent ventilation to allow your dog to breathe easily.
Portable
Usually, wire crates can collapse on themselves to be moved around easily. Make sure to get one that has this feature for increased portability.
When would wire crates not be the best option?
Wires are a tougher material than fabric and plastic which means a dog could hurt themselves more trying to get out. Let's be honest, a wire crate looks like a prison before any furnishings. Consider getting a blanket to put on top to give it a nicer exterior. Wire rates can be a noisy solution to a dog who moves around a lot, however this can be negated with soft furnishings inside. As the wire mesh doesn't cover much up, even the best wire crates for dogs can get a chilly if left in a colder room without furnishings on top.
Best Wire Crate For Dogs
COZY PET 36 inch dog cage. L 36.25 x H 24.5 x W 23 inches (L 92 x H 62 x W 58.5 CM)
Perfect for: Basset Hound, Beagle, Bull Terrier, Bulldog, Cocker Spaniel, English Springer Spaniel, Shar-Pei, Staffordshire Bull Terrier, Welsh Corgi, Whippet
Features: METAL TRAY, HIGH QUALITY CONSTRUCTION, CARRY HANDLE, FOLDS FLAT FOR EASY STORAGE AND TRANSPORTATION.
Best Plastic Crates
Plastic dog crates come in many different shapes and sizes as and as such there are no one way to describe them unlike wire mesh dog crates. Generally, plastic dog crates are used as a safe method to transport your furry friend. They aren't the most spacious of crates but they can be sealed easily so that the pooch comes to no harm. However, this is not to say that plastic dog crates can't be used as a permanent rest area inside a home or as a training aid but we wouldn't say they are primarily used for those reasons.
Bestseller No. 1

Bestseller No. 2

Sale
Bestseller No. 3

Why choose a plastic crate?
Easy to transport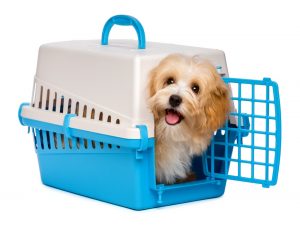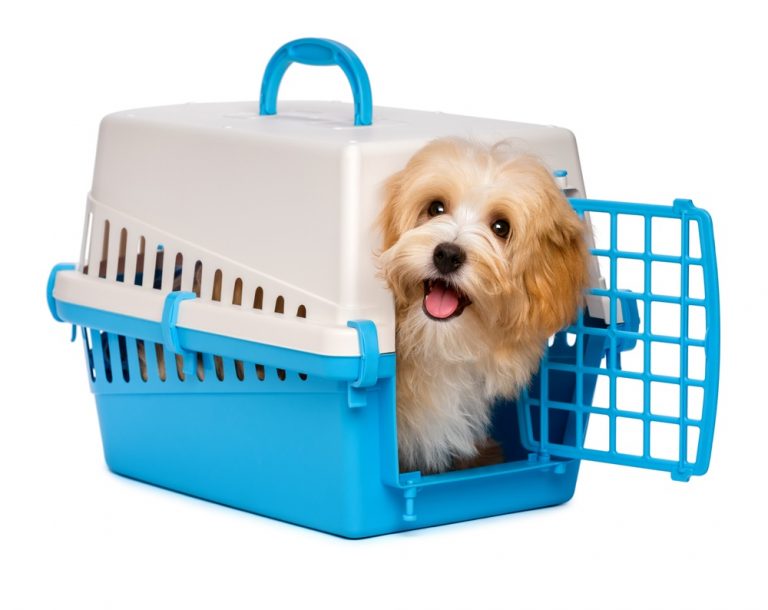 Plastic dog crates are easy to transport and typically smaller than usual so that it takes less space in a vehicle. Of course the difference in size means it may not be as comfortable as larger crates but they aren't designed for comfort but rather practicality.
Cosiness
Plastic crates can be cosy thanks to the smaller space and darker interior provided it's filled with a nice thick blanket.
Storage
Plastic dog crates are easy to store when not in use.
When would plastic crates not be the best option?
Ventilation
Plastic crates aren't as ventilated as some others, especially wire crates and may not be suitable for long stays for the dog.
Hygiene
Plastic dog crates aren't as easy to clean as some others, such as wire mesh versions.
Best Plastic Crate For Dogs
This dog kennel provides your pet with safety on long and short journeys due to its lockable snap fasteners.
It features Two large storage compartments offer extra space for treats and other accessories.
Includes a practical plastic food and water bowl which can be attached to the bars at the front of the cage.
Best Soft Crates
A soft, fabric crate is a versatile dog crate which can be used in doors and in a car effectively. It could be argued that a soft crate is the best dog crate for car use. A soft crate comes in a few shapes and sizes but usually in a 'dome' shape with a few windows and a door which can usually be zipped closed for safe transport and to keep the dog secure. Soft crates may not be the most spacious but they can be very cosy and rigid enough to make a car journey very comfortable for the mutt.
Why choose a soft crate?
Soft!
Soft crates are…soft! This means that it's a nicer environment for your dog and any rough behaviour wouldn't result in injury, a wire mesh crate for example can be hard if the dog was to be jerked around. A soft crate can take a knocking without hurting the dog on a car journey.
Easy to transport
Most fabric crates can be collapsed and moved around easily.
Warm
The fabric of a soft crate can help keep the heat in and help give your dog a nice warm sleep.
When would soft crates not be the best option?
Soft dog crates are not an ideal solution for permanent stays in the home, they can get dirty and are not easy to clean thoroughly. By their very nature, soft dog crates are easily chewable and badly behaved dogs can completely ruin the crate in a very short time. Other than that however, soft dog crates are a good option to have to be used from time to time.
Ellie Bo Dog Crates
Ellie bo are renowned manufacturers of dog crates mostly of the wired mesh varied. They are simple, cheap, easy to use and are made to a high standard. The Ellie Bo dog crates typically come with two doors, one on the front and one in the side as well as a removable tray at the bottom to make it easy to clean. Although you may have typically seen Ellie Bo dog crates in black, they also come in Gold and Silver. They also come in a variety of sizes to fit any dog.
More so, if you plan on crate training your dog from a young age you can get the Ellie Bo dog crate along with a crate divider so that you can gradually increase the size of the inside (too much space in the crate makes it easy for dogs to soil in them).
Sale
Ellie Bo dog crate
36" folding dog cage. Wire Diameter : 3 thicknesses utilised from 2.8mm to 4.8mm.
Folds flat for easy storage and transportation. Wire spacing 3.6cm
Two sliding latch mechanisms on each door to secure the cage.
Petsafe Dog Crate
The Petsafe dog crate is an outdoor dog crate/run made of galvanised steel that can keep your dog safe while outside. This is perhaps most suited in the spring or summer as the run doesn't protect the dog from the cold at all, obviously. The latch is dog proof and the metal is very strong, your dog won't be able to go through it and as long as you get the height right they won't be able to go over it either.
The petsafe dog crate is an ideal solution for those wanting to give their dog some outside time safely. Consider putting a kennel inside for them to be able to have a nap or get away from it all if they wanted to.
Croft Dog Crates
The Croft brand of dog crates are another high quality brand, they are even approved by crufts! Their crates, however, are pretty much the same as the other wire mesh crate with two doors, a removable tray and they fold onto themselves for easy storage. Perhaps if you only want the biggest branded dog crate then the croft range of dog crates might be the ones for you. Personally, as an owner of a crossbreed the Crufts name doesn't mean anything to me.
Croft Dog Crates
Approx Size 42 ins x 27 ins x 29 ins high
Two doors - one in short end plus one in long side
Includes easy clean plastic base tray
Last update on 2018-08-27 / Affiliate links / Images from Amazon Product Advertising API