When dogs suffer from flatulence, it can be extremely uncomfortable for them as they likely have some kind of problem digesting the food that they're eating. It could be down to an allergy to one or many of the ingredients or the food that they're currently eating are simply rubbish.
When dogs fart even at the best of times it's really smelly, even if you find it funny it's still not a good thing for your dog to go through. If you think back to when you yourself suffered from flatulence you most probably experienced cramps and a constant uncomfortable feeling. Your dog will too.
The most likely cause, prevention and even cure are through an improved diet of food with quality ingredients and free from anything unnatural and heavily processed. The resident Jug Dog has suffered from flatulence in the past and by switching the food it went away pretty quickly.
1. Lily's Kitchen Complete Dry Dog Food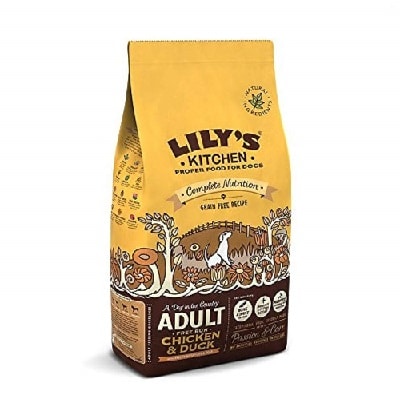 Lily's Kitchen Complete Dry Dog Food is the best dry dog food for flatulence. The food is extremely healthy with a generous amount of fresh meat (41%), fruits and vegetables as well as fish oil, and herbs and is completely free of preservatives and fillers.
Lily's Kitchen has topped almost every list of dry food choices for a long time now. My jug, Jeff, rarely suffers from flatulence so I feel from personal experience this is a solid endorsement.
The key ingredients which help reduce and prevent flatulence comes from the fibre gained from the vegetables and the sweet potato which encourages solid but soft stools. Fibre is a key ingredient of a healthy digestive system which keeps everything moving along.
Secondly, Lily's Kitchen contains prebiotics which is a proven ingredient to promote a healthy gut and reduce levels of uncomfortable gas. All in all, it has all the ingredients to prevent flatulence as well as cure it if they're currently suffering from it.
Ingredients (Chicken Flavour)
42% Freshly Prepared: Chicken 31%, Duck 8%, Chicken Liver 3%, Sweet Potatoes 30%, Peas 6.5%, Lentils, Pea Protein, Flaxseeds, Eggs, Chicken Gravy, Calcium Carbonate, Salmon Oil, Fructooligosaccharides 2.5g/kg, Mannan Oligosaccharides 2.5g/kg, Apples, Vitamins & Chelated Minerals, Carrots, Spinach, Cranberries, Glucosamine 175mg/kg, Methylsulphonylmethane 175mg/kg, Chondroitin Sulphate 125mg/kg, Botanicals & Herbs: Alfalfa, Rosehips, Chickweed, Cleavers, Golden Rod, Nettles, Kelp, Celery Seeds, Milk Thistle, Dandelion Root, Burdock Root, Marigold Petals, Chicory Root
Read More: Beginner Dogowner's Guide to Best High-Fibre Dog Food in UK 2022
2. Burgess Sensitive Hypoallergenic Dog Food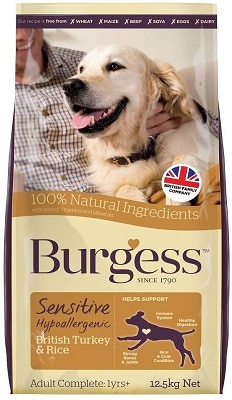 This blend of dry kibble from Burgess is designed for dogs with a sensitive stomachs and is ideal for dogs who tend to get flatulent even with regular dog food. The key ingredient in this bag is salmon which is a lean white meat which is easily digestible and low in toxins, and rice which is quickly digested and passes through quickly.
Lucerne is a powerful antioxidant which keeps the gut health in tip-top shape along with a prebiotic which more or less does the same thing. As the name suggests it is also hypoallergenic which will alleviate the problems faced by dogs allergic to some grains.
Beet pulp acts as the main source of fibre which helps the colon move the poo through healthily and gently and again a key component in a digestive system which is able to effectively break down food properly and grab all the nutrients it can. Burgess sensitive is great food in its own right but it gets top marks for having all the ingredients needed for a healthy gut and no bloating or smelly farts.
Ingredients (Turkey Flavour)
Composition: Rice (min 26%), Turkey Meal (min 26%), Unmolassed Beet Pulp (5%), Poultry Fat, Whole Linseed (3%), Digest, Fish Oil (1%), Lucerne Extract (1%), Oat Feed, Seaweed (0.5%), Salt, Dicalcium Phosphate, Fructo-oligosaccharides (0.1%), Yucca Extract (0.025%), Minerals. Analytical Constituents: Protein 21%, Fats and Oils 10.5%, Fibre 2.5%, Ash 7%. Nutritional Additives: Vitamin A (retinyl acetate) 35,000 iu/kg, Vitamin D3 (cholecalciferal) 3,000 iu/kg, Vitamin E (dl Alpha tocopheryl acetate) 180 mg/kg, Copper Sulphate Pentahydrate 32 mg/kg, Calcium Iodate Anhydrous 2.4 mg/kg, Sodium Selenite 0.33 mg/kg, Ferrous Sulphate Monohydrate 133 mg/kg, Manganous Oxide 16 mg/kg, Zinc Sulphate Monohydrate 333 mg/kg.
3. Scrumbles Natural Dry Dog Food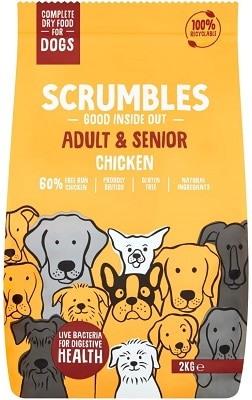 Scrumbles offers a blend of kibble which goes way beyond being hypoallergenic to help dogs suffering from flatulence as it is grain-free, egg-free, wheat-free, gluten-free and contains no dairy. This means that there's almost nothing in this food which could disrupt even the most sensitive of tums.
13% of it is oats which is one of the gentlest foods you can eat and is easily digestible and free from toxins. The vegetables and fibre come from alfalfa, linseed (a superfood) and carrot.
Lastly, perhaps the secret ingredient and one which could be supplemented separately if you so desired is slippery elm. This is a type of bark which has long been used to treat wounds and gastrointestinal ailments. This isn't voodoo, it really works!
Ingredients (Chicken Flavour)
Composition: 60% Chicken (35.5% Freshly Prepared Chicken, 21% Dried Chicken, 2% Chicken Fat, 1.5% Chicken Liver), Brown Rice (20%), Oats (13.5%), Alfalfa, Salmon Oil 1.8%, Linseed, Dried Carrot, Minerals, Vitamins Nutritional Additives/kg Vitamins: E672/Vitamin A 14,425 IU, E671/Vitamin D3 2,165 IU; Trace Elements: E1/Iron 160mg, E6/Zinc 135mg, E5/Manganese 105mg, E4/Copper 60mg, 3b202/Iodine 1.6mg, E8/Selenium 0.6mg.Gut Flora Stabilisers: Enterococcus faeciumDSM 10663/NCIMB 10415 1,000,000,000 cfu Analytical constituents Protein 28.5%, Fat Content 16%, Crude Fibre 4%, Inorganic Matter 6.5%, Omega 6 2.5%, Omega 3 1.1%, Calcium 1.5%, Phosphorus 1.2%
4. BETA Sensitive Adult Dry Dog Food Salmon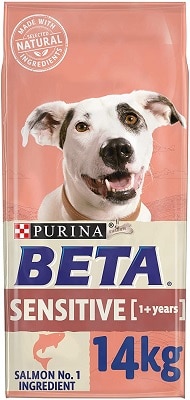 Purina's BETA kibble for a sensitive stomach is a well rounded dry dog food with gentle and natural ingredients to prevent bloat, stomach cramps and nasty smelling farts. It does this by using an easily digestible Salmon base which is lean with little fat and toxins.
Second, Purina has added a generous amount of vegetables and fibre in the forms of beet pulp, carrot, spinach and parsley. Vegetables are the main source of fibre and fibre helps promote healthy digestion and colon movements. BETA for sensitive stomachs should produce healthy looking and smelling stools.
Lastly, prebiotics is included which promotes a healthy gut and helps keep the good bacteria in the stomach fighting fit.
Ingredients (Salmon Flavour)
Composition: Salmon meal (17%), Wheat, Corn, Rice (14%), Soya Meal, Poultry fat, Dried beet pulp, Corn gluten, Minerals, Dried chicory root (1%), Digest, Fish oil, Dried carrot(0.07%), Dried spinach (0.07%), Dried parsley (0.07%).
Read More: 5 Best Wet Dog Food For Sensitive Stomachs
5. Barking Heads Dry Dog Food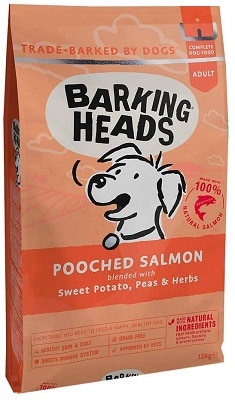 Barking Heads dry dog food is packed full of natural ingredients free from artificial colours, preservatives and flavourings. The main source of meat is chicken but it is fresh and free from chicken 'meal'.
They've gone for brown rice for the carbohydrates which is a lot easier and healthier to digest than white rice, although there are a little included (I wonder why?). Oats have been included which are easy to digest and don't produce any gas.
Perhaps the most important feature of this food is the sheet amount of vegetables and herbs included which are peas, seaweed, tomato, carrot, marjoram, basil, oregano, sage and parsley. The bulk of the fibre comes from the peas (4% of the composition) with the rest of the veg and herbs there to provide nutrients and reduce the SMELL of the farts.
Ingredients (Chicken Flavour)
Composition: 55%* Chicken includes – Chicken*(34%), Dried Chicken*(21%), Brown Rice (19%), Oats, White Rice, Trout, Lucerne, Peas (4%), Sunflower Oil, Chicken Fat, Seaweed, Glucosamine 355mg/kg, Methylsulfonylmethane 355mg/kg, Chondroitin Sulphate 250mg/kg, Tomato (0.4%), Carrot (0.4%), Mixed Herbs (Marjoram, Basil, Oregano, Sage, Thyme, Parsley) (0.4%), Minerals.
Why do dogs fart?
Dogs fart for the same reason as humans. There is a build-up of gas in the colon and it is released at the other end. It's completely natural for dogs to fart from time to time and yes they probably won't smell pleasant. It mostly happens from swallowing too much to eating the wrong kinds of foods.
The primary cause of problematic flatulence which 'is excessive flatulence' is down to diet. Everything they eat must come out and if they eat stuff that either aggravates the stomach (allergies) or is of poor quality then you'll see the results in their farts and stools.
1. What can cause problematic flatulence in dogs?
There are a number of causes for dogs to become excessively flatulent to the point where it causes them pain and discomfort. Just like PetPlan, Pets Web MD points the finger squarely at a poor diet. The two culprits are low-quality food and the other is ingredients which cause an allergic reaction.
Poor quality ingredients can be difficult to break down, contain a lot of indigestible nasties and have a low number of nutrients and minerals. As these ingredients get digested they can upset the stomach and release a higher than usual level of smelly gas. Until that gas is released they can suffer from severe cramps, foul-smelling gas and diarrhoea. Not great.
2. How to reduce flatulence in dogs
Changing up your dog's food is the first port of call to reduce doggy bloat and gas. Purchasing and feeding your dog food which contains natural ingredients and as little processed stuff as possible can make an instant impact.
However, their twice a day meal is not the only time they ingest food so you'll need to keep a watchful eye on scraps and what they scavenge when nobody's looking. PetMD has an extensive article on the dangers of scraps.
If the only food they eat is what you give them then you'll know what the cause will be and therefore be better able to administer the relief. If they are eating a fantastic diet and still suffer from flatulence then a trip to the vet is needed to see if they have an underlying condition such as IBS which will need medication.
Read More: Why does my dog eat soil?
Ingredients Which Help Reduce Gas in Dogs.
From our extensive research on dog foods which help with farting, here are some common ingredients and their benefits for tackling the issue
Lucerne – Also known as alfalfa, Lucerne is a legume which is high in protein, fibre, vitamins in minerals. Lucerne is a useful ingredient in dog food due to its high fibre content and ability to rely less on animal proteins from meat.
Fibre – Fibre is arguably the single most important nutrient for digestion. Fibre is used to bulk up stools and help the waste travel along the colon. Poor quality diets lack a lot of ingredients which have fibre and can cause a whole host of problems. Fibre is most commonly found in vegetables which are often overlooked by manufacturers who are out to just make the cheapest possible product at the expense of your dog.
Prebiotics – Prebiotics is an umbrella term for a type of fibre that helps feed the good bacteria in the gut. Roots are a common source of prebiotics and manufacturers may sometimes name the specific root or they may simply use the general term.
Slippery elm – Slippery elm is a type of bark which contains a really special kind of fibre called mucilage. Slippery elm is commonly used in dog food to prevent and treat inflammation and is common in dog food designed to manage IBS and IBD.
Yucca extract – Yucca is a type of plant which can act as a powerful antioxidant and reduce the odour of gas and faeces.