Many people see static dog leads as a little cruel as it gives them very little freedom to explore and they are quite literally tethered to the owner at short range. Oftentimes, the dog is happy to be walking close and can still enjoy the walk. However, sometimes they can pull suddenly when they see a bird or a squirrel or just another dog they want to sniff and say hello.
Using any kind of dog lead, though, keeps them safe from the dangers they simply don't understand like a busy road or an aggressive dog. When used correctly with plenty of training they should be an essential tool for every owner.
Extendable dog leads, however, offer the best of both worlds – they still remain tethered and at a safe distance but allow them much more freedom to be able to sniff and say hello at their leisure. An extendable dog lead is still a static lead if you choose to do so but gives you the option to allow them to explore a bit more.
We have only really used extendable dog leads with Jeff and we have never looked back. He is a dog who's great at being off the lead and we believe these kinds of leads helped him achieve great recall and obedience. We've been through quite a few extendable and retractable leads in our time and this article highlights which 5 we feel you should consider.
Best Extendable Dog Leads Reviews
1. Flexi New Comfort Retractable Tape Lead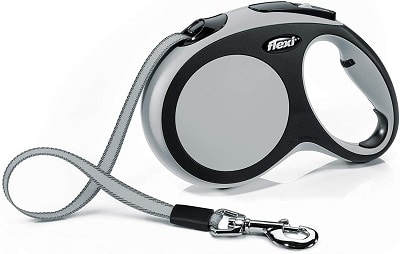 The Flexi brand is to the dog lead industry as to what Nike is to shoes. It's tried and tested over many years, widely available and very reliable. This is the model we currently use with Jeff and the only time we've had to replace is when he's chewed through the tape.
The handle is very ergonomic and comfortable to hold regardless of the size of your hands. The plastic has been softened which won't cause rubbing over a long period of time and it's easy to grip tightly and solidly if your pooch decides to bolt. The softness can help with it slipping but it is not totally "non-slip" in the rain.
The break system is easy to reach with your thumb for when you need to stop him or her in their tracks easily. The tape comes out smoothly and is surprisingly strong – it really won't snap no matter how much they pull (unless you've chosen the wrong size for your breed).
There is a safety plastic on the end of the tape just before the attachment hook so that it doesn't get worn down, similar to the way Apple chargers always break at the end. You can hook attachments on but there are not built in ones so you'll need something else to carry the poo bags and perhaps a dog treat bag.
You can get this model in a large amount of sizes for any breed with tape lengths varying from 5m to 8m. We use the 5m. Dogs from 8kg all the way to 60kg can use this. This extendable lead will work perfectly for you and last you a very long time.
2. TUG Patented 360° Tangle-Free, Heavy Duty Retractable Dog Lead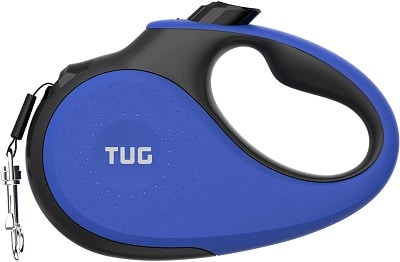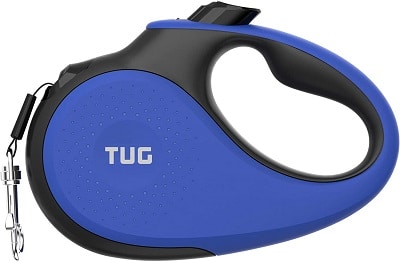 The TUG heavy duty extendable dog lead is an online best seller with over 6,900 happy customers on Amazon alone. One of the main reasons for this is because they've created their own patented technology inside which makes the tape mechanism smooth and superbly secure with fantastic feedback to the owner's hands.
The handle is made using soft, dimpled plastic which gives excellent grip against your hand, The ergonomically designed handle makes it easy to hold and won't tire you out. When we tested it we really could feel the difference between this and cheaper brands. Jeff doesn't pull but he does go on long walks and often our hand grip begins to weaken – not with this one.
The 16ft (5m) tape is the same as every other which is tightly woven nylon, however the magic happens inside with the use of smooth stainless steel which makes the tape come out smooth as silk but able to stop the dog in an instant. The tape comes out of a grooved hole which stops tangles and lets the tape come out at a full 360 degree angle. Ideal for active dogs.
The stop start switch up top is chunky and easy to flick with a thumb even for the meekest of hands.
This is a superbly crafted extendable dog lead which can be purchased at less than £20 in most cases.
3. flexi VARIO Retractable Cord Lead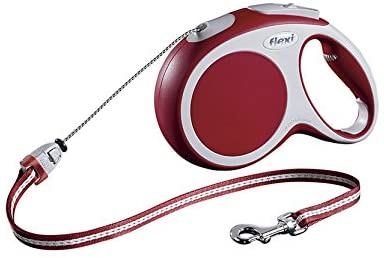 If tape isn't your thing and you would prefer a cord then the Flexi Vario range is the one for you. It uses the very same ergonomic hand grip as their other range except the nylon tape is sweapped for a cord. This gives the owner precise and quicker movements at the expense of toughness.
The dual coloured handle is made using really tough, soft plastic which creates resistance between the handle and your hand but not enough to cause burns. The handle itself has been designed so that the human hand wraps around it naturally without the need for a tight grip. Even during a long walk your hand won't get tired.
At the end of the cord is what's called a 'bite belt' and what it does absorb is the energy caused by quick jerks so that it doesn't twist or cause damage to your wrists. Even if your dog was to move quickly and pull you won't feel a thing with the Vario and it's one of the benefits of a cord over tape.
However, the Vario offers a longer range (8m) at the same cost as a smaller tape version giving better value for money if you have a low activity dog that is unlikely to pull and jerk you around.
The Flexi Vario is an outstanding corded dog leash which makes every walk as comfortable as the next and won't break the bank!
4. Petacc Ant-Bite Extendable Dog Lead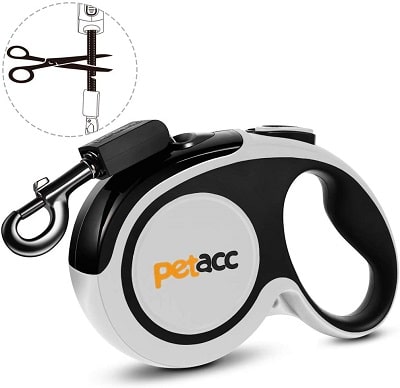 The Petacc Anti-Bite extendable dog lead is a fantastic model which pushes the unique selling point of a tougher and thicker tape with a really cool TDR buckle which can be used to snip off any chewed off bits so that you can continue to use the lead as normal. Hard to explain but basically it has a very long shelf life for owners of dogs who chew their leads to bits.
That is the unique selling point but not the only thing it does. The handle is ergonomically made and strikingly similar to pretty much every model we've seen so far. Nice and smooth yet grippy plastic shaped in an easy to grip handle which makes a pulling dog easy to control.
The break button on the top is easy to press for normal sized hands but we did find that it would make areas of the thumb slightly sore after prolonged use.
The tape comes out smoothly at a 360 degree angle which reduces snagging and the chances of the tape getting tied up in knots. The length is pretty standard at 5m and able to support dogs of up to 50kg. It is indeed a heavy duty extendable dog lead and a good one at that.
No products found.
5. Me & My Pets 5m Retractable Dog Lead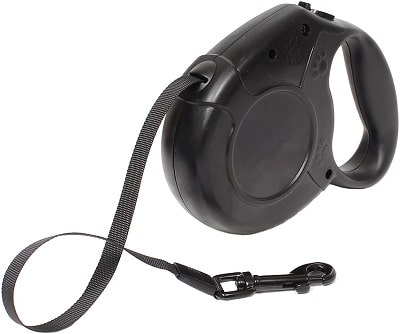 As is customary on most product roundup lists, we have included a super cheap budget version – there are loads of cheap extendable dog leads about so we had to be careful not to include just any version. Out of all of them, we felt that me & my pets offer the best value for money.
This review will sound negative because it's simply not on par with the others from a quality point of view but please bear in mind as this is half the price.
The handle is made with hard smooth plastic which offers very little in terms of grip, however it is ergonomically shaped and easy to hold in your hand regardless of the size of your hand. However, when you consider the price the handle is more than good enough and this extendable dog lead never actually slipped out of my hand.
The 5m tape material is plenty strong and can easily hold dogs up to around 20kg. It's not suitable for owners of really big or really strong dogs. We did, however, encounter a few moments of snagging during a walk. It very rarely happened but it did happen. The mechanism where the tape comes out just isn't quite right.
To summarise, this extending lead can be purchased comfortably for less than £10 and will do the job perfectly fine. It's not as grippy or intuitive as the others but we see them as 'nice to haves' but not a necessity. This one will do fine.
Are extendable dog leads better than normal leads?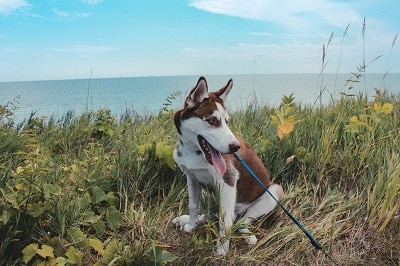 What lead you choose to use really is a matter of taste and preference but it is one of the most important decisions you can make as an owner. That seems over the top for something so simple but it's true. The type of lead you use (if you stick with one over a period of time) determines how they behave on a walk. To put it simply, it will determine how they behave when they want to explore while on the lead – will they feel they can just walk over or will they still stay close because they know they're always tethered.
In regards to which is best, there's no right or wrong answer but we will say that dogs who are tethered with an extendable dog lead need more attention paid as they have more freedom to be able to get into dangerous situations.
Here are the benefits of an extendable dog lead
Gives your dog greater freedom to explore their immediate surroundings.
Reduces the pressure on your dog's neck
Helps be able to transition from being on the leash to off the lead
And here are some of the drawbacks
Not as effective to train dogs to walk close
Can be expensive
Both extendable leads and static leads are good but it really does depend on your taste and budget.
What is the difference between tape and cord leads?
There are a couple of differences between the two types of extendable leads and they are big enough to pay attention to. The best resource we found on this that will explain it better than we can is here. We will summarise:
The tape models are much tougher and will take much longer to be chewed down. Plus, they are better at handling the reverberations from a quick jerk of a pulling dog. It's less harsh on the body parts of both the dog and owner if they get into a tangle (rope burns). Lately, tape leads can sometimes tangle inside the mechanism and temporarily stop working.
Corded leads are made out of the same material as the tape (nylon) but wrapped tightly into a rope. Corded leads are the original extendable leads and is the precursor for the tape models, because of this we feel that corded leads do not have many benefits over tape. For one, they can be painful in a tangle if they rub against skin and two they are much easier to chew and snap. That being said, they don't knot up and tangle.
Are retractable dog leads dangerous?
We agree with PetFirst that extendable dog leads CAN be dangerous. The danger comes mostly from the owner and a lack of attention, a dog could quite easily run into the road if the auto break isn't turned on and you're not paying attention.
Retracting leads also create a potential tripping hazard for those around, again if the owner isn't paying attention. A malfunctioning lead or a damaged one could cause an immediate issue and lastly as we've already mentioned – a rubbing extending lead can burn skin.
These leads are not inherently dangerous in the same way a gun is not dangerous if it's not in someone's hand. Owners should be extra vigilant when using an extendable lead and if done right pose no more danger than a regular leash.
What is the longest extendable dog lead?
The longest extendable dog lead which uses the same technology as the above list is usually 10m, which is actually very long. Any longer and it would be too slack and ineffective. If it's an extra long lead you're after there are some going up to 25m but they are not extendable and are just a long piece of rope.
Related Articles
Last update on 2023-10-19 / Affiliate links / Images from Amazon Product Advertising API