Dog bike trailers are a great product for people who want to get out and about with injured, seniors or dogs who are unable to travel the long distances required. They'll get to enjoy the sites and sounds of the world whilst being in total comfort for the whole journey. 
There's no denying the importance of being exposed to fresh air and nature for a dog. If you're down about your dog struggling with mobility issues then this can make wonders for your dog's mental health as well as your own and you can both finally enjoy the great outdoors but in a different way.
In this article, we're going to look at the best dog bike trailers you can buy in 2020 by looking at the key features such as stability, quality of materials, ease of installation and how comfortable the little box is for them.
1. PawHut Folding Dog Bike Trailer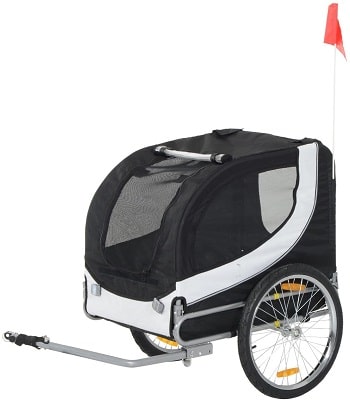 The PawHut folding dog bike trailer is the best dog bike trailer you can buy in the UK in 2022. It's suitable for small dogs with a maximum weight of 30kg. This trailer is made with a solid steel frame which can absorb shocks and handle the constant twists and turns of a rigorous ride.
The box itself is made with quality Oxford material which is strong, easy to clean and breathable. The wind will not bother your dog during a ride but the mesh is porous enough to ensure the box doesn't overheat during the summer weather. The material is also waterproof and protects your dog from harmful UV rays.
It's easy to put together (assembly is required, naturally) and easy to attach to the bike thanks to the universal rod. It attaches solidly and safely and you won't worry about the trailer suddenly coming off or wobbling all over the place.
The two wheels are big and bouncy and grip surfaces such as rock, mud, grass and of course concrete. The wheels have enough rubber to absorb most shocks leaving your dog enjoying a smooth ride. Overall, this is a high-quality bike trailer that may seem expensive but it is seriously sturdy and well made.
Dimensions: 90H x 130L x 73Wcm.
2. DoggyRide Mini Dog Bike Trailer
The DoggyRide mini dog trailer is a two in one trailer and stroller which is suitable for dogs up to 25kg (both modes). It has a solid steel frame which holds together the nylon box. The welding of the frames is quality with little to no wobbly bits and loose ends. Jeff really felt safe in this. 
The box on the trailer is encased with breathable nylon which protects your dog from the wind but the mesh is porous enough to allow fresh air to go in and out so they don't overheat during a heatwave. The box also protects from UV rays as well as has an easy to extend rain cover should you be caught out by a sudden shower.
The wheels are really impressive with a generous amount of thick rubber which grips most surfaces even rough rocks whilst protecting your dog from the vibrations. The towbar arm is made from the same quality steel as the frame and the bicycle hitch adds more security.
There are a couple of extras as well which are a leash on the inside to keep them from jumping out (it could happen) and a rear pouch to save some pockets and ideal to put some treats and a doggy water bottle in there.
This is one of the highest quality dog bike trailers on the market and we really enjoyed using it for short trips and one really long one. Jeff loved it and it helped us be able to explore the world a little further without having to drive or just walk there.
Dimensions: 23L x 15W x 22H in./56L x 38W x 50H cm
3. Burley Design Tail Wagon Bicycle Trailer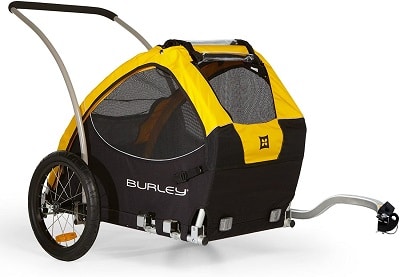 This is a luxurious bike trailer which can be used for small and large dogs (34kg) and is one of the first brands to advocate for minimum safety standards in an industry which does not take it as seriously as you'd find in products for children.
Its design is simply the best in the industry and the steel frame is integrated into the cargo box which improves the rigidity and stability. The frame is able to bend and twist with the direction of the bike and absorbs the impacts from the ground – even on rocky terrain.
The mesh windows make sure they get plenty of air and the rest of the box protects them from wind, rain and harmful UV rays. Windows can be adjusted for them to stick their heads out if they wanted. Jeff certainly loved it as he generally loves sticking his head out the windows during a car ride.
Cargo pockets are more plentiful in this model when compared to the others on the list so you can carry more – this leaves this dog bike trailer ahead of the pack for those who are after something for a biking/camping weekend.
The 16" wheels are gigantic with loads of rubber which grips the path nicely and matches the direction of the bike with ease. The chunky rubber also absorbs the shock and the connection to the frame is well made with no vibrations able to travel up to the box. Overall, this is the most expensive but probably one of the best trailers you can get for your dog.
Dimensions: 93cm x 79cm x 81cm
Read More: 12 Best Dog Harnesses UK 2021 – No Pull And Total Comfort
4. Duramaxx King Rex Dog Trailer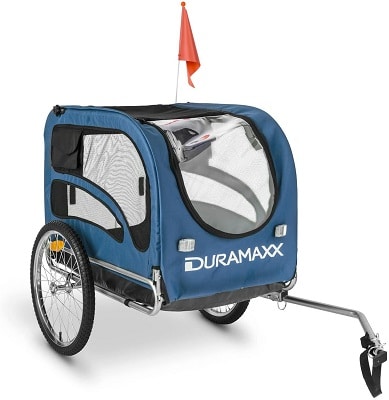 The Duramaxx "King Rex" dog trailer is a serious piece of kit which can hold dogs of up to 40kg at the back of the bike comfortably. The frame is made with powder-coated reinforced steel which is both agile and strong enough to hold the weight and absorb the twists from being turned.
It's quite big and 40kg is a lot of weight, to put it into perspective the average Golden Retriever weighs roughly 40kg and that's a big dog. But, if you don't have a dog that big then this model is a bit overkill.
The box is made with nylon which is a breathable fabric which enables the dog to be protected from the elements but with enough holes that it won't heat up like an oven. It's waterproof and non-slip which means that a rainy day should not put a stop to a potential adventure.
The wheels are large with chunky rubber which glide on most surfaces and bend easily around corners.
The tiller is 70cm (2.3ft) quality with secure straps to ensure that the cabin is put in place and does not behave like it's got a mind of its own. It has a quick-release system to take it off when you've arrived at the destination or at home.
This is a superbly crafted bike trailer for dogs for owners with larger dogs. It's a bit too much for small dogs and the extra cost is just wasted. But, these kinds of trailers are made for large dogs so you're in luck if you have one and looking for a great solution.
5. Smart 2 in 1 Space-saving Bike Trailer with Parking Brakes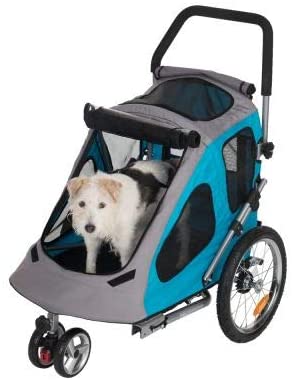 This versatile product is both a bike trailer and a stroller in one and does not necessarily need to be used with dogs thanks to the design. The steel frame is sturdy and easy to assemble and took us no more than 20 minutes. It is secured throughout and feels safe.
The box is a little more ergonomically designed and quite large but it is not designed for dogs more than 30kg. This is because a lot of the design has been done to ensure it is a suitable stroller as well as a trailer. It's very comfortable inside with plenty of room for blankets and toys during the journey.
The nylon mesh cover is waterproof, breathable and protects from UV rays. The box has a large front opening window for sightseeing if they are well behaved and tethered. We did this but to be honest, Jeff prefers to laze around.
The wheels are pretty standard, chunky with a smaller wheel in the front for stroller mode. We won't get into details about the stroller in this article. The wheels absorb shock and adapt to the wide turns easily. 
Dimensions: 123cm x 71cm x 105cm
Read More: Best Dog Ramps For Cars UK 2021
Dog Bike Trailer Buyers Guide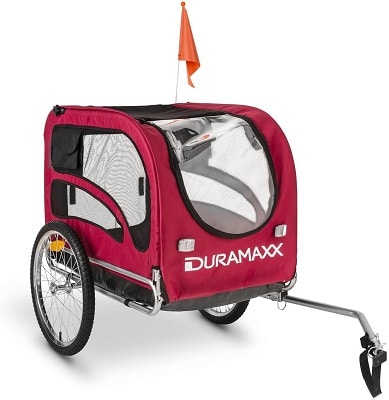 We've thoroughly tested bike trailers over many months, and researched their use throughout the UK to not only come up with a shortlist of our 5 favourites but a comprehensive guide covering everything there is to know about them.
1. Who benefits from using bike trailers?
Owners of dogs with mobility issues or injuries
Dogs with mobility problems such as arthritis and hip dysplasia and dogs who are recovering from some kind of an injury can benefit greatly from a bike trailer adventure as it allows them to get outdoors whilst still resting.
Senior dogs
Senior dogs who may be suffering from the above or simply have less energy than they used to can benefit from being able to get outdoors at their own pace.
For people who want to travel further than the dog is capable of walking/running
Dogs have a tremendous amount of stamina and energy but they can't run or walk forever. A trailer is an ideal product for owners who want to travel out a bit further but want something that can give their dog the occasional rest during the journey and obviously be able to enjoy the final destination without being exhausted from the journey.
Dogs love being outdoors because that's where all the interesting things happen, according to Wag Walking. Indeed, dogs, just like us, get a mental health boost by just being outside even if they can't interact or explore an awful lot. Being indoors all day is no good for any dog and can lead to depression and boredom.
2. How to choose the right trailer for you and your dog
Choosing the right bike trailer for your dog depends on the size, weight, materials, quality of tires, safety features, compatibility with your bike, suspension and right quality.
Size of the cargo box:
Bike trailers are available in only a few different sizes but it's important to make sure you get the right one for your dog that isn't too small and isn't too big. A trailer box which is too small will become cramped and a box which is too big may give them too much space to move and be thrown about and you'll need to fill it in with some blankets.
The most indicative measurement for you is to be able to decide which size is probably the maximum weight it can carry and then look at the dimensions afterwards.
If your dog weighs less than 10kg then get one which has a maximum capacity of no more than 20kg
If your dog weighs more than 10kg and less than 20kg look for a box which can carry up to 30k
If your dog weighs more than 20kg and less than 30kg then a box up to 40kg is perfect
For really large dogs of 30kg to 40kg then a 50kg max box is perfect
For dogs weighing more than 40kg then consider a specialist box or rethink whether a dog bike trailer is for you as this is a lot of weight to pull! 
Suspension and ride quality:
The heavier the dog and bigger the box the more important the suspension will be. Not all dog bike trailers come with suspension so check that it does before you buy! A decent suspension helps the box to glide against the floor and offers a smooth ride for your dog.
The suspension will be key for cyclists who are planning to take their adventure on rougher terrain. A smooth ride is just more comfortable and particularly important, we think, for owners of dogs with mobility issues and senior dogs who may just want to relax during a ride. 
Weight:
The weight of the trailer plays a big part in the enjoyment of using it depending on the strength and fitness of the rider. Adding a trailer and dog to the back of the bike naturally increases the difficulty of riding especially on inclines so if you aren't particularly strong and fit then consider a lightweight model. 
Materials
One of the worst kinds of materials they can be used for is hard plastic – it's brittle and offers little impact protection. If it was to fall over or be a part of an accident it would crack and leave your dog in danger.
Because of that, we only advertise trailers made with a steel frame and follow the rules set out by ASTM standards. They're designed for children but some manufacturers apply the same set towards dog safety. Second, the covering material should be appropriate to be able for the dogs to breathe easily inside and be protected from harmful UV rays. Waterproofing is also desirable.
Type and quality of the tire
The tyre on the back of the bike needs to be almost as good as what's on the bike itself. The trailer does need to tread over the same ground and take the same corners so if the rubber doesn't hold up then it's just not good enough. Tyres should be chunky with a decent treat and with air (not solid plastic).
These traditional style tyres last longer and just provide better bounce hence why cyclists use them.
Read More: How soon can I walk my dog after neutering?
Suitability to your type of bike
Trailers aren't ideal for every type of bike out there, push bikes and mountain bikes are ideal but BMX bikes and tricycles are not so much.
Safety features
A flag and light reflectors are a must for the trailers as you need to try and make pedestrians and other cyclists aware that your bike is longer than usual and your movements will be different. If they don't come for free then we urge you to buy some separately.
There are now laws in terms of dog bike trailers but it's very good practice to follow the same code of conduct as with child trailers as they are pretty much the same thing.
3. Tips when using a dog bike trailer
Here are some handy tips for newcomers to the dog cycling world. These have been curated by various experts from the world of cycling and dog training across the UK. 
Practice on your own.
If you've never bought or used one of these products before then you should take it out on your own, perhaps with an object of equal weight to your dog to get to grips with how different it can make the bike ride. Because the trailer makes the bike longer you will need to perform wider corners to accommodate.
Secondly, the extra weight will make it harder to pedal, especially uphill. Find out what to expect before putting your dog through anything by going up and down the route, you're expecting to take.
Find out just how much harder it's going to be to keep the pace and not suddenly find yourself stranded in the middle of the hill. Lastly, breaking is going to be different and much more important.
Prepare your fitness.
Pulling a trailer can be hard and if you're pulling a big dog then it's really hard. To tackle this extra weight we recommend doing some basic stuff to prepare your fitness levels for the task at hand.
Obviously, cycling is the ultimate way to get ready and you can almost mimic the trailer by riding one gear higher than your usual and by taking on inclines more often to get some strength in the legs. Squats and rowing are other great exercises, too.  
Plan your route.
If you're in the mood to go for a long journey never 'wing it'. Either go on a route you're familiar with or plan the route in advance. The route planning also extends to checking the weather forecast.
A day which is too hot, too cold or likely to have rain isn't going to be pleasant for you or your furry friend. The reason for this is if you get tired or sieged by bad weather then you are in no man's land and will have to get back or find shelter until you can. 
Bring repair kits.
This one's really important. Both your bike and the dog trailer can fail on a journey. You need to be prepared on journeys especially the long treks with repair kits which include puncture repair and grease for the chain. If disaster strikes and you get a flat tire then you may face a situation where you will have to walk back the whole way. Just imagine that.
A word of warning – most dog bike trailer kits do not come with puncture repair kits or spare tubes so you'll have to find them separately. No matter how good the product is a loose nail on the floor can ruin your day.
Make it comfortable.
Manufacturers have endeavoured to make the trailer as comfortable as possible with chunky tires, solid steel frames and chunky wheels, but it's not perfect. That's why we always loaded Jeff's trailer with the blankets from his bed to make it extra comfortable and familiar.
You can even throw in some toys if you wanted but Jeff was only ever interested in the sights and sounds and paid no mind to his toys. 
Bring food, water, and toys.
We've touched on the toys already but food and water are essentials to bring with you, especially on those long journeys. Don't pack the food and water in the box with the dog as you move along as the water could spill over and eat while moving could make a dog sick.
Instead, bring a travel bowl and bottle to give to them during your regular stops. As we've hammered home several times already, bringing plenty of water for both you and your dog is essential during warm days as the trailer can get hot if there isn't enough wind to cool them down.
Read More: 10 Best Dog Trackers and GPS Dog Collars UK 2021
Dog Bike Trailer FAQs
1. Can you put a dog in a bike trailer?
You should never put your dog in a bike trailer. A proper trailer which is safe for a dog should be comfortable, protected from UV rays and breathable. Bike trailers are just designed for cargo without any thoughts about living animals inside.
2. Are dog trailers safe?
Bike trailers made for dogs are mostly very safe. We only advocate ones which have been built to a high standard. However, how they are used by the owner determines their safety and should be used with due care and caution.