As a fellow dog owner, I know how important it is to keep our furry friends entertained and stimulated, especially when we're not around to play with them.
That's why treat dispensing toys are such a great invention – they keep dogs engaged and happy while rewarding them with a tasty treat. But with so many options on the market, choosing the best one for your pup can be overwhelming.
So, with this article, I will make your life easier. We'll review some of the top treat dispensing toys for dogs, so you can make an informed decision and keep your dog's tail wagging.
Which is the best treat dispensing toy for dogs?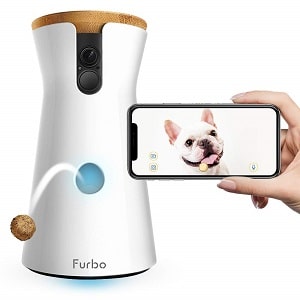 Furbo is the best treat dispensing dog toy in the UK in 2023 because it offers an impressive 1080p feed with night vision, efficient treat dispensing, and 2-way audio. It's compatible with Amazon Alexa and offers activity updates and the ability to take photos and videos of your dog.
I know what you're thinking. It's very expensive for a simple treat dispensing toy. And normally, I would agree, but it's so much more than that. You get dozens of amazing features, especially 2-way audio. The device is GREAT, provided you have the need for its features.
The device is easy to set up and designed with a neat and sleek aesthetic and offers a free trial of 3 months of the Furbo Dog Nanny service. However, to access all features, you must pay for a subscription.
Buy Original Furbo Treat-Dispensing Dog Camera on Amazon
Buy NEW Furbo Treat-Dispensing Dog Camera on Amazon [2023 Model]
Read More: What exactly is a Furbo, and how good is it for dogs? – A Complete Review
Buyer's Guide to Choosing the Best Dog Treat Dispensers
The number one feature to pay particular attention to is how easy it is to get a treat out and how much mental stimulation they will get in getting them out. A toy that gives out treats without a challenge is pointless.
After all, you want to ensure you're investing in a toy that will keep your pup entertained and stimulated while also being durable and safe for them to play with.
1. Durability and quality of materials
Choosing a toy made from high-quality, durable materials that can withstand rough play is important. Since your dog will likely play with the toy frequently.
Look for rubber or durable plastic toys, and avoid toys with small parts that could easily break off and pose a choking hazard.
2. Ease of cleaning
These toys can get messy quickly, so get one that's easy to clean. Look for toys that can be easily disassembled for cleaning or ones that can be tossed in the dishwasher for quick and easy sanitation.
3. Ability to hold different types and sizes of treats
Dogs have different preferences regarding treats, so choosing a toy that can hold various treat sizes and types is important.
Some toys have small openings that work well for small kibble or training treats, while others have larger openings that can hold bigger biscuits or even peanut butter.
4. Level of difficulty and challenge
Treat dispensing toys come in different difficulty levels, and choosing one that's appropriately challenging for your dog's skill level is important.
For example, if your dog is a beginner at puzzle toys, start with a simpler toy with larger openings that are easier to access. In comparison, if your dog is a pro at treat dispensing toys, look for a more challenging toy with smaller openings or more complex puzzles to solve.
5. Price range
Treat dispensing toys can range from a few pounds to over £50, so choosing a toy that fits your budget is important.
Remember that more expensive toys may be made from higher-quality materials or offer more complex puzzles. However, there are plenty of affordable options available that still offer great value and entertainment for your pup.
Top 10 Treat Dispensing Dog Toys in the UK
1. KONG Classic Dog Toy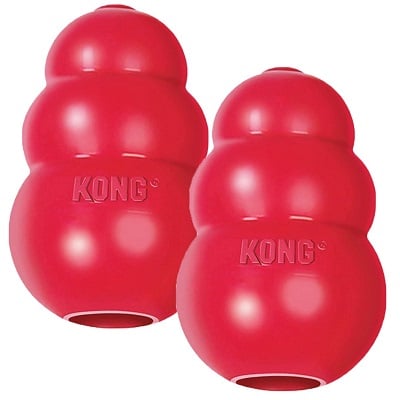 The Kong Classic fits into so many different categories of dog toys – it's indestructible, great for teething and a wicked treat-dispensing toy.
The Kong Classic is the best treat-dispensing dog toy in the UK for just £19. It drip-feeds spreadable treats slowly by allowing the dog to use their tongue to lick it all out. The deeper it gets into the hole, the longer it will take them to get it all.
It could take them hours to get the treat out of the Kong classic. All the while, they're getting a good mental workout trying to figure out the best way to get all the treats out of the toy.You can use whatever you want as a treat (we have a best dog treat list here), a normal nugget or a spreadable one like Kong stuff or peanut butter. We recommend the latter as it is cheaper and better for them.
Sale
2. Starmark Bob-a-Lot Treat Dispensing Dog Toys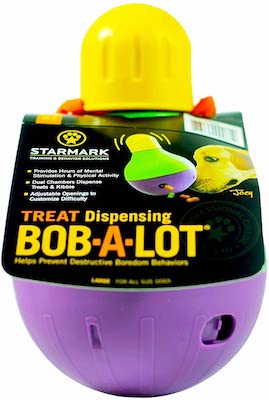 The Starmark bob-a-lot is one of the UK market's most fun, treat-giving, and interactive dog toys. Regular small/nugget treats are inserted into the holes that can come from the holes at the bottom.
However, the catch is that the bob-a-lot is designed to wobble and be unstable, making grabbing the toy to force the treats to be dispensed very hard. This is great for slowly treating your dog but also giving them plenty of mental stimulation and exercise while they do it.
3. Busy Buddy Chuckle Interactive Toy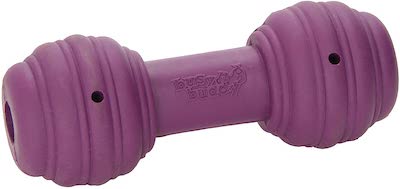 This is a popular dumbbell-style dog toy that can dispense nuggets and spreadable treats through the various holes in the dumbbell and the shaft along the middle.
It's great for owners who want it to do more than just one job – the dumbbell is ideal for dogs who like carrying their toys around the home and settling in bed.
Perhaps the best feature is that, as an owner, you can limit how many treats come out thanks to a handy switch – this is great for overzealous dogs or small dogs prone to overeating. The best part is that it's made with natural, non-toxic rubber.
Read More: Discover the Benefits (& Cons) of Raw Food for Your Dog's Health
4. Trixie Dog Toy Interactive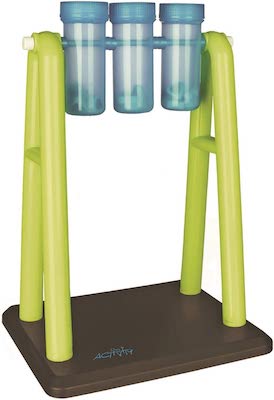 Here's a toy that's unlike the others!
This is a proper mental puzzle for dogs with snacks as the reward. It looks like a mad scientist's contraption, but it's rather clever how it works. There is a tiny hole in each of the capsules where a treat can come out, but they will need to use their nose and a basic understanding of physics to do it.
Your dog will figure it out their way, and they'll spend hours and hours doing it, getting a lot of work out of the grey matter and being rewarded each time they succeed. The perfect treat dispenser.
This is a level 2 puzzle, and they make a level 1 puzzle for beginner detective dogs if you wish.
Sale
5. Busy Buddy Squirrel Dude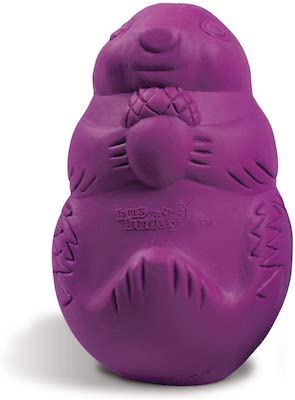 This is a differently-shaped, slightly cheaper model that does the same thing as the KONG Classic. However, what it tries to do differently is to provide lumps and bumps on the side of the toy to give them a bit more to chew on.
That's pretty much all there is to say about this toy – a slightly different flavour of a GREAT dispensing recipe.
Sale
Busy Buddy Squirrel Dude
Interative: This treat dispensing dog toy bounces around unpredictably, which keeps your dog moving and offers interactive play fun
6. Pet-Fun Large Mango Treat Dispensing Toy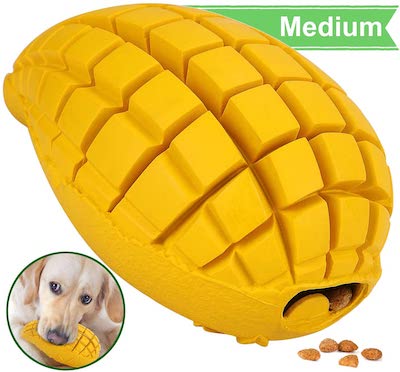 The Large Mango toy is an indestructible dog toy which can dispense treats through the small hole at the bottom or spread all over the ridges. Made with tough, non-toxic rubber, this toy can withstand quite the beating, making it excellent value for money.
The interesting design and bright colours certainly bring something different to the home, and your dog will be instantly attracted to it. It's quite expensive but will last you a considerable amount of time to make up for it. Highly recommended.
Pet-Fun Large Mango Treat Dispensing Toy
♥Suitable for Large/Medium dogs/puppies above 10Kg. This remarkable dog chew toy mango helps satisfy dogs' instinctual needs for chewing and play, provides mental stimulation and promotes healthy chewing (opposite to destructive chewing that either break things or hurt themselves), which are important for dogs' physical and mental development, emotions and behaviour. This toy helps solve destructive chewing, teething, boredom, separation anxiety, weight management, crate training and more.
7. Outward Hound Hide-A-Squirrel Puzzle Toy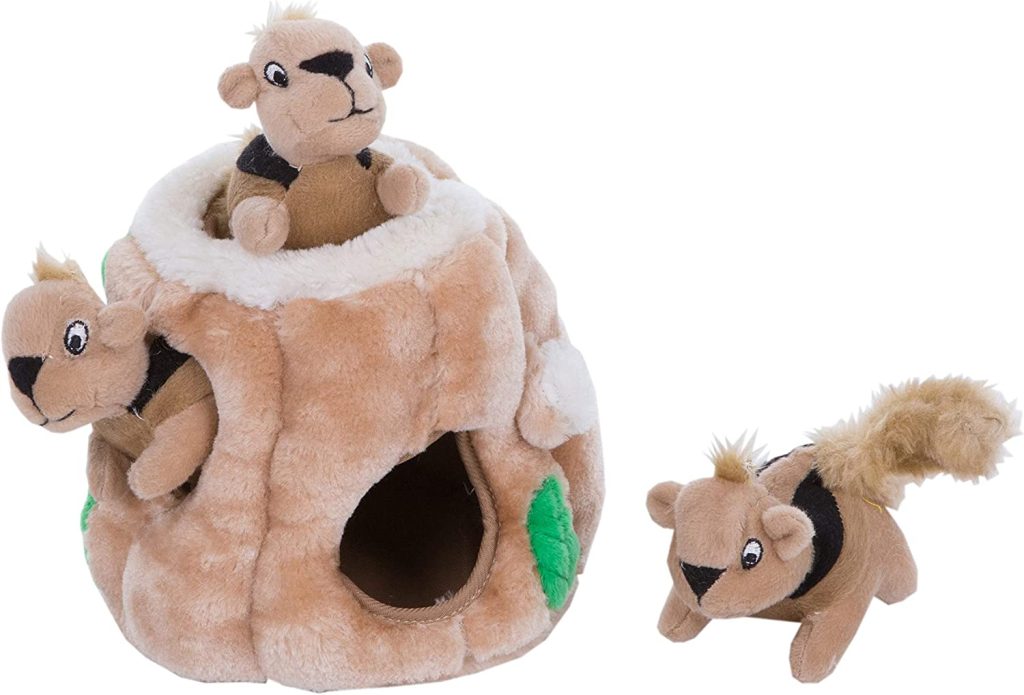 This challenging and interactive toy is perfect for dogs who love to play. It consists of a soft plush tree trunk with several small holes where you can place squeaky squirrels. Your dog will have to figure out how to remove the squirrels from the tree trunk, which can be fun and engaging. And don't worry, it comes with three squeaky squirrels in the box.
8. PetSafe Busy Buddy Twist 'n Treat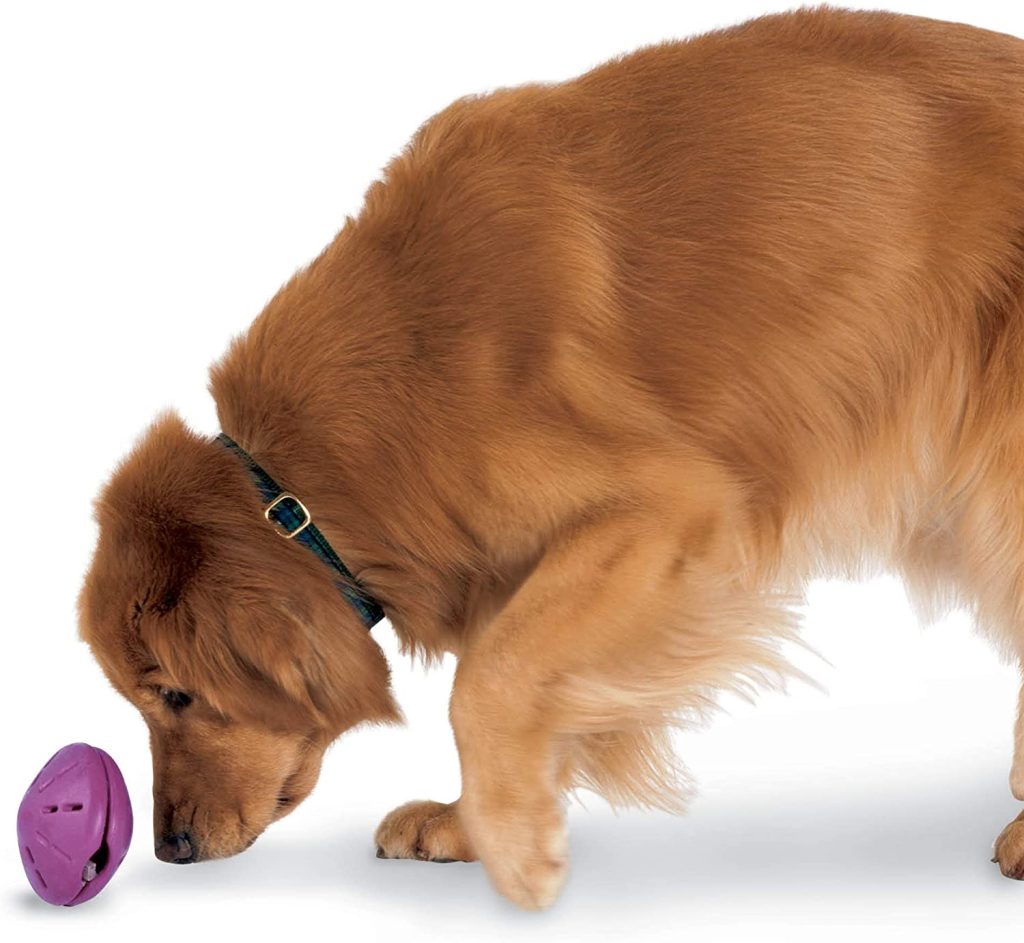 The Twist 'n Treat is a fun dispenser ideal for dogs of all sizes. It consists of a durable rubber ball with several small holes where you can place treats. The ball can be twisted to adjust the holes' size, making it more challenging for your dog to get the treats out.
9. West Paw Zogoflex Tux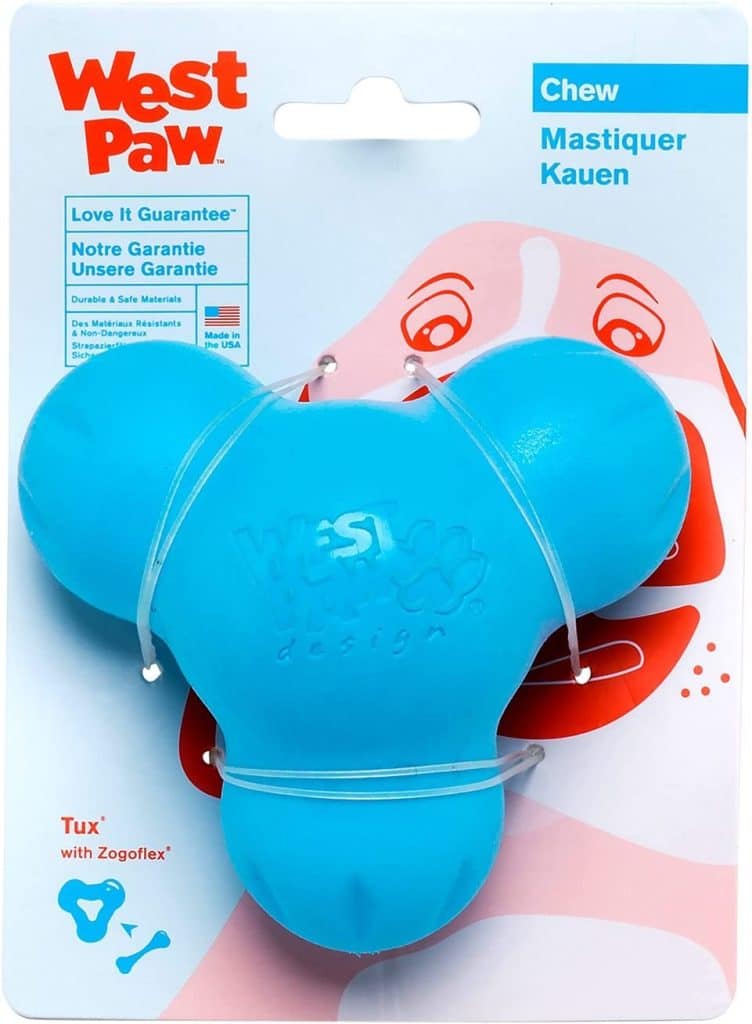 The West Paw Zogoflex Tux is a durable and versatile treat dispenser perfect for dogs who love to chew or teething pups.
It has a hollow rubber toy with a small opening to place treats. The toy is designed to be chewed and can withstand aggressive chewers. This one can be used for different types of play, such as fetch and chew.
10. Nina Ottosson Dog Tornado Puzzle Toy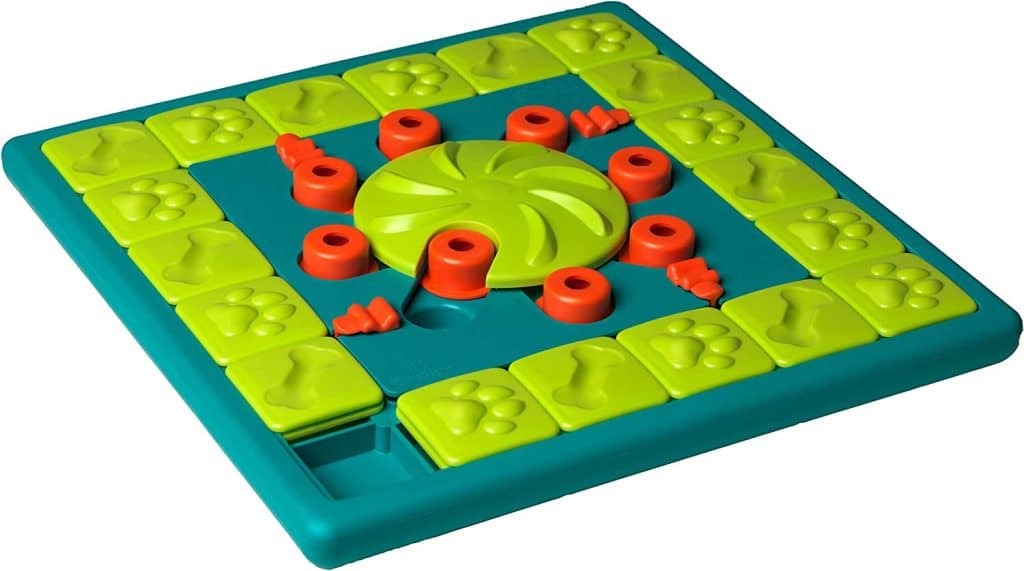 This is another puzzle toy good for little detectives. The Dog Tornado has four layers of rotating discs with compartments where you can hide treats.
Your dog will have to spin the discs to find the treats inside. The Nina Ottosson Dog Tornado Puzzle Toy is made of durable and easy-to-clean material, making it long-lasting and convenient to maintain.
This one may not be suitable for aggressive chewers and can be challenging for some dogs.
How to use a treat dispensing toy effectively?
When it comes to using treat dispensing toys with your dog, there are a few tips to keep in mind to ensure your dog's safety and enjoyment.
1. How to introduce the toy to your dog?
Before giving the toy, show it to your dog and let them sniff it. Then, demonstrate how the toy works by filling it with treats and showing your dog how to manipulate it to release the treats.
Supervising your dog during this process is important to ensure they don't ingest any parts of the toy or hurt themselves.
Read More: 12 Best Dry Dog Food to Buy in the UK in 2023
2. How to choose an appropriate treat for your dog?
When selecting treats, ensure you have the right size and texture options for the toy. Treats that are too big or hard may get stuck in the toy, while treats that are too small may fall out too easily.
Additionally, consider using healthy, natural treats to avoid adding extra calories or unhealthy ingredients to your dog's diet.
3. How to supervise your dog?
While treat dispensing toys can keep your dog entertained, it's important to supervise your dog during playtime. You must ensure they don't accidentally ingest any toy parts or hurt themselves.
Additionally, if your dog cheats on toys aggressively, you should limit their time playing with the toy to prevent damage.
4. How do you clean and maintain treat dispensing toys?
Treat dispensing toys can be cleaned with warm soapy water and rinsed thoroughly – most are washable, so check the manufacturer's instructions first. Some toys are also dishwasher safe. It's important to keep the toys clean to prevent bacteria buildup.
Additionally, you should periodically inspect the toy for signs of wear and tear and replace it if necessary to prevent your dog from ingesting any broken or damaged pieces.
Frequently Asked Questions (FAQs)
1. Are treat dispensers good for dogs?
Treat-dispensing dog toys can be good for your furry friends when used correctly. However, certain circumstances allow them to be abused and relied on too heavily as a distraction and create bad habits.
These toys should be used as a distraction from time to time when you may have guests around when you can't walk your dog due to rain or to leave with them while you're out. It shouldn't be used to just keep them quiet.
Moreover, it should be used sparingly as a food-based product, or it could lead to poor digestion and obesity. On top of that, it can create a negative behavioural pattern where your dog no longer views treats as a treat but a normal part of their day.
2. What do you put in a treat dispenser?
Plenty of options exist when filling a treat dispenser for your furry friend. However, ensuring the treats you choose is safe and healthy for your dog is important.
The best option is to use small dog treats specifically made for dispensers. These treats are often small enough to fit inside the toy and can be found at most pet stores in the UK. Another option is to use kibble or dry dog food as a treat.
Kibble is ideal if you're concerned about your dog's calorie intake or want to provide them with a more complete and balanced diet. However, choose high-quality dog food to meet their nutritional needs.
You can also use small pieces of cooked meat, such as chicken or beef, as a treat. Avoid any bones or fatty pieces that could upset your dog's stomach.
Lastly, you can use small pieces of fruits and vegetables, such as apple slices or carrot sticks, as a healthy and low-calorie treat option. Avoid toxic fruits and vegetables like grapes and onions that could harm your dog.
Read More: Why should you add vegetables to your dog's meals?
3. Can all dogs use treat dispensing toys?
Most dogs can use treat dispensing toys. However, choosing toys appropriate for your dog's size and chewing habits is important.
4. Can treat dispensing toys be used for training purposes?
Treat dispensing toys can be used as a tool for positive reinforcement training. You can encourage good behaviour by rewarding your dog with treats from the toy.
Last update on 2023-10-14 / Affiliate links / Images from Amazon Product Advertising API