Looking for a toy that does a little more than get chewed and tossed away?
Want to keep your dog entertained in the house when you can't take them for a walk?
Why not take a look at some of these recommended treat dispensing toys to give your dog something to really get excited for!
Best treat dispensing dog toys Reviews
Here is a shortlist of what we feel to the best treat dispensing dog toys and dog toys interactive.
1. Kong Classic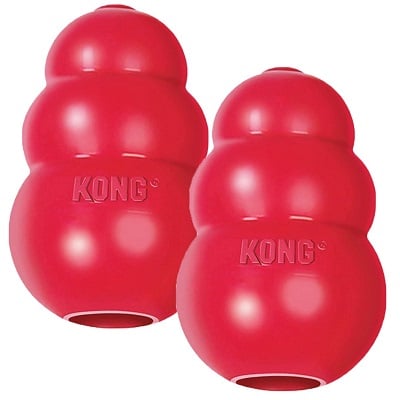 The Kong Classic fits into so many different categories of dog toy – it's indestructible, great for teething and a wicked treat-dispensing toy. The Kong classic drip-feeds spreadable treats slowly by giving the dog the challenge of using their tongue to lick it all out. The deeper it gets into the hole the longer it will take them to get it all.
It could take them hours to get the treat out of the Kong classic all the while they're getting a good mental workout trying to figure the best way to get all the treats out of the toy.
You can use whatever you want as the treat (we have a best dog treat list here), a normal nugget or a spreadable one like Kong stuff or peanut butter. We recommend the latter as it is cheaper and better for them.
Sale
2. Starmark Bob-a-Lot Treat Dispensing Dog Toys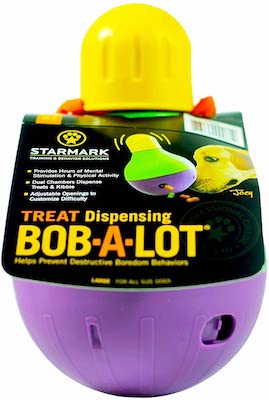 The Starmark bob-a-lot is one of the most fun treat giving and interactive dog toy on the UK market. Regular small/nugget treats are inserted into the holes which can come out of the holes at the bottom. However, the catch is that the bob-a-lot is designed to wobble and be unstable, making grabbing the toy to force the treats to be dispensed very hard.
This is great for slowly treating your dog but also giving them plenty of mental stimulation and exercise while they do it.
3. Feixun dog interactive toy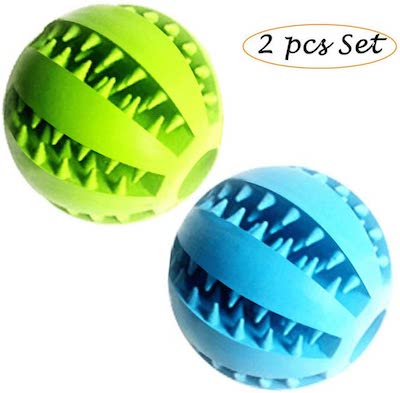 This toy is clever for being a chew toy which helps alleviate teething pain and a treat giving one by being able to put nugget treats in the middle of the ball and being able to smear spreadable treats such as peanut butter in the ridged alcoves. Even when it's not in use it's still a throwable fetch toy so there's plenty of value for money here.
The plastic is non-toxic and highly durable which will last you and your furry friend a very long time.
No products found.
4. Busy Buddy Chuckle Interactive toys for dogs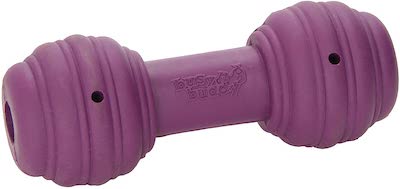 This is a popular dumbbell style dog toy which is able to dispense both nugget treats and spreadable treats through the various holes in the dumbbell and the shaft along the middle. This kind of toy is great for owners who want the toy to do more than just one job – the dumbbell is ideal for dogs who like to carry their toys around the home and settle with them in bed.
Perhaps the best feature is the fact that as an owner you can limit how much treats come out thanks to a handy switch – this is great for overzealous dogs or small dogs who may be prone to overeating.
It's made with natural, non-toxic rubber.
Sale
5. Trixie Dog toy interactive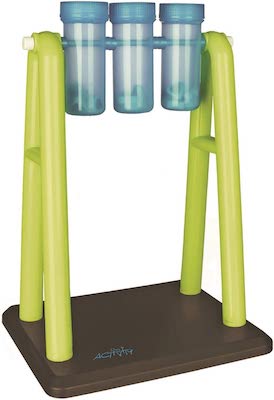 Here's a toy that's unlike the others. This one is a proper mental puzzle for dogs but still has snacks as the reward. It looks like a mad scientist's contraption but it's rather clever how it works. There is a tiny hole in each of the capsules where a treat can come out of but they will really need to use their nose and a basic understanding of physics to be able to do it.
They claim there are multiple ways to get the treat dispenser and when we tested it we could see what they mean. Your dog will figure it out, their way, and they'll spend hours and hours doing it getting a lot of work out of the grey matter and being rewarded each time they succeed. The perfect treat dispenser.
This is a level 2 puzzle and they do make a level 1 puzzle for beginner detective dogs if you wish.
In terms of grandeur then there isn't a better treat dispenser out there but it may be a little too much for some dogs to fathom.
Sale
6. FOOBLER Electronic Timed Feeder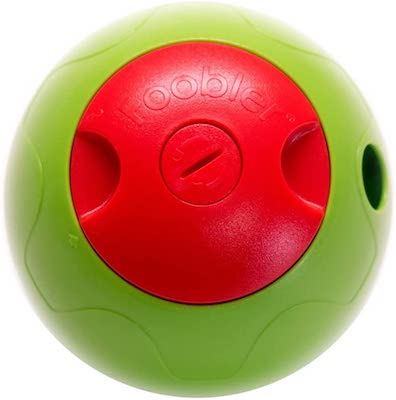 The FOOBLER is electronic, timed dispenser. It's an ideal snack dispenser for owners who want a fun solution when they're not in the house and want something to perk up their dogs from time to time. On a timer with 15-minute intervals a treat will be dispensed along with some noises to alert them of it.
This is ideal when they're all alone but when you're there with them this is a pretty basic toy that doesn't do the job effectively as toys that forces them to work for their treatment as opposed to just getting one for free.
However, the automatic feature shouldn't be underrated, it is a really handy tool to help with separation anxiety.
FOOBLER Electronic Timed Feeder
The Foobler is the world's first electronic timed treat dispenser, helping to combat bad behaviour and keeping your dog stimulated and engaged throughout the day
7. Ancol Dog Activity and Treat Ball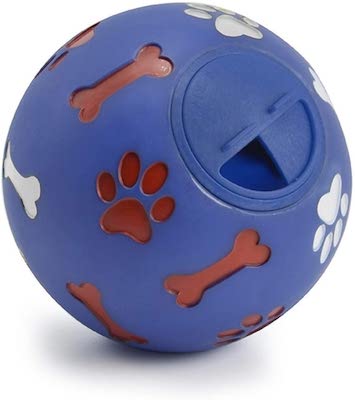 A simple yet very effective treat dispensing toy is the Ancol ball. This ball has an opening to put in kibble or treats and an adjustable hatch for you to determine how much of a gap there needs to be for the treats to come out. Think of it as a difficulty level.
Your dog will need to push the ball around with their nose, throw it around, slam it, whatever it takes to get the job done whilst slowly being rewarded when they do it. If you find that they've made it easy to work on then you can shut the window down a little more.
Sometimes, when it comes to dog products the simplest are often the best and we think the Ancol has a strong case here. Even if you don't put the treats in it is still a perfectly serviceable ball to play fetch with.
Sale
8. Busy Buddy Squirrel Dude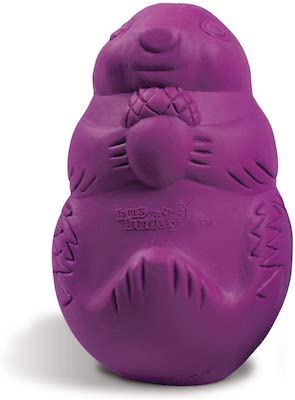 Does this toy look a little familiar to another one we've reviewed? This is a differently shaped, slightly cheaper model that essentially does the same thing. However, what it tries to do differently is to provide lumps and bumps on the side of the toy to give them a bit more to chew on.
That's pretty much all there is to say about this toy – it's a slightly different flavour of a GREAT dispensing recipe.
Sale
Busy Buddy Squirrel Dude
Interative: This treat dispensing dog toy bounces around unpredictably, which keeps your dog moving and offers interactive play fun
9. Pet-Fun Large Mango Treat Dispensing Toy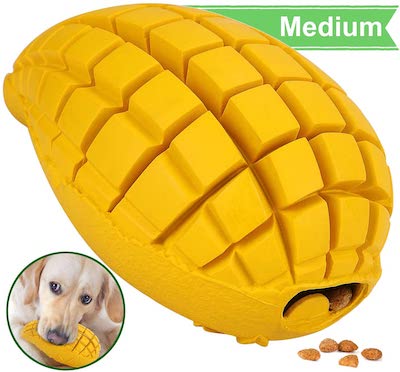 The Large Mango toy is an indestructible dog toy which can dispense treats through the small hole at the bottom or spread all over the ridges. Made with tough, non-toxic rubber this toy can also withstand quite the beating making it excellent value for money.
The interesting design and bright colours certainly brings something different to the home and your dog will be instantly attracted to it. It's quite expensive but will last you a considerable amount of time to make up for it. Highly recommended.
Sale
Pet-Fun Large Mango Treat Dispensing Toy
♥Suitable for Large/Medium dogs/puppies above 10Kg. This remarkable dog chew toy mango helps satisfy dogs' instinctual needs for chewing and play, provides mental stimulation and promotes healthy chewing (opposite to destructive chewing that either break things or hurt themselves), which are important for dogs' physical and mental development, emotions and behaviour. This toy helps solve destructive chewing, teething, boredom, separation anxiety, weight management, crate training and more.
10. Busy Buddy Squeak 'n Treat Troog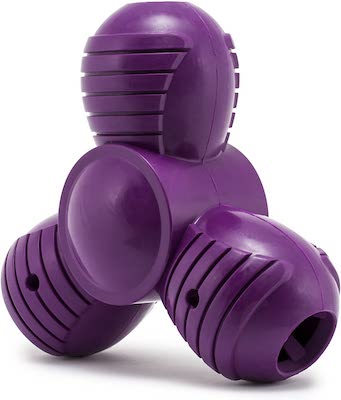 This last toy on the list is here because of its unconventional shape and unpredictability when thrown on the floor which provides a dog with a new experience every time. Of course, it's still a treat dispensing toy at heart with two different chambers which can be filled with nuggets or kibble. Treat meters also allow the owner to decide how easy and often the treats will come out.
Busy Buddy Squeak 'n Treat Troog
INTERACTIVE: This treat dispensing dog toy bounces around unpredictably which keeps your dog moving and offers interactive play fun
What is a treat dispensing dog toy?
Dispensing toys can be classified in two different ways, the ones where nuggets of treats or kibble can be inserted and then the dog needs to find out how to get them out and also the ones which have crevasses, ridges, spikes or hollowed-out parts where spreadable foodstuffs such as peanut butter can be applied giving the dog the challenge to lick it all up.
Are treat dispensing dog toys good?
When used correctly, treat-dispensing dog toys can be brilliant but there are certain circumstances where they can be abused and relied on too heavily as a distraction and create bad habits.
Treat dispensing toys for dogs should be used as a distraction from time to time when you may have guests round and you don't want your dog there when you can't walk your dog due to rain or to leave with them while you're out shopping or at work. It shouldn't be used to just keep them quiet.
However, as it is food based it should be abused because it can lead to poor digestion and obesity. On top of that, it can create a negative behavioural pattern where your dog no longer views treats as a treat but a normal part of their day.
Use them sparingly and they will be much more effective.
What to look for in good treat dispensing dog toys
The number one feature we'd recommend to pay particular attention to is how easy it is to get a treat out and how much mental stimulation they will get in getting them out. A toy which just gives out treats without a challenge is pointless and you may as well just give them the treat directly.
Look for toys which are tough and can put up a fight, provide a puzzle to get the treat out and one that doesn't give them out too easily.
Don't forget to check out the best dog treats to use with your new toy!
Related Articles
Last update on 2022-07-02 / Affiliate links / Images from Amazon Product Advertising API