Your dog may be covered in fur but as the cold weather creeps in you will want to keep them warm and protect them from the harsh winter weather. Winter in the UK can involve snow, ice, wind and rain all in one day; combined with darker mornings and evenings it can be tempting to stay in! But, regardless of the weather conditions, your dog will be keen to get out and explore. In order to ensure your dog is best protected against the harsh weather, you will need to invest in a warm and cosy waterproof dog coat. We have reviewed the best dog coats on the market to bring you our top 5 winter coats – we hope you find the perfect item to help get your dog winter ready for the colder months.
When it comes to finding the right coat for your dog this wintertime there are several features worth considering. Firstly, the outer material: if you're going to take your pooch out for a walk in the rain then we'd highly recommend a waterproof material. Secondly, the lining: if your dog is prone to getting cold easily then opt for a coat that consists of a secondary lining of either cotton or fleece to ensure they can enjoy their walk in the cold weather. Then there are the optional extras which may be worth considering: a hole for the o-ring of your dog's harness to fit through to attach the lead; a collar or hood; colour and size options; reflective strips to allow your dog to remain visible when they're out in the dark. We have a variety of 6 items so we hope you can find your perfect winter dog coat.
Best Winter Dog Coats Reviews
1. Dog & Field 2 in 1 Waterproof Dog Winter Coat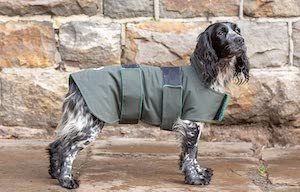 Overall, the best dog coat to keep your dog warm this winter has to be the waterproof and microfiber lined model from Dog & Field. This 2 in 1 design contains a fully water resistant outer shell whilst the microfiber lining will keep your dog warm and dry thanks to the moisture being wicked away off your dog. One of the great features of this coat is that the unique lining actually helps to dry your dogs – so if they are wet when you put the coat on them then not only will they be protected from more rain, but they will also be getting warm and dry. This makes the Dog & Field dog coats ideal for working dogs, to use after your dog has been for a swim or just for everyday use during wintertime.
The Dog & Field winter coats are available from XS up to XXL to fit all dogs at a range of sizes: there is a handy measurement guide provided by Dog & Field which we recommend using to find the perfect fit. The dog coat is easy to get on and remove with velcro straps that fasten at your dog's chest and torso. These dog coats are machine washable which is best to allow you to keep the coat clean after particularly muddy walks. Dog & Field are a brand you can trust, when it comes to coats they are one of the best dog companies out there: the great reviews and 4.6 Amazon rating is proof of that. We think the Dog & Field are the best dog coats to keep your furry friend warm and dry this winter.
2. Idepet Waterproof Dog Winter Coat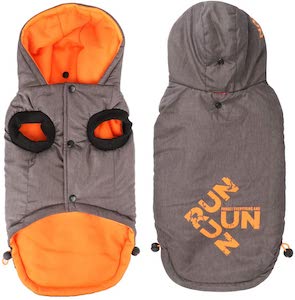 The Idepet winter coat is the best dog coat for comfort. The Idepet winter coats are made from polyester fiber making them soft, comfortable and skin friendly whilst also keeping your dog warm and dry during the colder months of the year. The outer shell is water resistant with a soft cotton lining which will keep your dog warm whilst also being soft on their skin. One of the unique features of this particular winter coat is the elastic rope running through the edges of the coat which can be adjusted to fit your dog perfectly and keep them warm by preventing any cold air from getting in.
The dog winter coat comes in a range of sizes from S to 3XL, Idepet have provided a chart so once you have a measurement of your dogs back, neck and chest then you can refer to the chart to find the perfect fit for your dogs. The coat attaches via 3 poppers which must be pressed together under your dog's belly; this may seem more fiddly than other coats which have velcro straps or zips. The coats contain a small hole just below the hood to allow you to attach the lead to their collar or harness. Overall, the Idepet dog coats are best for comfort; if you're concerned about your dog going outside when the temperature drops then we highly recommend giving this winter coat a go.
3. Embark Pets Wax Dog Jacket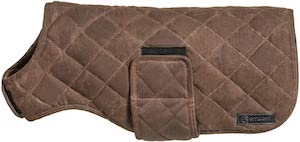 This has to be the best pet jacket for style and coverage in the great outdoors. We really love the aesthetic of the Embark wax jackets: the waxed outer material is made from 75% waxed cotton and 25% waxed polyester which will not only keep your dog dry but it also looks and feels great. Embark do state that the waterproof material will ensure your dog remains dry but their coat is not suitable for a heavy downpour or a longer walk in steady rain. Also, due to the wax material it is advised you hand wash your Embark coat rather than putting it in your washing machine. The thick coat is designed to keep your dog warm on chilly days; the coat is insulated with bonded cotton on the interior which will keep all dogs, regardless of their breed and fur length, warm on the coldest days.
In terms of sizing, there are 4 sizes available: S, M, L and XL. Once you have measured your dog's chest and neck range then you can use the Embark table to identify the perfect fit for your pooch. When it comes to winter coats, what the Embark coat may lack in some features (such as hand wash only and lack of a hole for your dog's leash) it certainly makes up for in design, aesthetic and quality. If you're looking for a coat to ensure your dog stays warm and looks smart this wintertime then we highly recommend the Embark Pets Wax Jacket.
4. JoyDaog Reversible Dog Winter Coat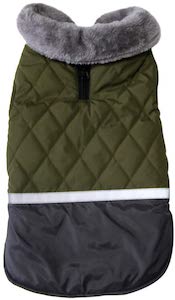 This is the best dog winter coat for the design thanks to the reversible feature – giving your dog two looks for the price of one coat! Not only do the JoyDaog winter coats look good but they will keep your dogs warm and dry in the cold winter weather. Both sides of the coat are made from a high quality waterproof material to help get your dog winter ready. Between both is a cotton middle layer which will help to keep dogs warm on a cold walk. The quilted material of the coat has reflective strips to keep your dog visible as the mornings and evenings get darker. The coat also features a small zip below the cosy fleece collar which allows you to attach your dog's lead through the hole.
The JoyDaog dog winter coats vary in size from XS all the way to 3XL; once you have measured your dog's neck, chest and back length then you can cross reference against the chart provided to select the best dog size to suit your pup. The stylish coat is machine washable which means you can keep it clean without too much effort. With the main, unique feature of this coat being the fact that it is reversible we can see why many may scroll past this option. However, as well as being reversible, the JoyDaog dog coat does tick many other boxes: it's waterproof, has a hole for your dog's leash and the dual lining will keep them warm and get your dog winter ready. This is the best dog jacket if you're wanting your dogs to look stylish and stay warm this winter.
5. Mark-Anthony Waterproof Dog Winter Coats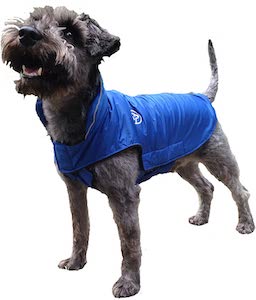 The Mark-Anthony winter coats are best for warmth thanks to the cosy fleece lining. This is a great purchase in order to get your dog winter ready: Mark-Anthony coats are waterproof, stylish and comfortable. The thoughtful design will ensure your dog is warm and dry when the temperature drops. In terms of the exterior first of all: the outer shell is waterproof and storm resistant meaning your dog is best prepared even if the winter weather worsens. Reflective piping has also been used in order to keep your dog visible to you during the dark dog winter walks. This winter jacket offers the best range of colour choices too with 6 vibrant colours to choose from, including orange, pink and yellow which look especially bright; each of the winter coats containing reflective strips.
For your dog, winter may be an unpleasant time of the year when it comes to being out in the cold weather: but Mark-Anthony have tried their best to combat this with all of their dog coats being fleece lined to keep your dog warm and dry. The winter coats vary in size from XS up to 3XL, in order to find the perfect size coat for your dog you will need to measure their back length and neck circumference. Once you have your dog's measurements you can then use the size guide to find the best fit. This coat has a velcro attachment which will be easy to put on and take off when you get home which is especially handy if you have more than one pooch to look after or your hands will be full when you get home. This coat will definitely get your dog winter ready: waterproof and lined, this coat will keep them warm and dry no matter how low the temperature goes.
6. Geyecete Martin Thermal Dog Winter Coat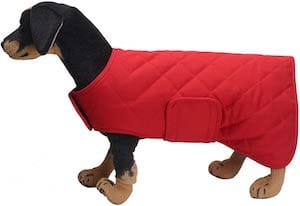 This is the best dog winter coat for simplicity. We really like the simple design of the Geyecete thermal coats consisting of one large vest shape with 2 velcro straps: one fastens around your dog's neck and the other below their chest. The simplicity of the design makes it the easiest model to get on and off so if this is particularly important to you then we'd recommend it. The strong and durable quilted material of this dog winter coat is waterproof and windproof which is ideal when the temperature drops and the winds pick up. The coats are machine washable which is a key feature we looked out for when identifying the best dog coats on the market as it just makes the task of cleaning them much easier.
The downside to the simplicity of the design is that it does lack some of the other features that we liked about other designs. Firstly, there is no hole available to attach your dog's lead; this isn't a problem if your dog wears a collar but if your dog wears a harness you would either need to create your own hole for the o-ring to fit through or fold the jacket down. Secondly, the lack of hood/collar may be a deciding point for you also: some dogs don't like the material around their neck in which case this option is great. However, if you're looking to keep the rain off their heads and neck then we'd recommend any of the other items on the list.
Why use a dog coat?
There are so many reasons that it is worth investing in a good waterproof coat this winter. It can seem like a farcical fashion item to purchase but it is actually really beneficial for some breeds to wear a jacket when the weather drops. Firstly, despite being covered in fur, dog coats add another layer to keep their warmth from escaping their bodies too much when the temperature drops. In the same way that we would wear a thicker coat when the temperature drops: your dog will appreciate the extra layer to keep them warm and dry. Some dogs have more fur than others and some dogs carry more fat than others which means a dog coat can make a big difference in how comfortable your pooch will be on a walk. Not all dogs are fond of clothes but they can improve their quality of life.
As we've written before, dogs do feel the cold no matter how furry they are but you should still try and walk them when possible for their health and happiness. A Jug Dog, for example, has some thickness on their bones but they aren't the furriest so a dog coat would be ideal for them.
Another benefit of a waterproof coat for your dog is that it prevents them being smelly after the walk: if they have been out in the rain and mud their fur is likely to smell so by wearing one of these coats for dogs they are protected from this. Furthermore, if you get a machine washable dog coat then it is far easier to clean than trying to chase your dog with a towel once you get home.
What to look for in a winter coat for your dog?
Not all dog coats are created equally: there can be a great variety in the styles, features and quality of the coats available. With so much on offer, it can be overwhelming to decide which features are important for your and your dog and which is the best dog coat for you to purchase. Here at Jug Dog we find the following features to be crucial in deciding whether to make that purchase or not.
Inner lining
Winter coats should come with a nice inner lining that isn't the same material as everywhere else on the coat.A fleece lining is ideal to keep your dog warm when the weather is especially cold. A cotton lining can be better for some breeds as it is a more breathable material.
Waterproof coat dog
It is not just the cold weather you need to prepare for when getting your dog winter ready – it can be wet, windy and snowy, too. Check to see if the outer layer of your dog's coat is water resistant, wind, snow and even storm proof. If you want the ultimate protection for your dog against the wet weather then consider a dog rain suit with leg protection.
Visibility in the dark
Wintertime is the darkest time of the year and often, if you are working, your dog may not see too much sunshine due to the dark mornings and evenings. So try and look for a dog winter coat that has reflective strips to ensure that they are visible to you during those darker walks.
Adjustable
As you know, dogs come in different shapes and sizes. For the best fit, we recommend purchasing a coat that is adjustable (such as with velcro straps opposed to a zip) so that you can make sure it fits your dog perfectly. Do take the time to measure your dog and cross reference against the size guide provided by the seller: sometimes when people see the velcro straps they think it doesn't matter too much whether the size is accurate.
Machine Washable
If you venture out in the rain, your dog's coat is likely to get very muddy very quickly. A great feature for a dog winter coat is that it can be put in your washing machine when you get home to give it a deep clean.
BONUS – Dog Winter Boots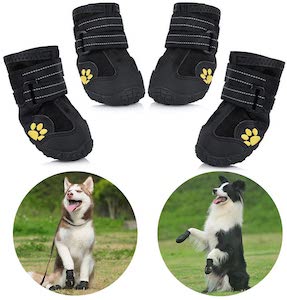 If you have found the best dog coat then why not take a look at these adorable boots to really get your dog winter ready! Cold weather ready and rainproof to keep your dog's paws warm and dry in the colder months and avoid the dangers of rock salt and grit. These boots are ideal for dogs during the cold weather months and will look great paired with your chosen coat for dogs.
Also read: