Your dog may be covered in fur but that doesn't protect them fully from the harshness of winter. More so, you may feel like walking them less if it's chilly outside for their sake; but that's not doing anyone a favour! Your dog will need exercise 12 months of the year to keep them nice and healthy.
JugDog Recommends - Weatherbeeta Parka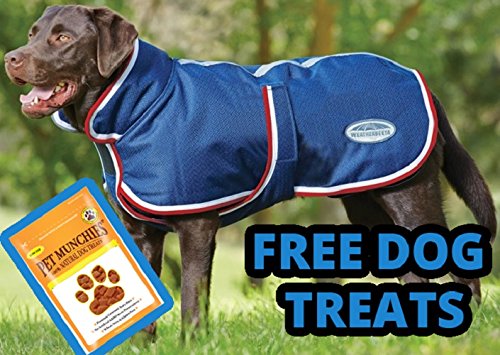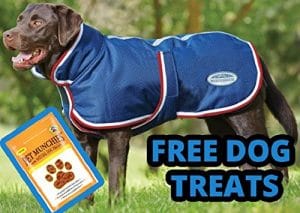 After carefully reviewing over 40 winter coats with our own dog we've come to the conclusion that the Weatherbeeta Parka is overall the best winter coat. It's fairly priced, made of quality materials, easy to put and fits very well. We think this is the product with the best return on investment in the list. It is available to buy from Amazon.
Best Dog Winter Coat Brands in the UK
We've compiled this handy table to help you find our recommendations quicker.
Image
Best Overall

Best For Rain

Best Overall
Image

Best For Rain
Image

Best Dog Coats For Winter
1. Helios Dog Winter Jacket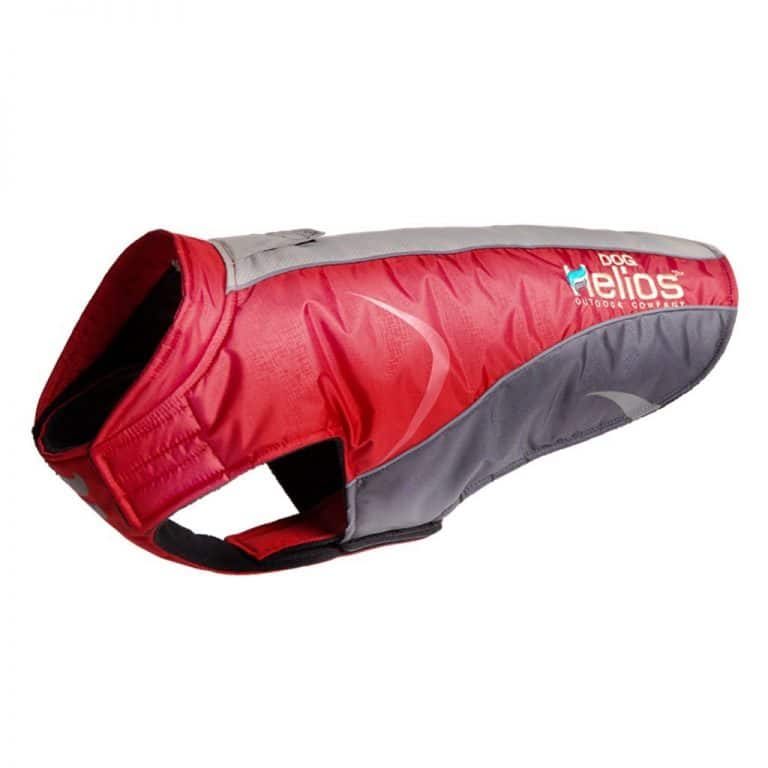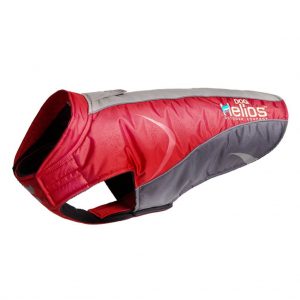 The Helios Dog Winter Jacket is absolutely superb. It looks great and keeps your dog very warm thanks to its double fleeced lining. Not only that but it has the reflective attributes we look for as well as adjustable velcro straps to keep your pooch in place. Lastly, it comes in various different sizes and colours to fit your dog's (or yours) style!
This coat is water resistant, windproof, snow proof… pretty much winter proof.
We highly recommend this one and it's a snip in the region of £20-£30.
Helios Dog Winter Jacket
Size instructions - Even though the elastic cord design make it fit dogs of different bodily shape,To better fit your dog,please do measure the size of your dog and compare to the size chart or consult with us before placing order. L - Neck Girth: 40-48cm, Chest Girth: 54-62cm, Body Length: 41cm. Keep Dogs Warm - Blackshark technique fabric, fill for enhanced warmth of heat in autumn and winter. Rain resistant, Windproof, Snowproof - Designed for more adventures, this water-repellent dog coat wraps the body and keeps away wind and snow. Smooth & Easy Wear - Features flexible breathable material, hook & loop fastener and leash attachment on the back. No risks of sharp edges
2. Dog & Field 2 in 1 Dog Coat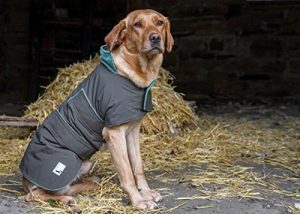 The Dog & Field 2 in 1 Winterproof coat is a classic winter jacket for your dog. It has a microfibre lining which wicks away moisture from your dog and can be dry within minutes of exposure., this is at the same time as keeping your furry friend warm. It's fully ready for rain on the outside which helps keeps the rain off your dog in the first place.
The coat is easy to put on and has velcro girth and chest straps to keep the coat secure. The only downside to the coat is a lack of glow in the dark areas. Lastly, this is on the higher end of the winter coat price scale BUT you do get the value from money here.
Dog & Field 2 in 1 Winter Coat
5 sizes from Extra Small - Extra Large (see size guide below)
Microfiber Lined To Wick Away The Moisture From Your Wet Dog
Fully Ready for Winter Weather Outer Shell Keep your Dog Warm and Dry
Strong Velco Girth And Chest Straps For Easy Fitting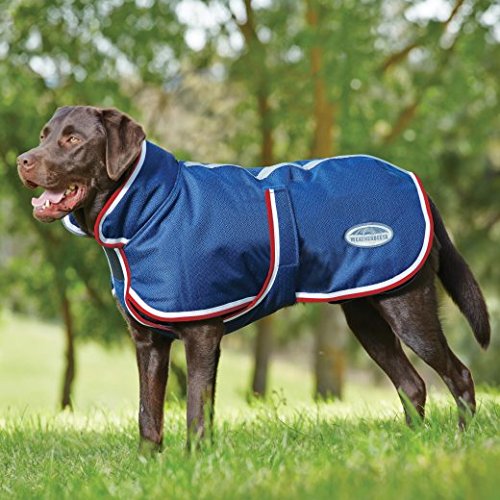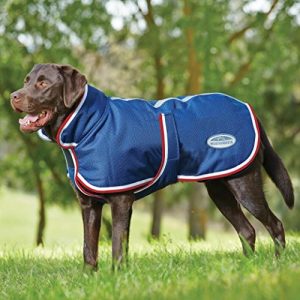 The weatherbeeta parka as shown off by this fabulous dog here is a seriously strong winter coat that covers a lot of your dog minus the head and legs. It wraps around the belly and most of the neck which helps keep your dog seriously warm. It's rain resistant and uses triple weaving to keep your dog snug while outdoors.
Moreover, the weatherbeeta parka also has reflective strips to help in low visibility situations.
The downsides to this winter parka is the fact that it only comes in one colour. However, if you like that colour then you really couldn't go wrong with this.
Weatherbeeta Winter Parka
Durable winter proof and breathable 600d outer. Strong 210T lining. Warm 220g of polyfill with full wrap belly closure. Elastic leg straps large collar with leash hole
4. Ginger Ted Shower Coat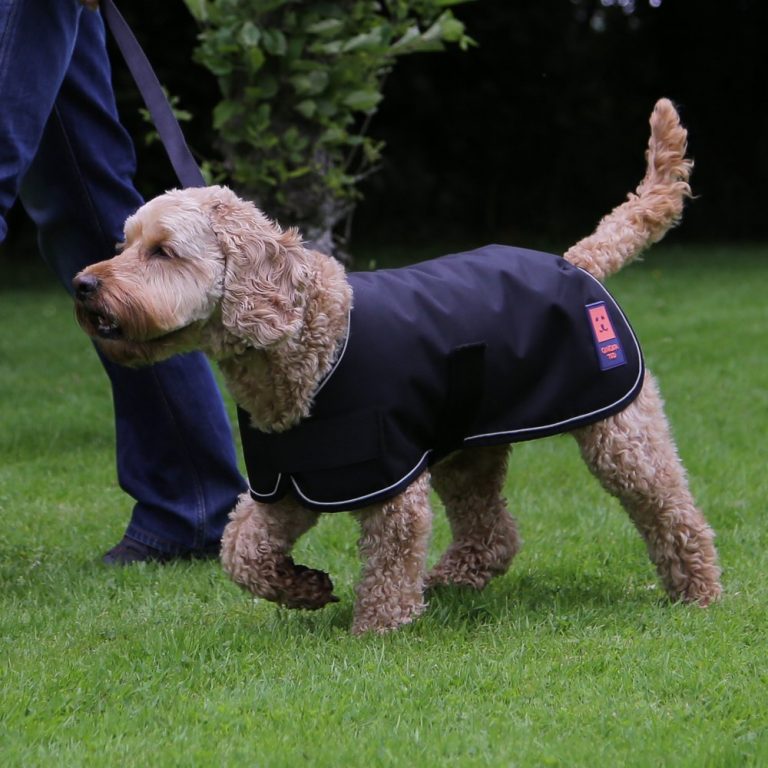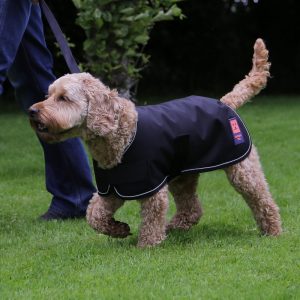 One of the best winter coat you can get for your loved one. The Ginger Ted coat is a great looking and functional coat. It has a polyester lining on the inside to keep your dog warm on those winter walks as well as reflective lining to aid during the darker hours. It's available in 8 colours and a vast array of sizes to suit your dog.
Winter coats don't get much better than this one and while it's in the £20 region it's an absolute steal.
Ginger Ted Shower Coat
Great quality winter ready and windproof dog coat made to a special shape, suitable for Dachshunds and similar breeds.
Strong durable outer fabric with quick fastening adjustable body and front straps
Features a warm fleece lining, reflective piping, fold down high neck wither flap and harness/lead slot
Available in 4 colours (Black, Cherry Red, Purple & Red Tartan) and 4 sizes. Please view the measuring guide image or scroll down for instructions.
5. Country Pet Quilted Dog Coat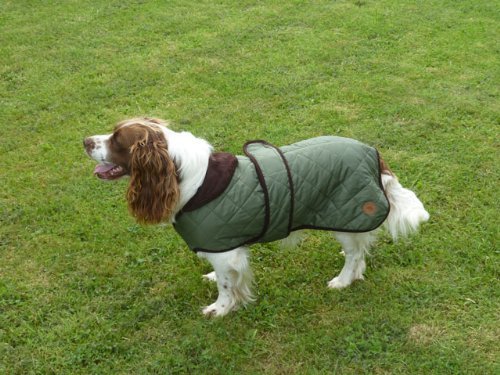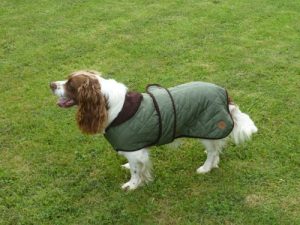 If you like farmer chic (who doesn't!) then the Country Pet Quilted dog coat is the one for you. It's got a classic diamond finish, tartan lining, corduroy collar and trim and has a velcro fastening system. It looks brill and it will keep your dog warm. However, it is not very good in the dark and it doesn't handle rain very well.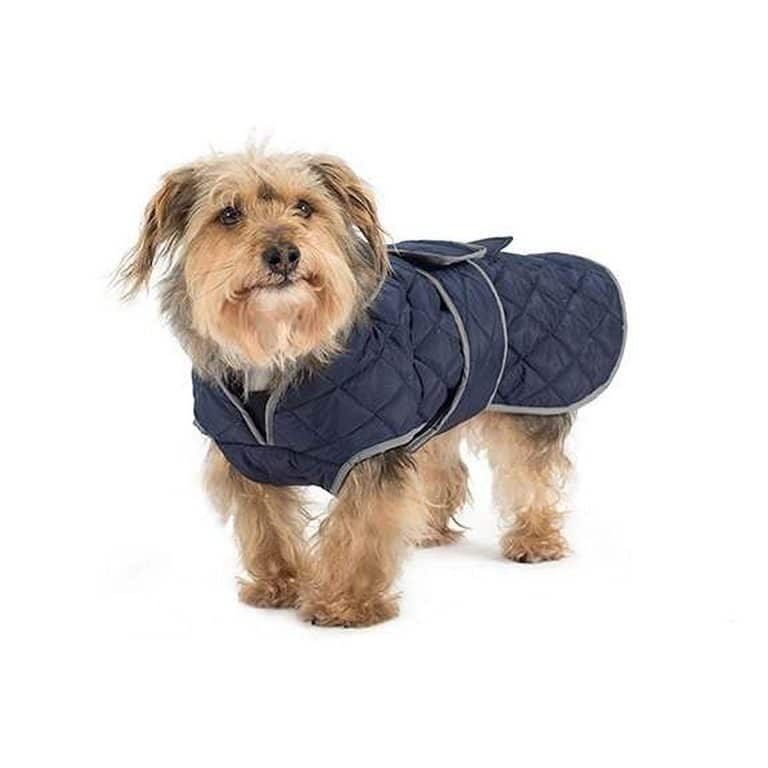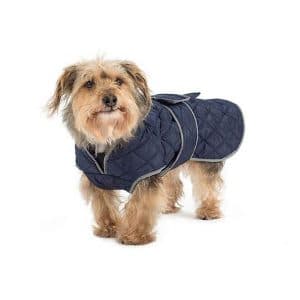 The Ancol Quilted is a beautiful Barbour/Joules style coat that keeps your dog as warm as it does make them stylish. It has been extra quilted to keep their body heat in which is further helped by its tightly layered design which accentuates this feature. It is a doddle to put on and uses simple velcro and no confusing straps and buckles. It does have a hole for your harness to show through to put your lead on. It's also got extra leg straps for more security which won't just slip and slide off during a winter walk. The chest is splashguarded and the quilted material is showerproof. If you've had a muddy walk you'll be pleased to know this is machine washable, too. Reflective piping is present which can help with nighttime visibility.
There's little to not like about this fabulous winter dog coat which comes in small (30cm), medium (40cm), large (50cm), x-large (60cm) and xx-large (70cm) which should fit virtually any dog big or small. This fact is backed up by over 24 five star reviews on Amazon currently so it's definitely worth a look. On the balance of things we feel this winter coat is the best coat to keep warm in considering its quality and very generous price.
No products found.
BONUS – Dog Boots for Winter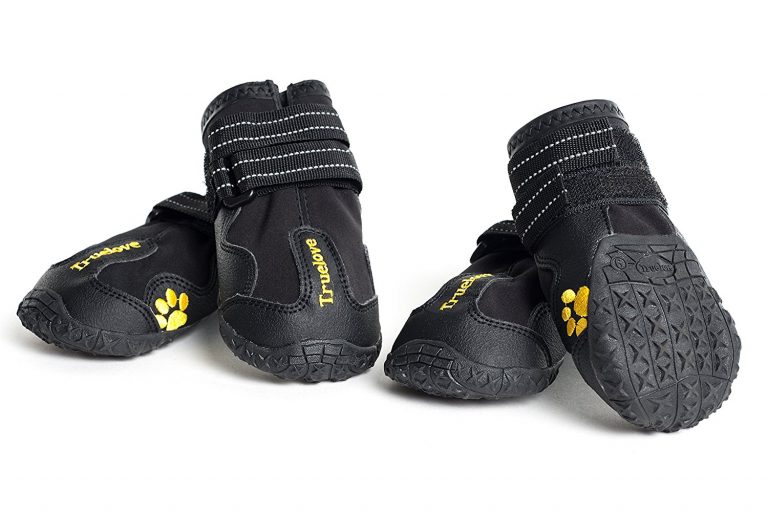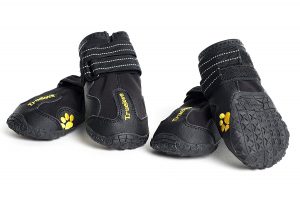 If you loved the winter dog coats then you'll love these adorable winter boots! Cold weather ready and rainproof to keep your mutts paws warm and dry in the winter and avoid the dangers of rock salt and grit. These are ideal for dogs living in areas which can often get snowed in and with the anti-slip sole they will get the extra grip on the cold and icy ground.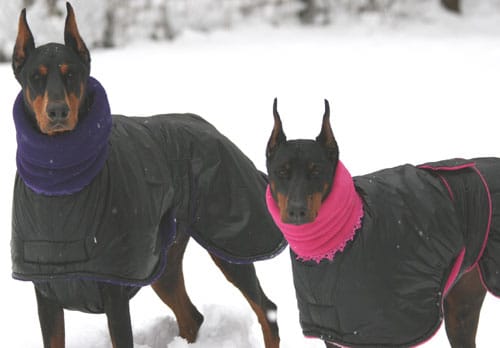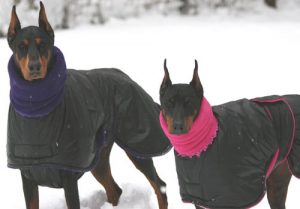 Why use a dog coat?
It is a crime to leave a dog out in the cold according to the Humane Society. Not only that, it can make them sick if they're exposed to dirty water and smelly after the walk.
Dog coats add another layer to keep their warmth from escaping their bodies too much. It's the same as why we would wear a thicker coat during the winter months. Some dogs have more fur than others and some dogs carry more fat than others which means a dog coat can make a big difference in how comfortable your pooch will be on a walk. Not all dogs are fond of clothes but they can improve their quality of life.
As we've written before, dogs do feel the cold no matter how furry they are but you should still try and walk them when possible.
A Jug Dog has some thickness on their bones but they aren't the furriest so a dog coat would be ideal for them.
Some dog coats also double up as a harness so you won't have find a harness/collar that fits the coat you're after.
What to look for in a winter coat for your dog?
Not all dog coats are created equal, there's a vast range of styles, function and how warm they keep your mutt to consider. Here at Jug Dog we find the following to be crucial in deciding whether a cold weather dog coat cuts the mustard or not –
Inner lining
Winter coats should come with a nice inner lining that isn't the same material as everywhere else on the coat. Look to see if the inner lining is fleeced.
Proofing
Winter isn't just cold – it can be wet, windy and snowy, too. Check to see if your dog's coat is waterproof, wind and snow proof!
Are you expecting your dog to get totally soaked? Why not consider a dog rain suit with leg protection.
Glow in the dark
Winter is the darkest time of the year and often, if you are working, your dog may not see too much sunshine. So try and look for a winter dog coat that has reflective areas or even glow in the dark bits.
Adjustable
Dogs come in different shapes and sizes. For the best fit find one that's adjustable so you can make sure it fits snugly on your hound. If the coat also doubles as a harness this is doubly important.
Also read:
Last update on 2020-09-20 / Affiliate links / Images from Amazon Product Advertising API