Everybody knows how much dogs can shed hair. It gets all over your carpets, sofas, chairs, and all over any pet-loving home.
Although, thorough vacuum cleaning will ease the effects of dog fur, more often than not, pet hair becomes embedded down to the very root of upholstery and carpeting fabrics
But, how to get dog hair out of a carpet? And what is the best way to get dog hair off your carpet?
Here are a handful of tips, tricks and methods to answer that and help you tackle cleaning dog hair:
Fur cleaning tips
1. When it comes to tackling fur at home, the best way is prevention!
If you can't imagine your life without pets but you have to balance your cleaning efforts, try furnishing that is resistant to hair by nature.
Here are some of the easiest tricks for easy clean solutions:
Uee anti-static materials

for your furnishing;

Hardwood, laminate, tile or vinyl flooring

– Bare in mind that wall-to-wall carpeting can be more than a nightmare to maintain especially if you have a pet that sheds often;

Leather

– Top grain or brushed leather is the best choice if scratching is still an issue at your home;

Canvas

– easy to maintain and replace;

Heavy duty cotton fabrics

– works great;

Ultrasuede

(synthetic microfiber fabric)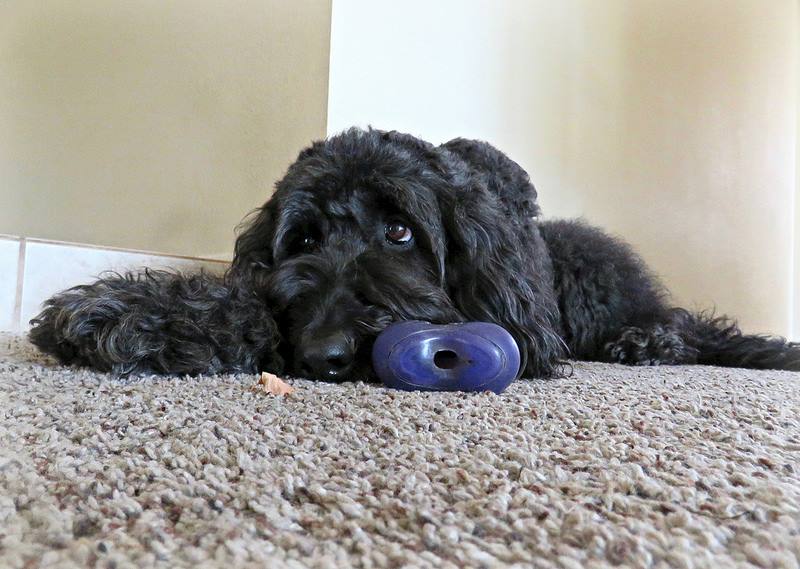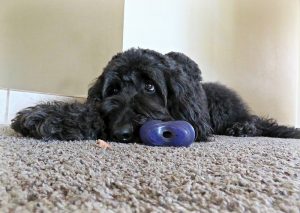 Expert advice:
"Try using a grooming and deshedding glove! It's great for both grooming and petting. Show your pup some love and help it shed a bit of fur. Deshedding gloves can do a great job for removing dog hair off your carpet." – advice the cleaning professionals at FantasticCleaners.com.
"Brush and groom your beloved pets on a regular basis! Use a regular brush or one of the many dedicated products out there." – Mary Ann from PetcareSunday.com
2. Cleaning tips to help you handle pet hair DIY:
Many still choose to tackle domestic cleaning the good old fashioned way. The best combination is to mix DIY and specialised products:
Dampened Rubber Gloves

– the most popular of all. All you need is a pair of moisturised rubber gloves. Use the gloves to gently brush the carpet and enjoy the simplest of all pet hair cleaning solutions. Wash off all you've managed to gather. If you lack the pair of gloves – try it with a regular sponge.

Rub Your Carpet with a Balloon.

Static electricity will help you clean it.

Try a Rubber Squeegee.

Rubber will attract and gather fur remains.
Lint & Pet Hair Rollers

– There are many rollers specially made for cleaning pet fur, but regular lint rollers can be as good too. Both are pretty low budget and come with replacement sticky rolls.
Make a DIY Roller

– Find something round and cover it with duck tape. Glue should face up so it can pick up hair.

Use a hairbrush.

Brush side to side via tight and hefty strokes.
Dryer Sheets

(used work too) – Depending on how desperate you are with cleaning, both new and used dryer sheets can help you get rid of hair. A great tip is to pre-treat by spraying a bit of liquid fabric softener. If you want to clean your clothes rather than furnishing, throw those for 10 mins in the dryer with a few pieces of dryer sheet.

The Lazy Sock Technique

(Yes. the lazy sock technique) – Choose a pair of old socks (your or your children) and "ski" around your home. A great benefit here is the fact that "cleaning" this way won't stir up pet hair like vacuum cleaning does & more.
How to clean pet hair off your carpet with mop or a bloom
What do you need and how does it work?
A sponge mop;

A spray bottle;

Water ofc;

Vacuum cleaner
Remove pet hair:
Vacuum as good as cleaning unit can;

Spray water over the mop till you achieve the right level of moisture;

Rub your mop all over the carpet and remove all signs of fur;

Use a damp-cloth-covered broom to gently brush the fibres;

Repeat and Lump fur;

Vacuum again.
How to clean pet hair with a fabric softener?
What a fabric softener does, is to help fur loosen up and thus make it easier for a vacuum cleaner to catch it.
What do you need and how does it work?
An average liquid softener;

Warm water;

An empty sprayer bottle;

Vacuum cleaner.
How to clean the pet hair:
Mix the softener with water 1:3 or 1:2;

Poor it in the sprayer;

Spray the carpet gently;

Leave to dry;

Cautiously vacuum the carpet;

If it doesn't work: spray twice:

Vacuum thoroughly once more.
Final remarks and takeaways:
The best way to get dog hair out of your carpet is to be persistent and to cleanup on a regular basis. Groom your puppy and brush it as often as possible. If you can't handle the burden, professionals will always deliver great results. The cost of cleaning a carpet is well worth the value of your money and it's highly recommended to put carpets through hot-water-extraction or dry chem cleaning at least two or three times per year.
Related Articles