Autarky is a brand with a big focus on great diets for active and working dogs. Working hard to deliver not just what they need but what they would want in a diet and have got quite a name for themselves for making healthy foods with a succulent taste.
The flavour of this article is the Autarky grain-free dry dog food, Turkey and Potato flavour. The misleading thing we should clear up at the start is that all Autarky dry foods are grain-free so there can't be any other kind reviewed.
This review is a part of a larger list of the best grain free dog foods.
Autarky Tantalising Turkey and Potato Grain Free Dry Dog Food Review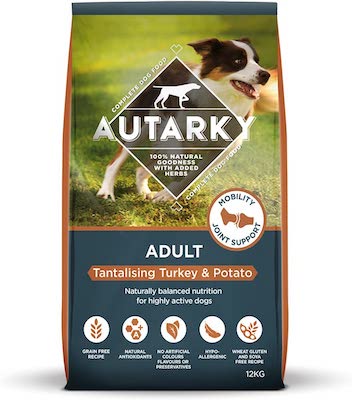 We're going to start by saying how much we appreciate the effort in the packaging of the food by Autarky, depending on where you keep the dog food it does reaffirm the fact you are buying a quality product when the effort is made in its presentation. Not only that, but the pictures also change depending on the type of food you've purchased and they've used a dog which matches the target for this food – happy and active pooches.
Ingredients breakdown
Now onto the meat of the product – the ingredients. Turkey is the main source of protein and accounts for around 27%-30% of the ingredients. Of that 27%, 20% is turkey meal and 10% is fresh turkey. The meal portion is a little on the high side at 20% but this is not anything surprising when it comes to dry food. Meat meal means that it is a by-product of the source material which has been dried and has a lot of fat removed – it is healthy but certainly not 100% natural.
The carbohydrates come from potato and sweet potato which we are big fans of, they may be boring but the humble potato transfers energy from the sun straight to the animal. Potato is of course Autarky's substitute to rice which is a common grain in dry food. By using potatoes it enables the food to have plenty of carbohydrates and become grain free. Potatoe are around 14% of the blend.
Vegetables are an essential source of fibre so we're pleased to see carrots, peas, beet pulp, seaweed as well as yeast and linseed on the list. If you've read any of our other food reviews on the JugDog website you'll know that most dog food manufacturers add beet pulp and nothing else just to get their neck over the nutritional quota line – Autarky have gone the extra mile by adding more than the minimum and increase the variance of minerals in the food.
A lot of the magic in dog food happens in the smaller ingredients and Autarky's grain free recipe is no different. Seaweed, algae, alfala, glucosamine, nettle, olive extract, mussel, yucca extract, blackcurrant, thyme and so much more is added to enable the food to provide omega fatty acids, antioxidant, joint support and a myriad of health benefits which also include reducing the smell of the gasses and stools of the lucky dog who gets to eat this. What we're trying to say here is that this food is packed full of quality minerals and nutrients which are far above most other recipes, not just grain free ones.
What's the kibble like?
They make a variety of different batches for specific sized breeds so the kibble is always the perfect size. The individual kibble has some light flavoured powder and has a satisfying crunch – it's nice enough to be sampled on its own or mixed in with your choice of wet food.
Is it cheap?
Autarky grain free dog food is neither cheap or expensive when you just compare the weight of the bag with the overall cost. However, as we've hopefully illustrated; Autarky's food is of exceptional quality and is a solid investment.
Ingredients list
Turkey (min 20% meal and 10% freshly prepared turkey), potato (min 14%), pea starch, sweet potato, chicken fat, full fat linseed, peas, un-molassed beet pulp, yeast (source of mannan oligosaccharides 0.1%), di-calcium phosphate, alfala, seaweed, marine algae (source of omega 3 fatty acid DHA), carrots (min 4% vegetables), glucosamine, potassium chloride, milk thistle, nettle, olive extract, green lipped mussel, yucca schidigera, blackcurrant, thyme, peppermint, oregano, fennel, pomegranate, turmeric, dandelion, ginger, fenugreek, rosemary, aloe vera (min 0.3% herbs)
How much should I feed my dog?
Small (5-10kg) 105-170g
Medium (10-25kg) 170-330g
Large (25-45kg) 330-515g
Very Large (45kg+) 515g+
Conclusion
Autarky grain-free dry dog food is one of the best on the market. Although we'd like them to use a bit more fresh meat and a little less meat meal the rest of the ingredients are simply class-leading and your dog will be thrilled to be given this.
No products found.
Read all our list of the best grain free dog foods here.
Related Articles
Last update on 2023-10-13 / Affiliate links / Images from Amazon Product Advertising API