Dry dog food is a tricky thing to store in your home if you want to make sure it doesn't get raided when you're not looking, you want it to stay fresh as possible and you want some help to ensure you're giving your dog the right portion size. This is where dog food containers come in to help with all three of those problems.
We've been able to get our hands on a few of them to test and the below is our findings on which dog food containers we feel are the best.
Best Dog Food Container Review
1. Henry Wag Fresh Food Box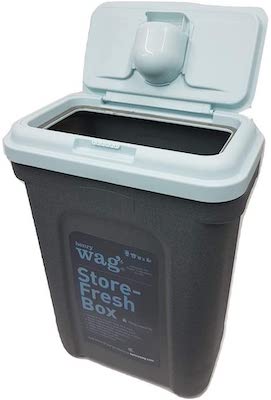 This is the ultimate in fresh dog food containers as the primary aim is the freshness rather than convenient tipping. It's airtight, dark and keeps moisture, bugs, pests and anything external from getting in with a snap lock so the dogs themselves can't get in either.
It's not designed to be tipped into a bowl but instead you can use the provided scoop for exact measurements every time which is ideal for portion control.
On the inside is a foam sealed and surrounding the lid is a plastic lip which keeps the moisture from getting in when not being used. There will already be air in so there is no air vacuum involved.
It's pretty big and can hold up to 15kg of dry kibble which is usually the maximum manufacturers will make. Despite it being big, the fact that it keeps the food fresh means it can be stored anywhere – a lot of people try and keep food out of places like an outdoor storage bin or the garage from fear of bugs getting in but that's not a problem with this. We placed this in our garage and we only needed to take the bowl there and back every meal time.
It's relatively cheap for its size and plastic is crack resistant and pretty tough, no need to worry about it being knocked over and ruined quickly after purchase.
The kibble really did stay just as fresh as when we first opened the bag of kibble! Highly recommended and one we still use to this day.
2. BUDDEEZ Large Dog Food Storage Container and Dispenser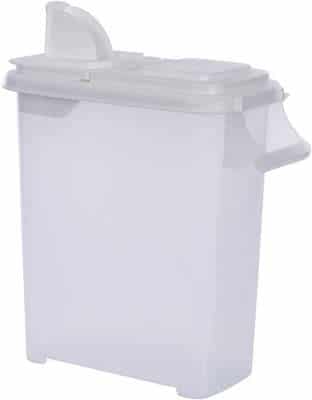 If you buy your dog food in bulk then this huge dog food container could be all you will ever need. It holds up to 10kg of kibble which is way more than your average supermarket bag and just under the largest packs they offer (usually 12kg-154kg). But, if it was any heavier it would be too hard to tilt and get it out.
This works best by putting the bag in fully and not tip out the bag and then into the container.
We were able to fill the whole thing and it was heavy but still doable to tip out without spilling thanks to a simple yet intuitive spout and the handy handle on the opposite end.
It's BPA free so nothing will creep into the kibble. But, it isn't airtight so you'll still need to store it in a cool, dark place to keep its freshness. It's huge, convenient and does the job.
Read More: Best Dry Puppy Food Money Can Buy in UK 2023
3. CURVER Food Container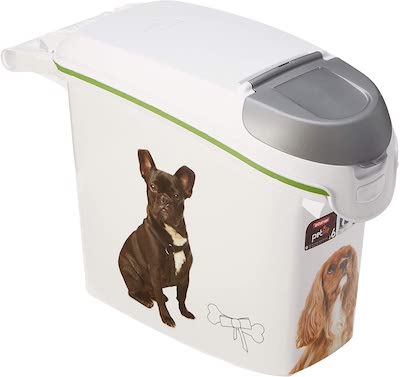 For something a little easier, smaller and simpler try the Curver brand – the ideal solution for smaller dogs who don't go through an enormous amount.
Holds about 6kg and keeps it fresh when inside through a hermetic closure and a rubber seal which keeps nasties away and moisture from constantly getting in. This means it keeps the dry kibble smell in and other odours out which helps keep the kibble tasting as nice as intended.
It's easy to get the food out with the small lip in the front and it's equally as easy to refill with the larger hole on the back.
It looks pretty great and worked with our kitchen decor so we didn't feel the need to hide it away like some of the others.
One of the cheapest on the market and you can usually pick this up for just over a tenner. But, as we mentioned about the size this isn't ideal for large breeds as you'll get frustrated refilling all the time but for dogs the size of spaniels and smaller it is ideal.
4. Chef's Path Cereal Storage Container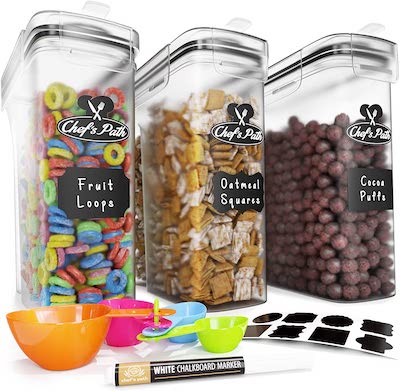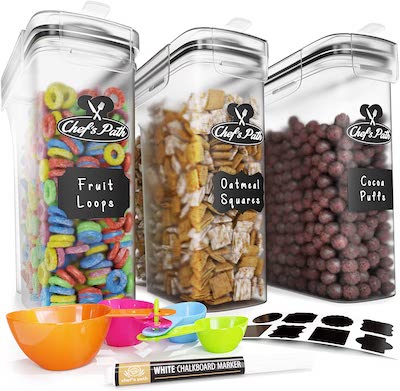 Don't be fooled into thinking dog food containers need to made specifically for dogs, because they don't and these cereal food containers prove just that.
You can't get them in singles so what we did was use one for the dog and the others for ourselves. They are airtight, BPA free and keep the contents inside far away from stuff that will spoil it.
This makes this set one of the most cost effective purchases that will do the job for most dog owners nicely as long as they're not massive breeds or you'll get annoyed with constant refilling. The flip top lid makes it easy to pour without giving too much and losing control and because it doesn't weigh much (4L storage) it's easy to do even with one hand.
Dead simple stuff, and a bit of a bargain.
Read More: Best Dry Dog Food Money Can Buy in UK 2023
5. Lesser and Pavey Metal Dog Food Container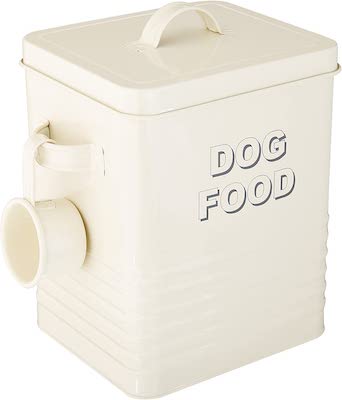 This list would not be complete without a mention of a metal dog food container. The reason being is that they get dented, scratched and are susceptible to the elements which isn't ideal if you keep the food somewhere like a garage. That being said, Lesser and Pavey have made a really cute and functioning product which we really enjoyed because it just worked and made the kitchen look nicer.
Sure, it's not air tight with a handy little spout but it does come with a scoop which makes portion sizes easy. Out of all the food containers we reviewed this probably looked the best and made us more happy to use in a funny little way. Recommended for those looking for aesthetic and some function.
Why get a dog food container?
Convenience and the ability to keep the dog food fresh for longer are the two top reasons to get a food container. The latter being the reason why we recommend owners to buy one.
The convenience comes from a better and easier way to put away bulk bought food without having to keep the enormous bag. Buying in bulk saves a lot of money, especially over long periods of time but the bags can be enormous and most of the time no one has the space in the kitchen for it and they don't want to keep an open bag in the garage where it can be spoilt. Putting it all in a cleverly designed storage container makes it a lot easier. Eventually, the savings from buying in bulk pays for the container itself making it a cost effective purchase.
The ability to keep the food fresh is the second major benefit. As Mercola explains, the enemies of dry foods are heat, moisture and air. Over time, these three things can erode nutrition and ruin the whole batch. Large bags which take a while to eat are most at risk as they're exposed for longer, naturally.
All three of these can get to the dry food when it is in a bag which can't be reaselad, you may not even notice how they've spoiled as it can sometimes be hard to spot mould on brown kibble – we've experienced this and caused a massive amount of horror and guilt. Thankfully, Jeff was OK.
A quality dog food container satisfies these two benefits by offering convenience and a way to keep the freshness.
Related Articles