It can be difficult getting the right gear for Pugs because of their unique size and shape which makes a lot of 'one size fits all' just too small. This can be painful during the rainy season when you need a coat but you know most of what you really want may not fit and work properly.
In this article, using our own expertise as owners of a Jug who has inherited the shape and size of his Pug father, we run down the best coats for pugs to keep them dry and warm whenever you need them.
Reviewing Best Dog Coats for Pugs
1. Petz Waterproof Black Dog Coat designed for Pugs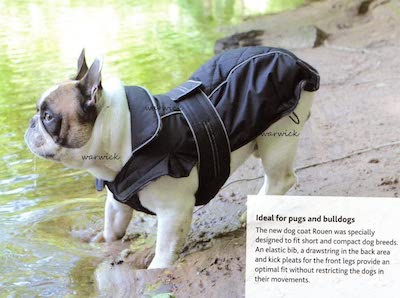 Petz Waterproof Black Dog Coat is the best coat for pugs. It has been designed to accommodate their large chest and smell neck thanks to the strong girdle and adjustable belt and kick pleat for freedom of movement. There are four sizes available to accommodate small to large pugs.
Sizing aside, this is a great coat as it is a waterproof coat with a soft inner lining to keep them warm making it ideal for winter use. This has been highly rated online and with good reason and they've catered for Pugs whilst offering a high-quality product at an affordable price.
2. Doggydolly Winter Dog coat for Pugs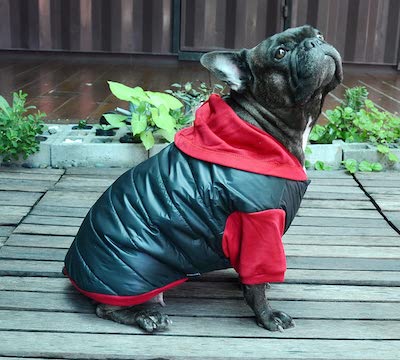 This gorgeous dog jacket with a hood is attractive for those looking for a bit of style alongside their substance as it has a lovely black sporty waterproof outer layer and accentuated red trimmings which will make your Pug look really cool come rain or shine.
On the inside, it is fleece lined which will keep them warm during chilly walks.
This has been designed for Pugs and other barrel-chested breeds such as French bulldogs as the chest area is larger than most standard dog coats. It does contain a hood but this is more for aesthetics than anything. The coat uses velcro to adjust to cater for your specific dog.
3. Cosipet Fleece Coat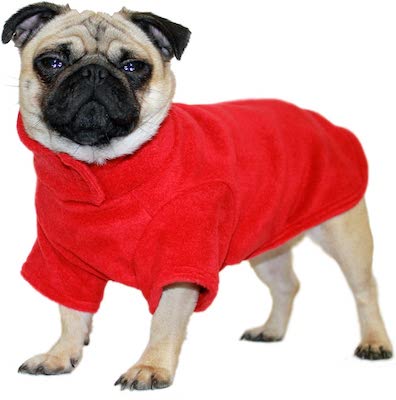 Cosipet's fleece coats are designed for Pugs to use on cold walks but they are not waterproof. They're extremely snug and made with 100% polyester fleece. The coat covers some of the front legs and has a turtleneck to keep them nice and toasty.
We would see this coat as more of a jumper than a coat because it's not suitable for rainy days. However, this Pug jacket is significantly cheaper than dedicated coats and if you never walk them in the rain anyway you could save a lot of money with this.
Made in the UK and fully machine washable the fleece coat is a fantastic bargain for the fashion-conscious Pug owner.
Read More: 5 Best Extendable Dog Leads – Retractable Leashes For More Freedom
4. BbearT Pug Raincoat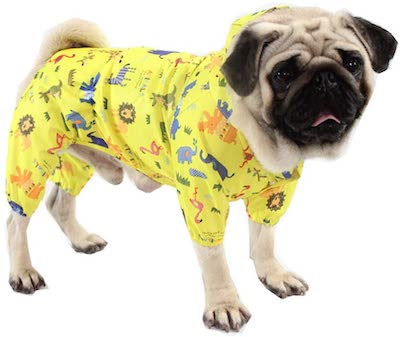 If you're specifically looking for a raincoat for your pug then the BbearT is one of the best and most flamboyant you can get.
This is made of 100% waterproof polyester which is the same material as humans have in our raincoats. You can clearly see that they've also put quite a bit of effort into the eye-popping design which is sure to brighten anyone's day when they walk past you during a wet walk.
This coat also has a good which is more than just an aesthetic addition as it is long enough to cover some parts of the head. For pugs and their short snouts, this will keep most of their head dry and stop the water from dripping down into their eyes.
The coat also covers half their legs and most of their chest but no belly protection, unfortunately. It's easy to put on thanks to the legs and fits snugly through a waist adjustment. An eye-catching and quality raincoat which fits pugs perfectly and a steal for less than £11.
5. Morezi Pug Snowsuit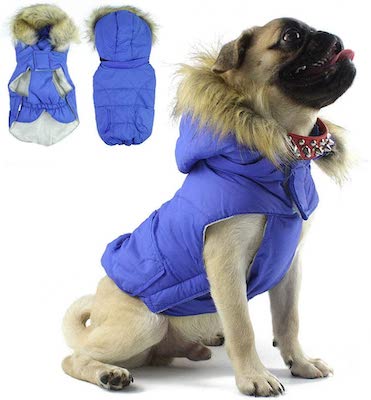 Splashproof, windproof and snowproof. The Morezi snowsuit is one of the best coats for keeping a pug dry and warm in areas which get particularly cold such as Scotland and the Scottish Isles. This coat is extremely thick with double polar fleece lining which you can immediately feel when you touch it.
On the outside is water wicking polyester which stops the water from penetrating the lining and wicks it off to the sides. For added comfort, the hood is faux fur lined to keep them nice and toasty but it is detachable if you don't want it or your Pug is annoyed by it.
This coat protects the chest but does not offer anything for the legs and belly so you will get some splashbacks and they'll need washing when they get it.
We love the colours available and how easy it is to get on and adjusted thanks to the 'magic band' – you won't need to lift a single leg to get it on or whip it off. Best of all, the Morezi Pug snowsuit is extremely cheap often available for as little as £10 with a 1-year warranty and money-back guarantee.
Dog Coats for Pugs Buyer's Guide!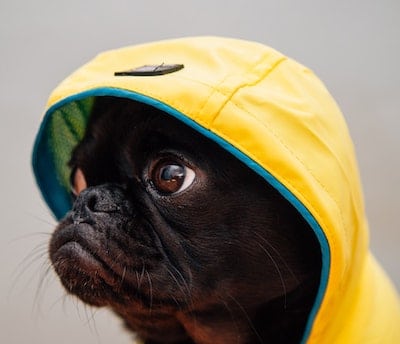 Unfortunately for Pug owners and owners of crossbreeds, buying clothes can be a tricky process as they aren't shaped like most other breeds. They're both small and big at the same time thanks to a barrel chest, short neck and slim torso.
However, there are many manufacturers out there who have made coats specifically for Pugs but they can be hard to find. We've compiled the list of the best Pug coats and created a handy buyer's guide to help owners learn how to deal with their Pug's shape when shopping for products.
Does my pug need a coat?
Despite their portly stature, Pugs can feel the cold just like any other dog but this shouldn't stop them from being able to get their exercise (as we've covered in our article 'should you walk your dog in cold weather' so long as you're prepared.
When it's seriously chilly, a good coat can make all the difference for your Pug. It will help keep their body heat from escaping and it will help keep rain from seeping through their fur. You wouldn't leave the house on a snowy or rainy day without one, would you?
Pugs are susceptible to obesity and are known to be a little lazy at times. Avoiding walks during the winter can speed this up and make them unhealthy if left unchecked. Not only that, getting out is a great chance to socialise and walks are known to help boost mental health.
So, does your pug need a coat all things considered? Yes, if they want to get the best out of a bad situation.
Read More: 10 Best Dog Beds For Pugs – Let Them Sleep In Comfort – JugDog
Do pugs get cold easily?
Pugs don't do well in any kind of extreme weather be it hot or cold due to their unique physiology. They have a lot of things going against them in the cold and wet which are – thin coats, small bodies and most importantly they are brachycephalic breeds (short muzzles) which means they can have breathing difficulties.
Their thin coats and small bodies mean it's easier to lose their body heat and feel the cold, this can be mitigated by a dog coat but the fact does remain that Pugs can get cold easily.
Do pugs have a winter coat?
Pugs are a breed which has a double coat which means they have guard hairs and an inner insulating layer of hair. The guard hairs can grow and moult throughout the year which some people would call a summer and winter coat which adapts as the season's change.
But, it is still a relatively thin coat and not comparable to the likes of Labradors and Golden Retrievers.
What to look for when buying a coat for a pug?
The most important factor to look for in a good coat for your Pug is the fit, specifically around the chest area. This is why our recommendations are made specifically to accommodate their larger chest.
It's important that the coat you choose is loose around the neck so it doesn't make their breathing any harder than it already is. In terms of material and materials, it doesn't matter as long as they're of good quality. The whole point of coats is to keep them warm and dry and as long as they can do that it's fine.