When the weather starts to turn in autumn/winter you and your dogs are going to start seeing a lot more rainy days. This can put a lot of dog walkers off going outside with their furry friends for fear of getting wet and having a smelly and dirty dog to contend with once you're home. However, we want to help change all that by listing our recommended waterproof dog coats to keep your dog wet and dry during a rainy walk. With one of these coats in your arsenal, a rainy day doesn't have to mean no more walkies!
JugDog Recommends - Muddy Paws Stormguard Fleece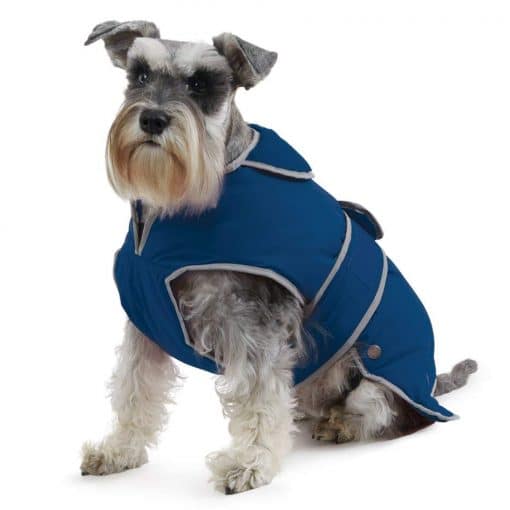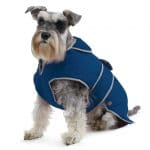 We've tested so many waterproof coats that you wouldn't believe. We've finally come up with a coat that we recommend above all else but it was tough. But at the end of the day, we feel the
Muddy Paws Stormguard Fleece
is the best overall coat. It's completely water resistant, has an insulated inside, easy to put on, machine washable and it ticks all of the boxes while having a reasonable price. We've got plenty of alternatives that you can compare with this but we did feel it was worth giving this one a special mention if you're in a rush! Check it out!
We've been lucky enough to test over 40 rainproof dog coats over several months to come up with our shortlist of 10. We feel that all 10 of these coats would be a worthy purchase for your dog during the rainy season. However, not all water resistant coats are created equal and some didn't have to either be better or worse than others. Some coats are just different so we've tried to include as many unique coats as we could to cater for any dog owner! We hope our ultimate buying guide will help you find the right product.
Best Waterproof Dog Coat Brands In the UK
Below is a table of the waterproof dog coats we feel deserve a special mention:
Brand
Best Overall
Muddy Paws Stormguard Fleece
Special Mention
Mark-Anthony Waterproof Coat
Special Mention
Cosipet Trouser Suit
Image



Best Overall
Brand
Muddy Paws Stormguard Fleece
Image

Special Mention
Brand
Mark-Anthony Waterproof Coat
Image

Special Mention
Image

Waterproof Dog Coats Reviews
1. Ginger Ted Shower Waterproof Coat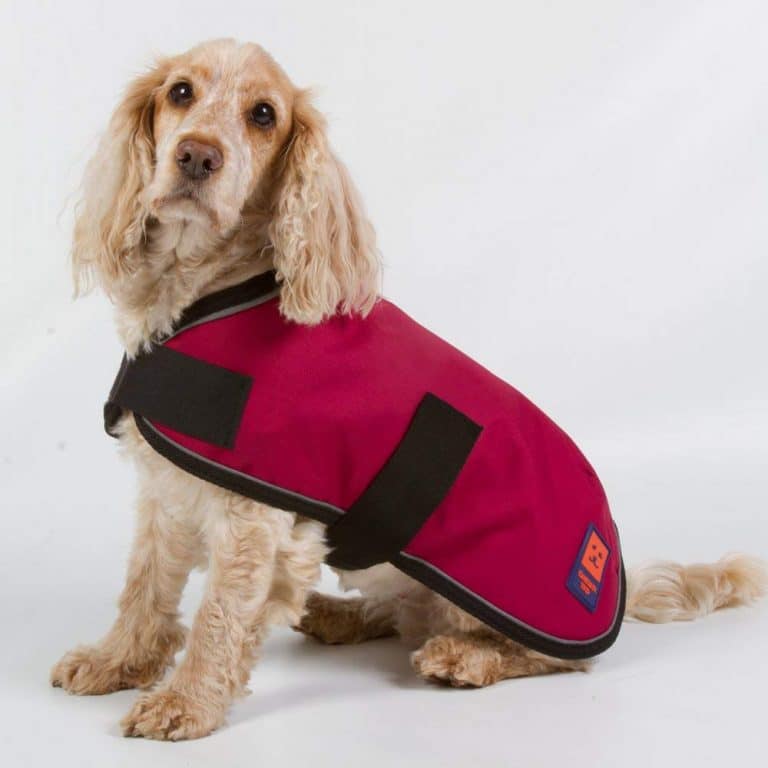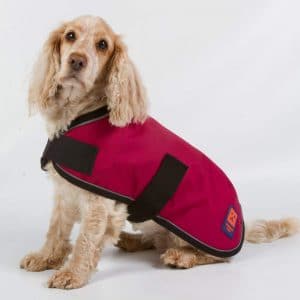 Ginger Ted have a fantastic reputation for making great coats and they have a couple featured in our list of the best winter coats for dogs. Their version of a waterproof coat is one of the finest on our list. The strong and durable outer fabric is both windproof and waterproof which makes the water slide off and not accumulate on the material leaving the coat soggy and soaking throughout. The coat is fleece lined inside so it not only keeps them dry but warm as well – as you'd imagine if it's raining on a dog walk it's probably going to be cold as well. Originally, this coat won the top prize in our reviews.
The front straps and belly straps allow this coat to be equipped rather quickly and without much of fuss. It's not very clear from the picture but this is a waterproof dog coat with a harness hole so if you've invested in one of our best dog harnesses then your investment will continue to be used. The outer layer has reflective piping to help your visibility in the dark and the rear dart helps it adjust to the different shapes of dogs. If you have a daschund or a greyhound you can choose a specific version for them which is exactly the same except for the size.
The Ginger Ted Shower Waterproof coat is available in 12 sizes and 8 colours which are bewildering for dog coat which is a bit niche. One of the drawbacks of this coat, however, is that it is not a waterproof dog coat with chest and belly protection so if you have a short dog they will still get splashbacks which will require cleaning when you get in. This is not a common feature so it doesn't take away much from this fabulous coat which is generously priced.
To conclude, the Ginger Ted Shower Waterproof coat is a fabulous coat which fits extremely well, priced very generously and made using quality materials. The water slides off and your dog stays warm during your winter walk. However, it does not cover the dog's belly or chest.
2. Country Pet Waterproof Coat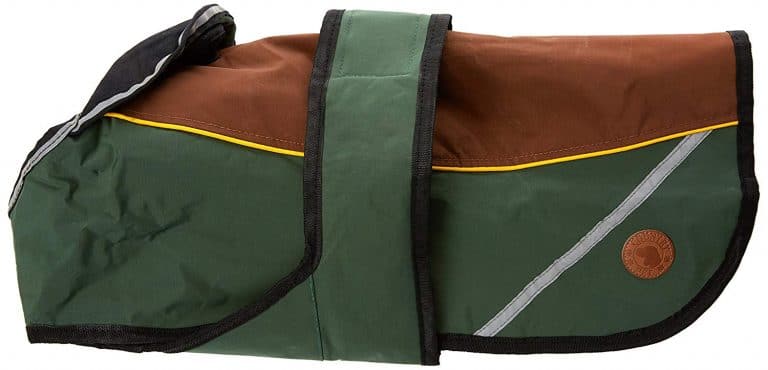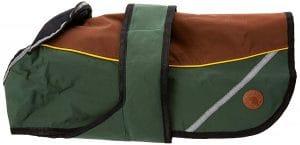 If you're looking for a waterproof coat that's a bit posh and fashionable then why not consider the Country Pet Waterproof dog coat. The coat looks like a posh country manor jacket but it has been made using the same materials as most other waterproof dog coats which allows the water to slide off and the coat to avoid absorbing water. We were 'blessed' with a rainy day to take this out for a test and we can confirm it is indeed water resistant and did not get soaking wet. The velcro fasteners are water resistant and robust which gave us a tight and neat fit which held the coat secure. Even with movement, the velcro did not let up. The coat has three layers – the outside waterproof layer, an insulating core which traps the heat in keeping the pooch toasty and a soft inner layer which makes it comfortable and breathable to wear. This means that the coat keeps the dog warm but not so much that it's uncomfortably hot.
Country Pet has made sure to include the reflective strip for nighttime or winter walks alongside the country manor style of the coat – it's a bit lacklustre compared to some of the others but you should never rely on just a reflective strip at night anyway. There are 7 sizes of the coat – 30cm, 35cm, 40cm, 45cm, 52cm, 65cm and 75cm which are related to the length from the base to the tail to the neck. This is suitable for most regular shaped breeds but greyhounds and daschunds may struggle. The colour you see is the only one available so if you don't like this one then you're out of luck. It's not great for some dog harnesses to use at once so bear that in mind. The price point is somewhat expensive but the coat does look expensive which may give you and your dog the perception of wearing expensive items. Lastly, this is not a waterproof dog coat with chest and belly protection so expect a wet belly!
To conclude, this is one of the better looking waterproof coats out there as style very rarely plays a part. You do get a fully functioning rainproof dog coat for your money though, but you'll have to pay a little bit more for the privilege of style!
3. Mark Anthony Waterproof Dog Coat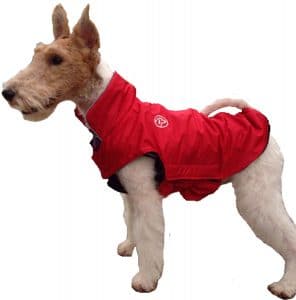 Now, if you're looking for a sure-fire quality purchase then look no further than this absolute gem from Mark Anthony. We were taken aback a little with this coat as the price point doesn't suggest a 'best' level of the coat. This is more of a coat than most of the other entries on this page as it completely encloses the torso which protects the back, chest, neck and belly. Waterproof dog coats with chest and belly protection are hard to come by that are of a decent level of quality and this is definitely one of them.
It's made of quality nylon which helps the water slide off when it makes contact with a fleeced inside to keep your pooch nice and warm inside. The breathable material helps the dog not get too hot and develop skin problems. But, this coat isn't just substance! It also has a lot of styles to boot and one of the best looking waterproof coats on the UK market. It pretty much looks a lot like what we might wear ourselves in the British winter/autumn weather.
This is an easy dog coat to get on but it's not overly compatible with harnesses so you may have to put it on top or invest in a collar. You'll have to decide what's best for you and yours. There's loads of colours available and sizes to suit most dogs – from shoulder to tail you have 10.2″, 12″, 14″, 15.5″, 16.5″, 18.5″ and 23.2″. Measure your dog before purchasing.
To summarise, the Mark-Anthony Waterproof dog coat is one of the best on the UK market that will protect your dog from the rain including their chest and belly. It's stylish looking with a very generous price point. The downside of this coat is its incompatibility with some harnesses meaning a new collar may be necessary.
4. Muddy Paws Stormguard Fleece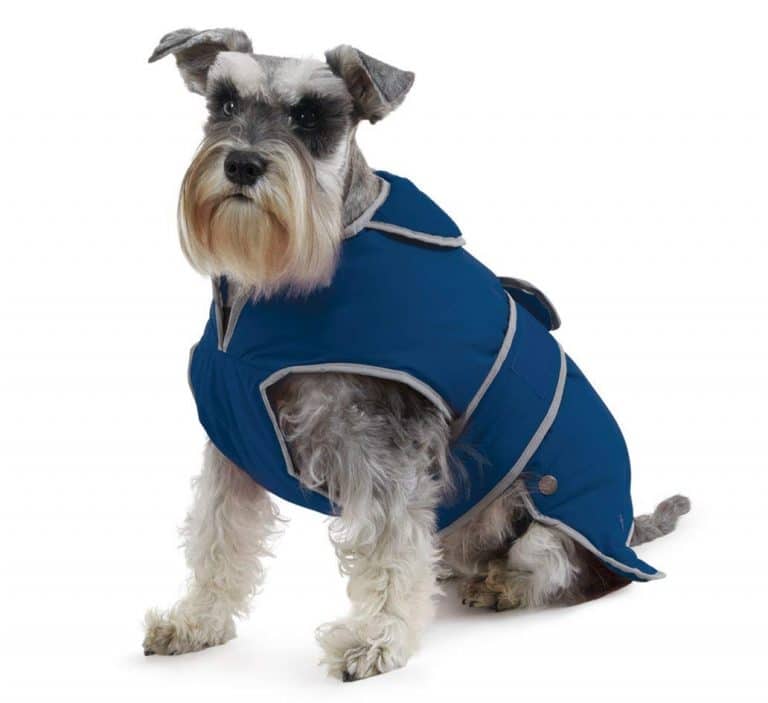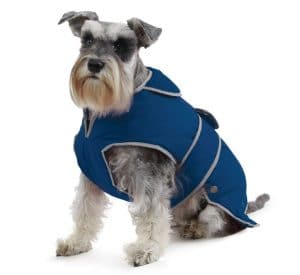 The Muddy Paws storm guard fleece by Ancol is often a recommended product on Amazon and with good reason as it has over 1,700 positive reviews on Amazon and averages a score of 4.5 out of 5. This is an amazing coat. The "stormguard" design is new from Muddy Paws and resembles that of Ski jackets which are used to stormy, windy and rainy weather. It's so easy to put on with big strong straps and tough velcro. The fit is nice and snug for our Jug and the Size guide was simple enough for us to know we needed a small. The sizes available are (measurements are neck to base of tail) small (26cm-36cm), medium (36-46cm), large (56-66cm), x-large (66-80cm) and 2x large (66-77cm). Plenty of sizes to suit any dawg. There are two colours available for each size which is a simple blue and red.
The material (nylon/cotton) used to make this coat allows the water to slide off effectively and its waterproofing credentials stack up with the best of the bunch in this list. The coat on the inside is also lined which helps to keep your mutt warm and toasty on a blustery walk. This is the sort of weather this coat is made for – not just rain. Its strong design makes it an all-weather coat that will work equally as good in the cold and win even if it's actually raining. This means that this coat gets a definite edge on its competitors who may have specialised in rain only and not considered cold wind. The Muddy Paws storm guard fleece has neck and chest protectors and covers most but not all of the dog's belly for coverage that's superior to most other waterproof dog coats on the UK market.
Not only is this one of the best waterproof coats in this list it's also one of the cheapest, too. Ancol is a brand that makes just more than coats and we have featured their products in other lists we've created such as best dog crates and best dog whistles so we know that Ancol is a brand you can trust. The coat also features a hole or a slit for you to put a harness underneath for a walking experience your dog is accustomed to. It also means your harness, if you've invested in a good one, continues to be a product worth investing in.
To conclude, the Muddy Paws storm guard fleece is one of the best waterproof cog coats you can buy at an incredibly reasonable price. It keeps them warm, keeps the water from soaking their natural coats, can be used with a harness and is very reasonably priced. You'd be a fool to not have this in your shopping shortlist this winter/autumn.
5. Outhwaite Padded Dog Coat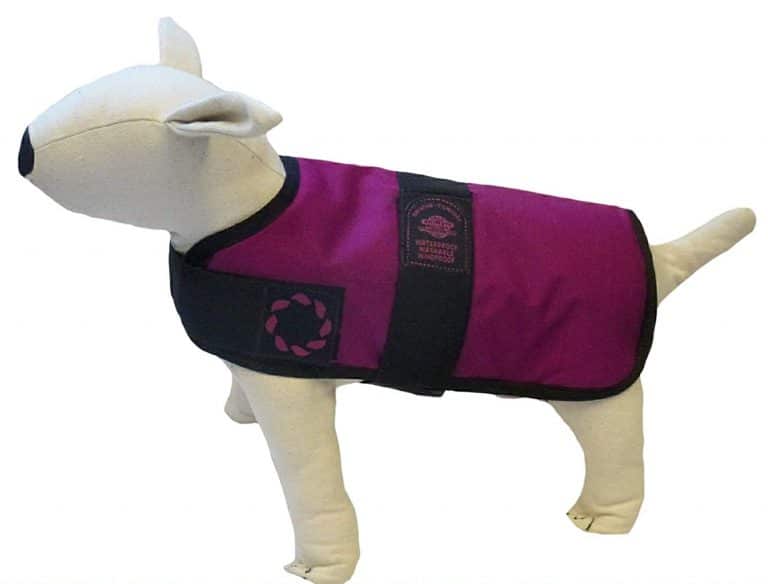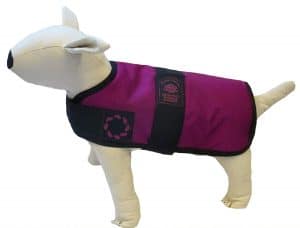 No words can describe how awful the toy dog Outhwaite have used for their product images. It was so bad it almost put us off accepting the tester! However, we're glad we didn't because this is yet another decent waterproof dog coat on the market. The coat is one piece of water-resistant material that wraps around and is held in place by the velcro straps under the belly and across the chest. It is a decent fit but it isn't the best so it looks a bit like the dog is wearing a tent. However, this does not hold back the performance of the coat in the rain and wet as we'll discuss now.
The material is water resistant which does protect the pup's natural coat from being soaked through. Water splashes will simply fall off as if it was nothing. It is fully waterproof for most of the torso but not the belly. It has double stitching which protects the edges of the coat from being worn down and ending up looking shabby. Inside, the Outhwaite coat is padded and warm which keeps them toasty if the temperature drops while it's wet and windy.
The size list on Amazon has been poorly uploaded by Outhwaite with repeating measurements that are labelled differently which causes a very confusing experience if you haven't measured your dog for a coat before. The size range goes from 30cm to 70cm which is from the neck to the tail. Take care of ensuring you know what the measurements mean and what you need before you make a purchase. There is a wide range of colours available for the coat which are black, blue, red, green, maroon, raspberry, navy and bottle green which is one of the most extensive choices of colours in our list of waterproof coats here.
The price point is very generous and definitely on the cheap side of the spectrum. The materials used are of a decent quality but not the best quality you can find. However, this is a very serviceable waterproof dog coat to consider with 100s of positive reviews behind it to put you at ease that you're making a safe purchase.
6. EzyDog Element Dog Jacket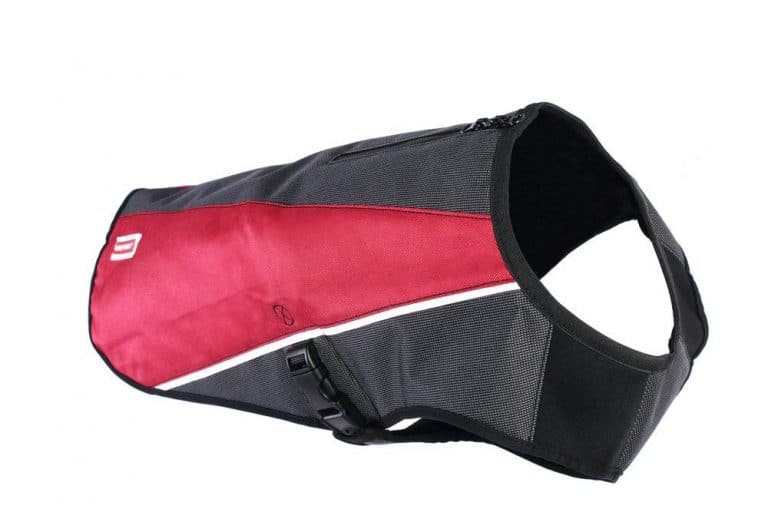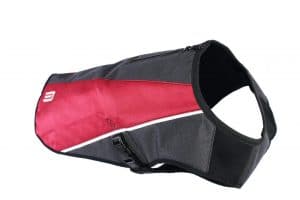 If you're looking for a modern and easy waterproof coat that does away with velcro and the traditional styling associated with dog coats then the EzyDog element dog jacket should definitely be on your radar. This is a waterproof dog coat which has design and the perfect fit in mind – it's one of the fastest coats in our tests to put on and an experience which totally stress-free. The neck has Neo-Xpand neck which stretches and contracts to suit the wearer's dimensions. On the back is a waterproof zip access to allow you to place your harness or leash so that's another tick in the box here. The exterior of the main unit is durable with 500 denier ripstop so a rummage through some branches won't just tear it up. On the inside, you've got non-pilling fleece which keeps your hound nice and toasty on a chilly stroll. This is a seriously well-made coat made from quality heavy duty polyester that will delight owners and the dog.
We've not discussed its waterproof credentials yet which is the whole crux of this review. Well, we're pleased to say when we took our Jeff out in a summer shower the water did not permeate through and he stayed dry and warm for the whole walk. Of course, the parts that aren't covered did get damp such as the head, the belly and legs but that's about it. This is not a waterproof coat with belly and legs protection. The harness we had underneath (Julius K9) stayed in position and it did not cause any sort of discomfort or hassle for that matter. This is a windproof coat, too, which makes it a great investment for rough weather if it isn't raining. You'll be amazed at how much of a lightweight waterproof dog coat this jacket is considering just how well made and protective this is in the elements.
The EzyDog Element Jacket only comes in one style which is the stylish red and black but it does come in a few sizes which are from the neck to the base of the tail, they are: extra small (14.5 inch), small (17.5 inch), Medium (21 inch), Large (23 inch), extra large (27 inch) and double extra large (27 inch). This is suitable for most dogs but may not be appropriate for awkwardly shaped dogs such as dachshunds and greyhounds so order once you've done the research and perhaps contacted EzyDog. This coat is not the cheapest on this list but it one of the best in terms of quality and ease of use.
To conclude, the EzyDog Element Jacket is a superb waterproof coat and one of the finest we were able to test on a rainy walk. It's easy to put on, fits incredibly well and made of quality materials. It's not the cheapest, granted, but it's not exactly expensive either so this should definitely be on most dog owners shortlists this winter.
7. Zellar Dog Raincoat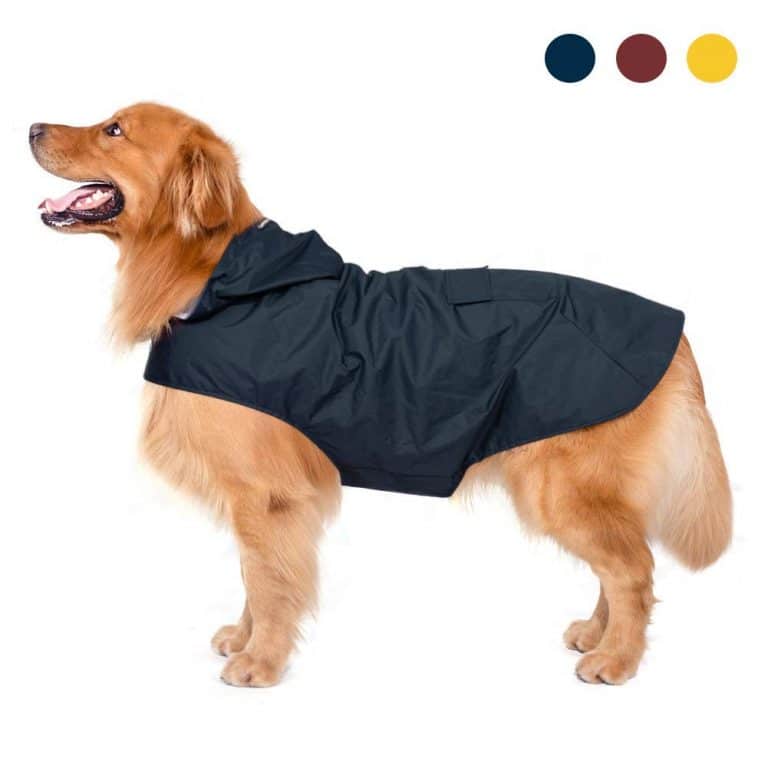 For something that is a little different from the usual tightly fit dog coats why not try the Zella dog raincoat. It's been made in such a way that it resembles more of a human raincoat but adjusted for a dog if that makes sense. It is 100% waterproof and we have tested this ourselves and can confirm this to be true. The mesh lining inside keeps the water off the surface and unable to penetrate the coat to soak the skin and the fur. Putting the coat is easy with chest straps and belly straps with velcro. Because the straps are quite chunky there is some chest and belly protection with this waterproof coat – it's not completely covered but it is a lot more than most.
One of the defining features of this waterproof coat is the addition of the hood which can be used to either increase neck coverage or to completely cover the top of the head. This is a bit hit and miss as some dogs may find the hood more irritating than the actual rain (falling on their heads). Regardless, it is a unique selling point and some of you may find it useful. The Zellar raincoat even has a pocket to keep poo bags, treats or whatever you want. The pocket uses a flap but is not water tight so don't put anything in there you want to keep dry.
This coat is easy to clean with a wipe or a wet flannel once your back home, it's also machine washable if it's really been hammered on a walk. The materials used look and feel of a good quality which means this coat will last you quite a few winters over the years. It has a harness hole so you don't need to stop using your favourite harness when using this waterproof coat which is a huge bonus. Reflective strips are also present but our feelings on them are still the same – they don't really make a difference without a light source to shine on them.
The final two points we want to make is that the Zellar raincoat comes with an excellent 18-month warranty and the price is extremely generous. The 18-month warranty should really put you at ease that you will either get a product that just works or that they'll swap it for one that does. The generous price point means that it's so cheap there's a very little risk anyway. Not that there is any risk as the tester model we received was faultless.
To conclude, we'd be hard pressed to not say this is one of the best cheap waterproof dog coats out there with two unique selling points most others don't have and the price is very cheap. You almost can not go wrong with this waterproof coat if you're on a tight budget. Seriously.
Zella Dog Raincoat
Collar Harness Hole & Safe Reflective Strip Design - Collar Harness Slot for collar/leash users. Back reflective strips help you locate your pet easily and ensure its safety in dark night.
8. ZOMOEA Dog Jacket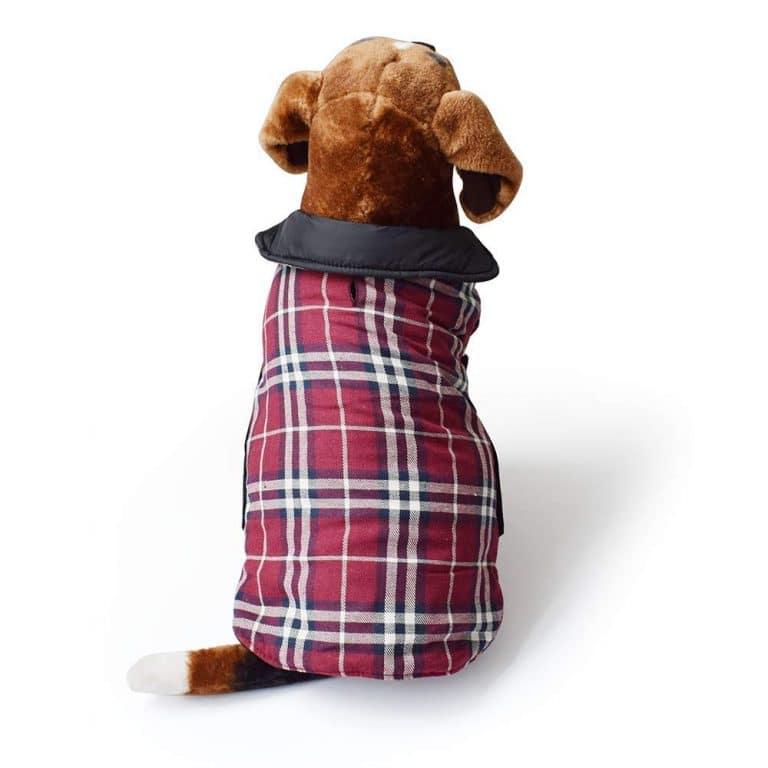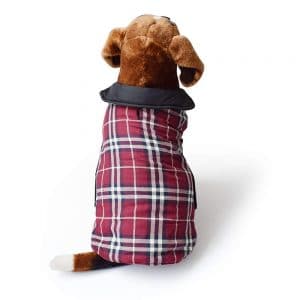 The Zomoea dog jacket is an eye-watering cheap waterproof dog coat that performs rather well considering you can often get it for under £10. Yes, you read right – a waterproof dog coat for less than a tenner. It's not all about the price though, it does need to be a decent product or it's a wasted tenner. Spoiler alert! It IS a decent rain resistant dog jacket and here's why.
First of all, the materials used are waterproof polyester with a soft and warm inner layer to keep their body temperature up while on a walk. We took Jeff out on a rainy day and can attest to its abilities. It did indeed keep him dry during the walk with moderate rain. The stitching on the coat is of a high standard which is tough and durable which will take a beating before it will show signs of wearing. The coat gets major plus points from the Jug Dog team by giving you belly and chest protection.
If you want to continue using your harness with the Zomoea dog jacket you can do so as it has a hole for the o-ring by the neck. The collar which is attached with the coat can be folded or extended for even more protection if need be- we never bothered with that. The only thing we didn't like about this coat was the colours and patterns which we felt were a little on the ugly side, to be honest. At the end of the day, it doesn't matter too much what the coat looks like as long as it works….right?
To conclude, we're astounded with how cheap this coat is considering its waterproof, windproof, is compatible with a harness and will keep them warm. We strongly recommend checking this out if you're looking for a cheap waterproof dog coat this autumn/winter.
No products found.
9. Cosipet Trouser Suit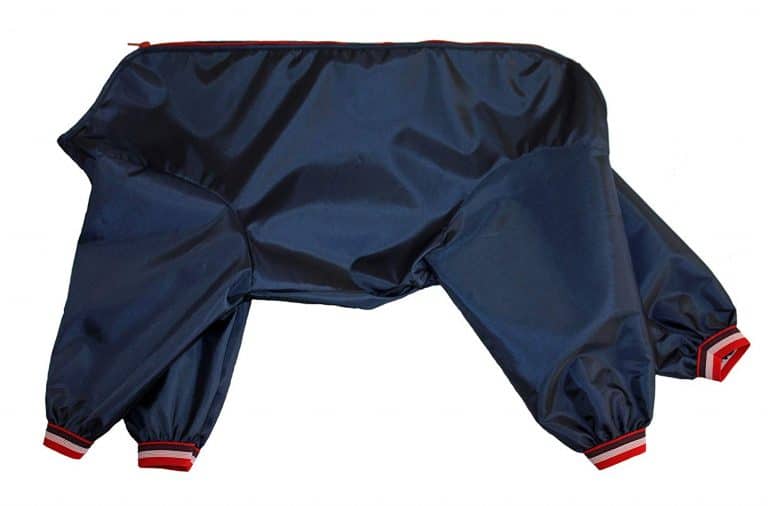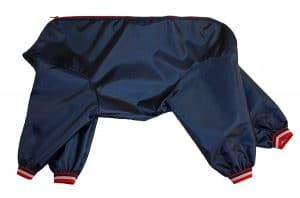 If you want to, without a doubt, protect your dog's body from as much rain as caninely possible then you definitely need to get your hands on Cosipet's trouser suit. This bad boy covers every inch of your hound bar the feet and the head with waterproof polyester which not only keeps them dry but clean as well. You won't get any splashback dirt so you only need to wipe the feet when you get back home. This is a wonderful dog rain suit with legs.
To put it on, you'd need to wrap it around the body and then manually put the legs into the coat's legs which can be a pain if you have a dog that doesn't like wearing clothing. They are quite common! The cuffs of the ankles are elasticated and fit tightly which is what allows this to not be too loose. The cuffs also keep the water from splashing upwards into the suit. Once in, you simply zip them up and you're on your way. The dogs can go to the toilet while wearing this which isn't illustrated in the press images we've received.
What you need to make sure to consider is what size is right for your dog as there are a lot to choose from. The sizes are (from neck to tail) – 8 inch, 10 inches, 12 inches, 14 inches, 16inch, 18 inches, 20 inches, 22 inches, 24 inches, 26 inches, 28 inches and 30 inches. There are three colours to choose from – navy (pictured), red and black. What we found about the coat general style was that it looks a bit daft, to be honest, and if dogs could feel embarrassed about their clothes they certainly would in this. But, if it works then I guess that's all that matters.
To summarise, this is the ultimate waterproof coat which covers the dog's entire body – even if it does make them look a bit stupid. It's relatively cheap and does the job better than all other coats to be fair!
10. Wooce Rain Coat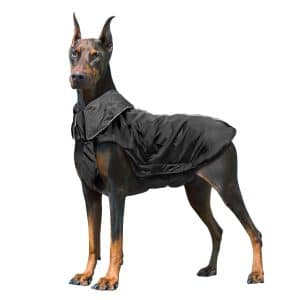 We're not ashamed to say that we really like the Wooce dog raincoat because of how it ticks all the boxes with no fuss, no fancy bells and whistles and without costing the earth. As you can see from our magnificent model in the image that it's a classic style dog coat made with waterproof nylon which directs the water off the coat and does not let it permeate into the dog's fur and skin. This is as expected and just works as you'd want it to. It has an insulated inner fleece which keeps the hound nice and toasty, too.
Next, we have the fit which has a chest and belly strap with waterproof velcro which can be tightened to fit your dog's size. There are more sizes than usual available so whatever dog you've got they will be catered for, size ranges are S,M,L,XL,XXL,3XL,4XL,5XL. Check the size chart and measure your pooch before parting with your hard earned cash! It's a soft and comfortable waterproof dog coat to wear which we feel looks pretty stylish. Bonus points are also given as the Wooce raincoat is a waterproof dog coat with chest and belly protection. Woo!
Harness users will be pleased to know there is an o-ring hole in the coat to attach the lead to the harness underneath. The coat also has reflective strips to replace your harnesses now that it's covered by the coat. Black, orange and red are the available colours. Our favourite was the simple black but we can see the appeal of orange and red when the visibility is less than usual in the rain.
To conclude, we feel the Wooce raincoat is of the best and most complete waterproof dog coats you're likely to come across. It does everything a water repelling dog coat should do while looking good and not costing much. As some people have mentioned on Amazon reviews – this is a steal! Just make sure to measure your dog properly according to Wooce's guidelines as many people have come a cropper here!
No products found.
What is a waterproof dog coat?
A waterproof or water-resistant coat is a type of coat designed to be worn by dogs which protect parts of their body, usually the torso, from water sources such as rain. These types of coats are typically made using the very same materials that human rainproof are made out of. The materials used and the design of the coats help the rain slip off the coat while not absorbing any water into the material which can then soak the dog's fur underneath.
Waterproof dog coats are worn more or less exactly the same as regular dog coats with straps or buckles and they may share similar traits with winter dog coats.
5 Benefits of purchasing a rainproof dog jacket
The benefits of water-resistant dog coats seem pretty obvious to the point where they may not be worth mentioning. Some people feel that putting clothes on dogs is cruel, but these kinds of clothes have a tangible benefit so it would be harsh to say this here. However, there may be some direct and indirect features of a good liquid jacket you may not have considered. Let's dive in
1. Protects your dog's fur from getting soaked through
A dog's natural coat is oily which naturally keeps water from soaking them through to the skin. However, their fur can only do so much. Eventually, the fur will not be able to cope with the volume of water. When this happens the water will seep into the skin reducing their body temperature and potentially lower their immune system which can lead to illnesses.
A waterproof dog coat works a lot better than their natural fur and hair to keep water off their bodies which keeps them dry. However, no coat covers their entire body so a waterproof dog coat is not a ticket to just stay out in heavy rain for the sake of it.
2. Keeps them warm
Most waterproof coats have a fleece or cotton lining inside which keeps them warm. Typically, if the weather has rain then the temperature will probably be relatively low – it's important that a good waterproof coat not only keeps them dry but warm as well!
3. Splash protection
If you're an owner of a small dog then splashing on their legs and bellies will be something you're accustomed to. A waterproof dog coat which covers their bellies will spell an end to all those moments you've got to frantically wipe them down and dry them with a towel when you get back in from a rainy walk.
4. Keeps their fur clean
Rainwater isn't nice for dogs and it makes everyone a bit dirty as there's always some crap in the water like air pollution which has evaporated and then comes back down again. As well as pollution in the rain, dogs can also get pretty mucky from the mud and soil which has been softened by all of the water making it more likely they'll get dirty splashbacks on their bellies. This is especially true for dogs with smaller legs who have their bellies closer to the ground.
5. Keeps them from smelling
Everybody knows that wet dogs are smelly dogs! Waterproof jackets for your canine can keep your dog from smelling after a rainy walk by simply keeping the water off them!
What to look for in a waterproof dog coat
So, you've decided you need to get your dog a water-resistant canine jacket because the weather is about to turn or has already turned but you've realised there are hundreds if not thousands of products out there. You want to make sure your hard earned cash is spent wisely on a coat which works best for you and your dog. Here are some features you should consider before pressing that buy now button on your new coat.
Made using polyester/nylon
Nylon and polyester are common waterproof materials which wicks water away and does not allow water to permeate through the outer layer and make your dog's natural coat wet and damp. The material used is of the utmost importance when it comes to being water resistant and buying a product using substandard materials will cost you.
Warm lining
To be the best waterproof coat it needs to keep your dog dry AND warm on a walk. It's very rare that a rainy day isn't always cold and if you have a breed without a full body of fur then they may feel it more than others. Ensure that your top pick has a warm lining on the inside to keep your furry friend nice and toasty.
Hole for o-ring
Whether you're a collar user or a harness user it doesn't matter. A good harness should have a pre-made hole around the neck for an o-ring to fit to attach a lead to. If you use a collar with your dog it may not matter but if you use a harness and buy a coat without the hole then you'll either have to send it back or rip a hole yourself which could compromise its waterproofing ability.
Coverage
Waterproof dog coats vary quite a bit in terms of how much of the dog's body they protect from the rain and splashbacks. Some will cover just the back with limited chest and belly and others will cover the entire body like an overall. Getting the neck and back covered is the minimum but if you have a breed with white hair instead of fur then consider one with better coverage to spare you the hassle of having to clean the uncovered area after every single walk.
Ease of use
A coat which is easier and quicker to put on is naturally going to be a better one. Look for a waterproof coat which has few complicated straps and buckles and more velcro. A complicated coat to put isn't necessarily the worst one but it should be taken into consideration before a purchase.
Value for money
We would never recommend a waterproof dog coat that's expensive and performs just 'OK' against another 'OK' coat that's half the price. When comparing and contrasting coats against you and your dog's needs always consider the bang for your buck factor and how much value you'll be getting.
Easy to understand sizing and a good fit
When it comes to dog clothes and sizes it can be a seriously confusing world. Before purchasing make sure their sizing guide is clear and you know what measurements you need to get for your pooch. When you receive the coat check to make sure it's a good fit and return it if it isn't. Don't put up with a loose fitting coat. You wouldn't wear a jumper that's too big or small!
Your thoughts
You've heard our thoughts on the best waterproof dog coats and now we'd like to know yours! Have you tried any of the ones we've shortlisted and agree/disagree? Perhaps you've got yourself a rain resistant coat that isn't listed when it really should. Whatever you've got to say Jug Dog want to hear it! Please leave your comment down below!
Last update on 2020-08-13 / Affiliate links / Images from Amazon Product Advertising API