Last week we received a wonderful package from Angell Petco full of dog treats for our Jug dog, Jeff to try out. Angell Petco specialises in natural, healthy dog food and treats and based on Jeff's reaction – we can confirm they must be delicious too! We're going to take you throughout gifted items and let you know which ones we would purchase in the future.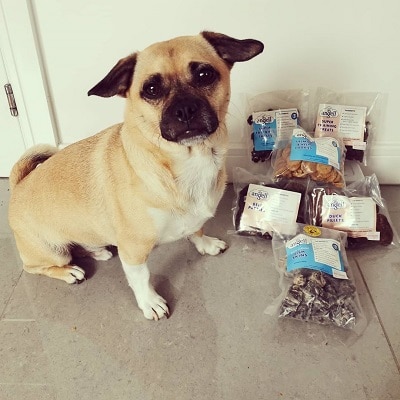 First out the box was a box of 100% natural fish skins in the mini cube shape.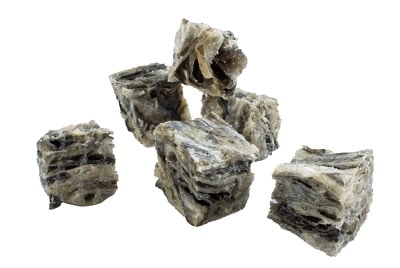 Jeff absolutely loves fish so we knew we had to offer him on of these first of all. The Angell Petco fish skins are made from 100% cod and they are dried naturally which allows them to keep all of the goodness inside. The benefits of giving your dog fish skins are that they're hypoallergenic, high in Omega 3 and they are low in calories. Additionally, fish skins are great for dental hygiene as they remove tartar and plaque, they keep your dog's coats glossy and their skin healthy and they're fabulous for joint care, gut health, brain function and eye sight. although the smell of the fish skins may make Jeff run around my legs in excitement; i personally do not like the smell of him chewing on a fish skin whilst cuddling into me on the sofa. So for Jeff, this is a treat we leave him to enjoy in his bed if we're nipping out. As with all the treats, the fish skins were packaged in a thick plastic so no smell escapes and it keeps the treats in date for over a year.
As mentioned above, Jeff loves fish so I knew we had to try out the salmon and kelp cookies next.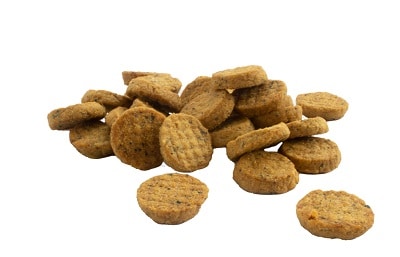 These cookies are part of Angell Petco's 100% natural baked range. The blend of salmon (high in protein and Omega 3) and kelp (brain development and a healthy immune system) is gently baked to maintain the goodness. Jeff didn't seem as keen on these cookies as the fish skins. He has never had kelp before so perhaps that was why… or maybe he could smell the fish skins and was hoping for one of those instead?! The excellent thing about Angell Petco's company is that you can order any of the treats in a range of options, for example these cookies come in either 200g, 700g, 1.5kg, 3kg or 5kg bags. There is also the option to order a sample bag which is excellent if you want to check out a range of the products before purchasing in bulk to save money.
Angell Petco also stock small training treats available in fish and meat.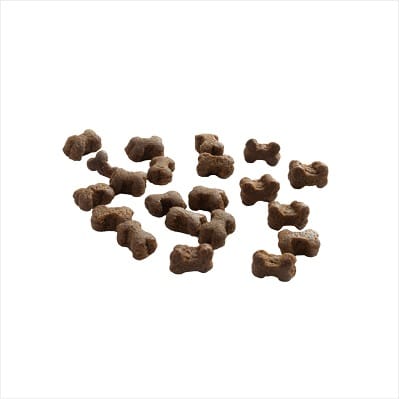 These healthy treats are packed with natural goodness and are gently crafted from the finest fresh ingredients. These treats are the perfect size for puppy or dog training and it feels really good to know that not only are you rewarding their positive behaviour or new skill but you're also giving your pup a nutritious and healthy treat. The fish training treats are made from freshly prepared salmon, trout, whitefish and sweet potato. As with the other fish treats outlined above, these are full of Omega 3 fatty acids, they're hypoallergenic and they will keep your dog's coat looking glossy, their skin healthy and their limbs and joints supple. The meat training treats are made from a mix of duck, turkey and chicken with potato and gravy. These treats are high in protein, super tasty and low in fat. We have loved using both sets of training treats with Jeff this week and he has loved both the meat and fish option. The training treats are available in bags of 200g, 500g, 600g, and 2kg as well as the sample option if you'd like to try them out before ordering in bulk.
One of the final products we received and have tried out was totally new to Jeff: duck fillets.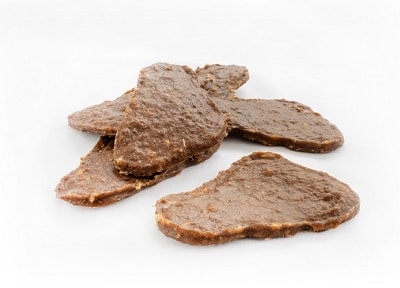 At the age of 5, our jug had never actually experienced a duck fillet but he totally loved them and I'll admit I felt a bit of guilt for not having given him one before. The Angell Petco duck fillets contain 55% duck and are low in fat but full of flavour. Duck is packed with protein, iron and zinc so it's a fabulous treat for your dog. Jeff really loves these duck fillets and because they're so healthy and full of goodness he's able to have one a day as part of a balanced diet. Again, you can order a sample or buy in bulk to treat your pet to a duck fillet.
The final treat we were gifted were the Irish beef patties.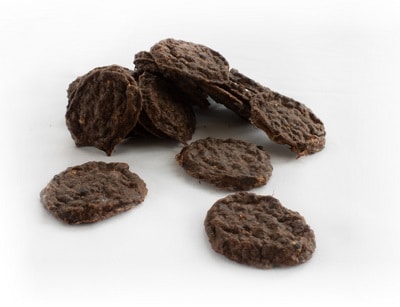 Another treat that Jeff absolutely loved. The Angell Petco 100% natural beef patties are packed with protein, B vitamins, zinc and iron. Some other companies fill 'healthy treats' with non-nutritional fillers. But these beef patties are made from 100% beef and they are hypoallergenic. They're suitable for dogs over 4 months of age and for those with a sensitive tummy. The patties are dry and smooth. They don't smell overly strong and Jeff really loved them.
We are so grateful to Angell Petco for gifting us these treats and we will definitely be ordering in the future once Jeff has made his way through this generous bundle. Head over to their website and have a browse at the treats and food they have to offer. If you sign up to their newsletter you can get 15% off your order and there is free delivery available too.
Related Articles