A dog toy that is indestructible will save owners a hefty amount of money over time as they will resist the advances of aggressive chewers and won't break easily. Many owners find themselves buying soft dog toys one after another just to see them totally destroyed within minutes and a dog waiting for the next thrill.
Despite his looks, our Jug Jeff is an aggressive and tenacious chewer which means his objective to achieve enjoyment is destruction. He will attempt to destroy any toy he gets and once it's destroyed he gets bored. This had led us to waste so much money on dog toys that were simply not up to the task.
With this in mind, we set out to find more durable dog chew toys that he can try his might to chew without ripping it apart. Whilst researching, buying and testing we found a handful that he either could not destroy or took a very long time to lose durability. This article contains our top 10.
The Best Indestructible Dog Toys On The Market
So here's our pick of the bunch for those heavy chewers that should last your dogs longer than your average toy. These do not appear in any particular order other than the order we were sent them by the manufacturer or added after this page's original post date.
1. Kong Classic Dog Toy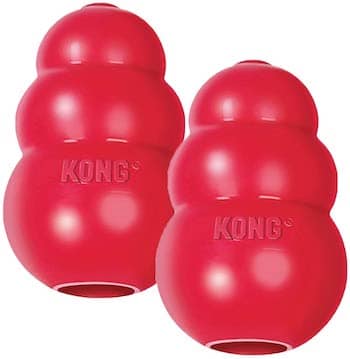 The Kong classic is not just a fine tough dog toy but we think that the Classic could well be the best toy ever. Jeff has had one of these since he was born and at the time of writing, he is now 5 years old. The Classic is a 'puzzle' toy where you can either put the Kong stuff inside or something other like peanut butter – your dog will lick and lick and be occupied for hours and hours.
It's made of tough natural rubber that can be very hardy and can easily take a beating over a long period of time. It's also very cheap to purchase which makes this a very, very good choice. You'd be mad to not get this for your dog in all honesty. Available in a few sizes so perfect for small and large dogs.
Read the full Kong Classic Review
2. oneisall Dog Chew Toy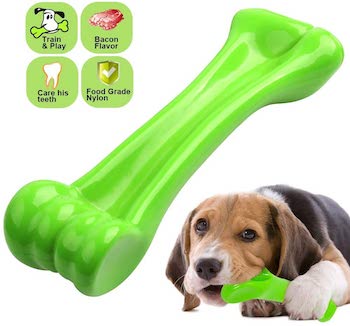 Oneisall actually put the word indestructible in the name of this fantastic chew toy and judging by how Jeff got on with it and the 250+ reviews on Amazon they'd be right! Made of dense non-toxic nylon material which has a light bacon flavour which makes the toy irresistible to most dogs. The shape of the bone also makes it joyous to chew and provides good oral hygiene and relief for a teething dog.
The blend of tough nylon, bacon flavour and a chew friendly shape makes this an absolute cracker of a chew toy, it's not the cheapest toy on the list but it's still relatively cheap and can be picked up for less than £20 in most cases.
3. Goughnuts chew ring dog toy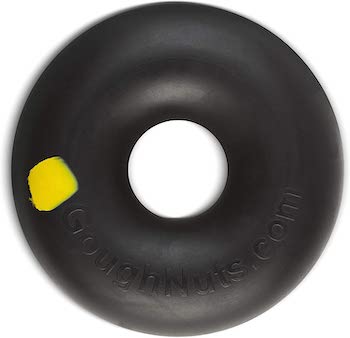 The Goughnuts chew ring toy is one of the more expensive playthings in this list and possibly with good reason. The goughnut toy has been designed by mechanical and polymer engineers apparently to create a shape and structure that is virtually indestructible to the point where if your dog has destroyed this toy to reveal the red layer underneath the green then they will replace your toy entirely. However, at a cost of almost £50 you've pretty much paid for the replacement anyway.
Try this out if you want to take out their promise of a guarantee and if you have money to spare. Have you got one of these? Please let us know your thoughts in the comment section.
4. Nylabone Power Dog Chew bone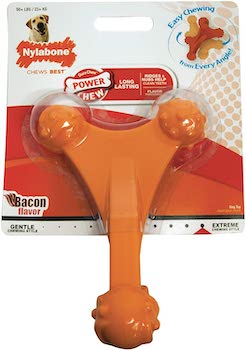 Nylabone is a well-known name in the pet world and their 'tough toy' entry lives up to their reputation for making great products. Made using reinforced nylon material (surprise surprise) and shaped in a way that it cleans and sharpens teeth while massaging the gums. The price is extremely reasonable and is often on offer. These plastic dog bones will keep your pooch engaged with its tantalising bacon flavour which can even be smelt by humans (it's actually quite nice if you like bacon!) It will also keep them interested thanks to the ridges and nubs which soothe gums and clean teeth. This is one of the best products out there and a worthy entry to our 'best chew toy' category thanks to the quality and price point. Don't believe us? Check out almost a thousand reviews on amazon!
Have you got one of these? Please let us know your thoughts in the comment section.
5. Pet Love Tough Ball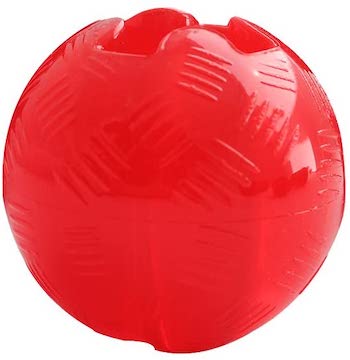 The tough ball by Pet Love is a cheap and cheerful ball type toy that's made of, you guessed it, tough nylon rubber that's 'virtually indestructible' and has a 3-year chew proof guarantee which is very brave of any manufacturer. Not only that, but the ball also has a shaped hollow centre and can be used in a similar way to the classic by adding stuff like peanut butter.
To recap, this toy is a cheap (can usually get for under £5) durable dog toy which is somewhat multipurpose as a puzzle toy and a ball toy and has some excellent reviews on Amazon. And for this reason, we at JugDog think this is the best dog ball on the UK market and is an ideal addition to any dog toy box but it shouldn't be used alone rather it should be used with other items for the perfect mix.
6. goDog Dragon Plush Toy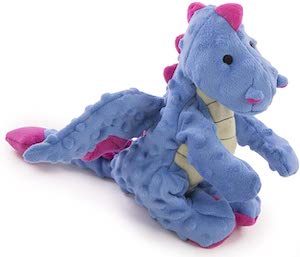 We were tempted not to list any soft products on the list as they are at a disadvantage over the other entries but we scoured and scoured and searched for a plush toy that at least stood half a chance and we found one. This dragon-shaped toy has double stitching and is far more durable than normal plush playthings – goDog claim it will last longer than other equivalents because of 'chew guard technology' and 'guarantee' it but I have a feeling this is just a throwaway statement and not a legally binding contract.
Anyway, with a floppy plush finish, bright colours and a relatively cheap price there aren't many plush products tougher than this one but just be warned this is probably not indestructible due to its nature but as indestructible as you're ever likely to get a plush doll so it might be a good addition to increase the variety in your dog's toy box.
7. Nylabone Wishbone Dog Chew Toy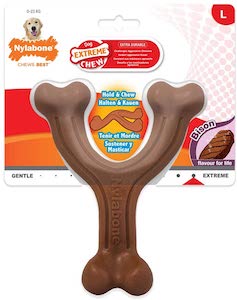 Another entry from Nylabone and it's their Wishbone dog chew product and it's a corker! Made of (yep, you guessed it) durable nylon, the wishbone chew toy is pretty much 1 and a half of a normal Nylabone is one which gives you more bang for your buck at practically the same cost. The extra 'leg' on the toy makes it easier for your dog to hold in their paws giving them an easier time of it. On top of the great design and cheap price, the wishbone has also got a light chicken flavour to keep your pooch interested. Perhaps not the best of the indestructible toy lot as it is rather plain but certainly a good choice for most dog owners.
8. Kong Tumbler Football Dog Toy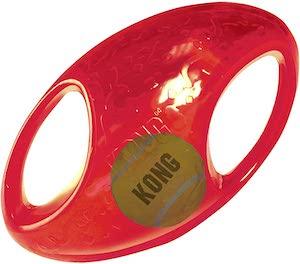 The Tumbler football toy is another entry from Kong and it's one of the best items on the list thanks to its extremely tough fortified nylon construction and odd shape which makes it difficult to chew to death. The highlight of this toy isn't the fact that it's so durable for heavy chewers but that's it's got a lot more features than most toys and is ideal for tug of war. The handles make it easy to play tug of war with the dog while the hollow insides can be used to hide another object like a tennis ball or even foodstuffs like peanut butter or their own brand food 'n' stuff.
This is a superb toy that's the ideal toy for aggressive chewers, it has a fair price point and lots of fun for you and your dog. Have you got one of these?
9. Zogoflex West Paw Bone Dog Toys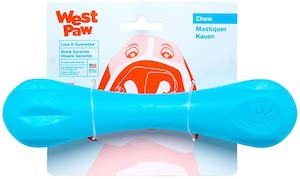 Does your dog like to chew and swim? If so, this could be the one for you and your furry friend. The West Paw chew is made using "Zogoflex®the pliable, non-toxic material" which we think is science code for durable nylon. The best feature is the fact that it floats on water and the manufacturers offer a one-time destruction guarantee. Has your dog destroyed one of these? Claim for another one! As a chew toy, it's not too bad but out of the list, this is the best one for outdoor use especially if you have water-loving breeds who love a splash. The price point is generous, too.
10. Planet Dog Orbee-Tuff Ball Dog Toy
This thing looks like it's made out of solid steel and perhaps the only toy on the list that would last forever with an aggressive chewer, but it isn't! It's actually made of non-toxic nylon would you believe. We've seen another ball on the list but we wanted to give another option here for those who may go to beaches with their dogs as this one floats quite well and has excellent reviews for its durability. It's quite expensive for a ball toy but if the reviews are anything to go by then there's plenty of return on investment here.
Have you got one of these? Please let us know your thoughts in the comment section.
What makes a dog toy indestructible?
No toy is truly be indestructible or nigh on invincible. What we're looking for here are chew resistant products that can take a fair beating before they start to lose performance or even break down creating a mess. If you look for a truly tough chew toy that can't be destructed then you just won't find one and if you do then it's probably misselling and would land the manufacturer's in trouble. So, in short, the criteria for being an 'indestructible' dog toy is:
Chew resistance – they must be able to resist aggressive chewers teeth and not come apart easily. This is usually achieved using a strong natural rubber.
Chew proofing – A chew toy which are made into a shape which is difficult for their teeth to grip are what makes them chew proof. Dogs will always try and find the weakest part to start destroying it.
Solid construction with tough material – The best performing chew toys on our list is typically made with only one material which strengthens the construction.
Why do dogs want to destroy their stuff?
The need for tough options is borne because canines of all ages are destructive in their nature and do not understand how strong their jaws and teeth are. They don't really have much of a concept of taking their time and looking after their belongings and just want to get stuck in as soon as they get a brand new chew toy.
This has lead to the entire market of indestructible toys, let's take a look at some of the reasons why dogs get to the point of destroying their possessions
Also read: Best teething toys for puppies
They're bored – Is your dog chewing and breaking their toys because they simply have nothing else to do? Stop this behaviour by making sure they have plenty of exercises, have plenty of other toys and never left alone for more than a few hours.
They're spoilt – If they have broken one of their trinkets does it get replaced straight away? Does your dog have too many chew toys and if one breaks it's no big deal?
They just aren't strong enough – A common reason your dog destroys their toys is that they are simply not strong enough to handle their powerful jaws. Powerful chewers should always have durable toys.
Stress – Is your dog stressed or have they recently experienced some trauma? Toys are a good way to relieve stress but the stress can sometimes spill over resulting in broken toys. Separation anxiety could also cause them to wreck their knickknacks. If you're concerned, why not place a camera in the house and watch how your dog behaves alone and with their toys.
Powerful chewer – If you have a breed that's got powerful jaws or a heavy chewer then they may not have the right toys for their needs. This page aims to help you avoid this.
Instincts – Probably the most obvious cause for broken toys is the fact that they just enjoy it and their instincts are driving them to chew to keep their teeth clean and sharp. Squeaky toys also mimic the cries of a dying animal which once again plays into their natural instincts.
Toughest but fun dog toys
So here we are looking at some of the toughest and durable dog toys known to man and man's best friend. We're going to go out on a limb here and say that you're here because your dog's a powerful chewer and regular toys just aren't cutting the mustard. Maybe your puppy has now matured enough and has all of their adult teeth which has left their existing toys in a heap. Whatever the reason, we've got you covered here.
Tough, durable and indestructible dog toys main priority is longevity and to not be destroyed quickly and easily, this can sometimes lead to boring toys that are tough but no dog wants to play with them anyway. This can sometimes force aggressive chewers to take their frustrations out elsewhere which is a disaster for any dog owner. Here at JugDog we make sure to consider two main points – is it tough? And is it fun?
Dog chew toys come in a wide variety of shapes and sizes, some are simple chew toys, some are shaped like balls, we've mentioned plush toys, some have a puzzle element and some maybe tug toys, each different to suit any sort of dog personality, energy and size. When compiling our recommended list we've put a conscious effort to show a wide variety as well as give our recommendation on which is the best overall and best in their category. So, without further ado let's take a look at Jug Dog's recommended indestructible toys for heavy chewers!
FAQs
What is the most indestructible dog toy?
In our experience, the most indestructible dog toy pet dogs is the Kong Classic. Our own dog has his adult small dog classic for almost 4 years and it is still all in one piece with no loss of natural rubber.
Are there any dog toys that are indestructible?
Yes, absolutely. All of the brands of dog toy we've listed in this article are either indestructible or tough enough to cater to aggressive chewers.
Are Kong dog toys indestructible?
Some are, which are the Kong classic that we have praised and the Jumbler football toy.
How can I made my dog toys durable?
It is far easier to simply buy a new chew toy than adapt an existing pet toy as it will likely still result in destruction.
Other Articles You Might Like