When the weather starts to turn in autumn we know that more rainy days are on their way. Some dog walkers are put off going outside with their furry friends for fear of getting wet and having a smelly and dirty dog once they're home. A waterproof dog coat will keep your dog dry during a rainy walk.
This is our shortlist of the top 10 waterproof coats for dogs: we feel that each of these items would be a worthy purchase for your dog during the rainy season.
Dog coats can vary massively with their quality and features so we've tried to include as many unique jackets as we could to cater for any dog owner. We hope our ultimate buying guide will help you find the right product.
1. Ancol Muddy Paws Stormguard Dog Coat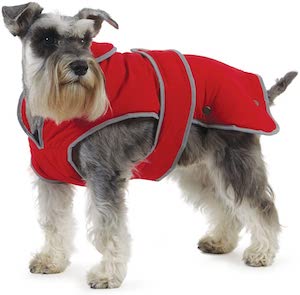 Ancol Muddy Paws Sotrmguard is the best waterproof dog coat you can buy in the UK in 2022. It offers chest and belly protection against muddy puddles. The waterproof layer and the fleece-lined inner layer work together to keep your dog snug and cosy on those wet and windy walks.
Reflective piping has been used along all of the edges of the waterproof coat to ensure your dog is visible during the dark mornings and evenings. The straps are velcro which makes it easy to get on and off and is best if your hands are full as you get home.
There is a slit along the back of the dog coat to allow your lead to attach to your dog's harness easily. The Ancol doggy coats are available in 8 sizes ranging from XXS to XXL and Ancol has provided a handy size chart to help you to decide which size is best for your dog. Once you have selected your size you will then have 7 colours to choose from.
The Ancol Muddy Paws Stormguard Dog Coat ticks all of the boxes for us:
it is waterproof
fleece-lined
lined with reflective piping
chest and belly protection
easy to get on and off with velcro straps
has a hole for the ring of your harness to attach to the lead
is machine washable
2. Ginger Ted Shower Lightweight Waterproof Coat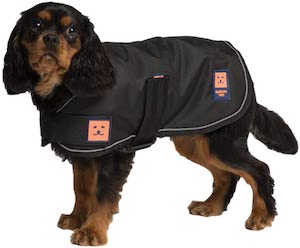 The best lightweight dog coat is the Ginger Ted Shower LITE model. This high quality, lightweight product is both waterproof and windproof with a polycotton lining and reflective piping to protect your dog and keep them safe.
The outer fabric is strong and durable with quick fastening and adjustable straps: one across their chest and the other under their belly. This dog coat comes in 12 size options with the measurement referring to the neck to the tail measurement of your dog.
Ginger Ted has provided a guideline linking the size to the breed of dog which we found really helpful to find the perfect fit. The only issue we had with the Ginger Ted waterproof dog coat was that it lacks a hole for the o-ring of a harness to fit through – so if your dog uses a harness then you need to pull the material of the coat down a little in order to attach their lead.
The Ginger Ted waterproof dog coat is priced below £17 – £33 depending on the size and is available in 2 colours: black and cherry red. If you can look past the lack of an O-ring hole then this is the best dog coat for wet and windy walks which is easy to put on and take off.
Read More: Best Dog Walking Coats for Dog owners in UK 2022
3. Rantow Dog Raincoat with Reflective Strips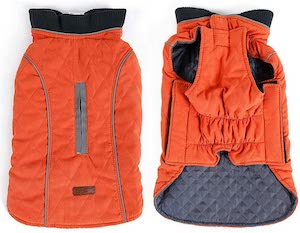 Rantow waterproof dog coat is the most comfortable one with chest and belly protection. What we love about the Rantow winter coat is that the elastic bands at the neck and chest area allow for a perfect fit and really help keep your dog comfy and keep the rain off their back.
Each waterproof dog coat has velcro straps to make it easy to get the coat on and off your dogs. The dog coat is machine washable which makes the task of cleaning any mud off easy. As comfortable and snug as this item is, some of the reviews have commented that it isn't the best waterproof option if you're going to be taking your dog out on a particularly wet day. This coat is perhaps best for a light shower if it looks like it might rain on your walk.
The sizes range from XS through to 3XL with 6 vibrant colours to choose from and we're sure you'll find one you love for your dog. Easy to get on and off your dogs and with their comfort at the forefront of the design, the only downside is that it isn't as waterproof in heavy rain as some of the other coats.
4. Kerbl Raincoat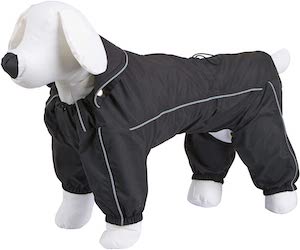 This is the best option if you want a waterproof dog coat that will definitely keep your dog dry. The Kerbl waterproof and windproof dog coats ensure that every part of your dog that can be covered is covered!
Unlike the other coats on our list, your dog's legs will be covered with this raincoat with elasticated drawstrings at the ankles to prevent water from reaching their legs; there is even a removable neck guard that can be put up to prevent water from reaching the back of your dog's neck.
This water-resistant dog raincoat is also machine washable which is ideal as it obviously gets muddy quickly due to the amount of coverage it offers your dog. There are 7 size options and a chart to use to decide which size is best for your dogs.
This option will ensure your dog is dry on really wet days; of course, it will take longer to put this one on due to needing to put their feet in individually but if you're going to be out in the wind and rain then this is a great option for your dog.
5. Morezi Zip Up Dog Rain Jacket
The Morezi zip-up model is perfect for trendy dogs: as far as looks go this was our favourite one.
In terms of the aesthetics first of all this is a really attractive dog coat that actually looks more similar to a human anorak than any of the other designs. Available in red, yellow and navy: these fun and colourful jackets also contain the classic black and white nautical lining.
The hood, pocket and strings all add to the cute and trendy look – perfect for Instagram dogs if you have one of those! On a practical level, the zip-up feature makes it easy to get on and take off although the fastening is under their belly.
The Morezi jacket is available in a range of sizes from XS to XXL so it is suitable for the vast majority of dogs. The stylish jacket for dogs is also machine washable which is handy for adventurous dogs that get the coat especially mucky. The coat is waterproof and covers your dog's chest and belly.
Read More: Best Dog Walking Gloves You Should Buy in 2022
5 Benefits of Purchasing a Rainproof Dog Jacket
Some people feel that putting clothes on dogs is cruel, but we believe each of the items listed above has a tangible benefit:
1. Protects your dog's fur from getting soaked through
A dog's natural coat is oily which naturally keeps water from soaking them through to the skin. But eventually, the fur will not be able to cope with the volume of water. When this happens the water will seep into the skin reducing their body temperature and potentially lowering their immune system which can lead to illnesses.
2. Keeps them warm
If you're out walking in the rain, the temperature is likely to be cool: a fleece or cotton lining inside will keep them warm.
3. Splash protection
If you're an owner of a small dog then splashing on their legs and bellies will be something you're accustomed to – the coat will protect their fur from this meaning you won't need to wipe them down as soon as you get home.
4. Keeps their fur clean
Rainwater isn't nice for dogs and can create muddy puddles: the jacket will protect their fur from this.
5. Keeps them from smelling
Everybody knows that wet dogs are smelly dogs! Waterproof coats can keep your dogs from smelling after a rainy walk by simply keeping the water off them.
What to look for in a waterproof dog coat?
Here are some features to consider before pressing that buy now button:
Material
Nylon and polyester are common waterproof materials which wick water away and do not allow water to permeate through the outer layer and make your dog's natural coat wet and damp. Check whether the material used is machine washable as this could impact your decision too.
Lining
If you're going to be using the item when the weather is cooler then ensure that it has a warm lining on the inside to keep your dog nice and toasty.
Hole for o-ring
If you use a harness then make sure your selected item has a hole for the o-ring to fit through to allow you to connect the lead whilst the coat is on.
Coverage
Waterproof dog jackets vary quite a bit in terms of how much of the dog's body they protect from the rain and splashbacks. Getting their neck and back covered is the minimum but you may also want to cover their belly and legs.
Ease of use
Some coats are easy to put on and take off with a simple velcro strap whereas others can be more complicated. If you're going to have your hands full with more than one dog or even a buggy then consider this before making your order.