This is another review from our best dog trackers guidebook and is one of the premier models you can buy. Garmin makes a couple of trackers, the one we've been lucky enough to get our paws on is the T5 model.
Here's our brief review of the product and whether it should be in your shopping cart this year.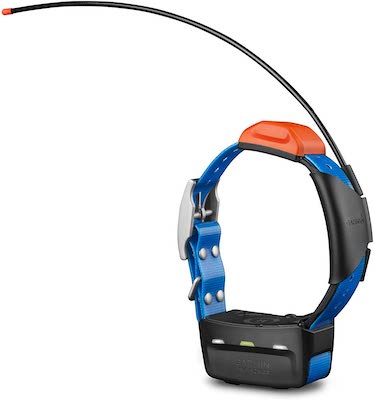 Performance
The Garmin T5 dog tracker uses GLONASS high sensitivity tracking which means it does not rely on cellular networks to get its signal, instead it uses radio signals which only work in the United States. If you live in the UK they will happily take your money and send you a product that won't work. Be warned.
Saying that, a radio signal is much more accurate, fast and reliable than cellular and cheaper dog trackers. The performance levels of the Garmin T5 are for professional dog walkers, hunters and working dogs who travel over miles with their dogs. It's phenomenal how accurate it is.
The range is extraordinary with a limit of 9 miles! This is a bold claim which is likely to be a little exaggerated and likely to be around the 6 miles mark due to the wide range of conditions they probably haven't been able to test with. Still, this is humongous but not ideal for lost dogs who could easily travel more, especially if they've been stolen.
Battery life is astonishing too, it will last 20-40 hours on a full charge and ideal for people who are camping overnight with their dog with limited access to mains power. Radio doesn't use much electricity when compared to 2G/3G hence the longevity.
Attached to the collar are LED lights and a rescue mode if things get a little hairy during a walk, especially in the night time. This gives the owner a visual aid on top of what's on the receiver. It's waterproof up to 10m and prepared for the rough and tumble of outdoor dogs.
As far as the performance is concerned, it's phenomenal for serious walkers, hikers, campers and those who use working dogs but a little too much for the casual dog owner and not great to help keep an eye on dogs who can be stolen.
What's the collar like?
The collar is cumbersome there's no denying it and it's pretty obvious it's on so if your dog gets stolen it will be obvious they're being tracked and will be removed. It's quite heavy, too so unsuitable for small dogs. However, it is not designed for these reasons so we don't mark it down for this only to use it to advise owners to carefully think what they need the GPS dog collar for.
It won't snag on to anything and the curved aerial is tough but it does look a bit obvious and 'out there'.
The Garmin T5 dog tracker may be a bit big, heavy and cumbersome to small dogs and casual walkers but the tradeoff is a product which is nearly indestructible and will withstand everything the intended dogs will throw at it.
What's the app like?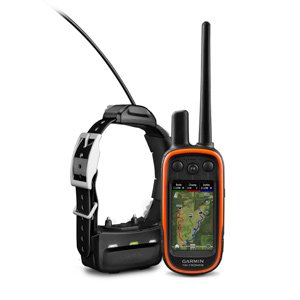 There is no app with the Garmin T5 tracker as it's radio based. Unfortunately you will need to buy the receiver separately on your first purchase so be warned! However, the receiver is quality and has a really nice map overlay showing their location and distance. How good it looks depends on whether you go for the Alpha 100, 320 or 430 as these are the compatible receivers.
Overall what do we think?
The Garmin T5 is a powerful and expensive dog tracker which caters for serious walkers who like to hike and explore uncharted wilderness, for owners of working dogs and for rural professional dog walkers. It is one of the best at what it does but way too much kit for the casual dog owners – check out the dog trackers roundup list for one of those.
No products found.
Related Articles
Last update on 2023-10-13 / Affiliate links / Images from Amazon Product Advertising API