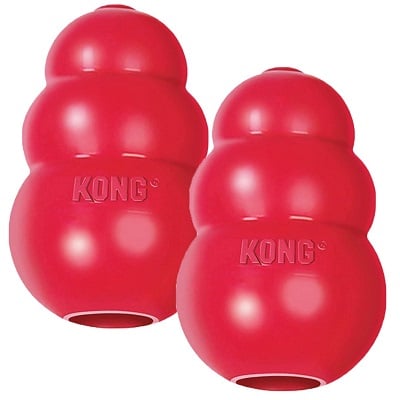 The Kong Classic is a toy that our Jug Jeff has had more or less since puppyhood and now has two of them. It is not the only toy he's ever had but being an indestructible dog toy it is the only one to have stood to the test of time and is still going strong today.
What is the Kong Classic Dog Toy?
The Kong Classic is a very simple toy, made using touch rubber with a hollow insert, it allows the owner to put in foods such as treats, peanut butter and even Kong's own filling. It works as the hollow part of the toy isn't quite large enough to easily get to the filling making the dog have to work hard. The filling towards the other end can keep them licking for up to an hour a time.
What's good about the Kong Classic?
Indestructible
Because of the tough, non-toxic rubber, they stand no chance of using brute strength to chew their way in, they will need to get the angle right and use their tongue endlessly to get all of the filling out. This endless action provides mental and physical stimulation to really get your dog thinking and working hard for their reward.

Your dog will be so enamoured with the challenge of getting the filling out they will simply not even try to destroy it and even if they do – it's a chew proof dog toy so good luck to them.
It's a great chew toy
Even though it's a chew proof dog toy that doesn't mean that it isn't a chew toy, because it is. Trying to chew this toy to help get to the filling can clean their teeth clean, relieves boredom and obviously stops them from chewing something else!

The Kong Classic can be particularly helpful to relieve teething puppies frustration.
Mental and physical stimulation
With that in mind, the Kong Classic is an incredibly rewarding experience for your dog which will make them want to keep trying. With the use of peanut butter reaching the very far end of the Kong Classic it can be a toy they will continue to use for days, believe it or not.
Good fetch toy
Moreover, the Kong Classic is also an ideal fetch toy and keeps the dog guessing as the rubber makes the toy very unpredictable when it bounces and with it being an unconventional shape makes it tricky to catch first try boosting its ability to engage them mentally even more.
Built for every dog
Kong Classic comes in a size for every dog including toy dogs to giant breeds. The price does change, however, but that would be expected as you do get more rubber. An ideal starter puppy toy, too.
Cheap
Kong Classic is one of the cheapest dog toys on the market with the smaller sizes coming in under a tenner. Of course, most dog toys come in a similar price but the Classic has an advantage because of its longevity being an indestructible toy.
The final verdict
There are no downsides to this toy from our own personal experiences. It's a cheap and robust dog toy with multiple applications at once – chew toy? Easy. Puzzle toy? Yep, no problem. Wanna play fetch? Yep, we can do that, too. It's amazing how versatile a simple rubber toy with a hollow insert can be.

What you can put in the Kong Classic to keep them engaged is up to you but our personal favourite is peanut butter – he just can't get enough!
You can see pictures of Jeff with his Kong over at our gallery.
Related Articles
Last update on 2022-05-19 / Affiliate links / Images from Amazon Product Advertising API