As part of our ever-growing dry dog food reviews section, we regularly purchase and review foods by looking at what's in it (we're getting quite good at knowing good from the bad) and how much our resident Jug Jeff likes it. This article looks at Wagg Adult dry dog food specifically. We offer an unbiased opinion to help you decide if this food is good enough for your dog.
Wagg is a mainstream and well-known brand of affordable dog food in the UK. Based in Thirsk, North Yorkshire they make foods for cats and dogs but they share little about their company on their own website. We find this completely infuriating, to be honest as we really care about the history of the company, the recipes and their involvement in canine nutrition. Not a good start. Sort it out, Wagg.
Wagg Dry Dog Food Complete Review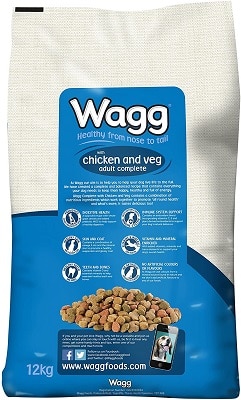 The website, packaging and prominence of Wagg dog food in major supermarkets in the UK is a clear sign that it's a company with a lot of money and put a lot of effort in their marketing. This is not inherently a bad thing but it does make us wary of how extensively they use cost-cutting techniques to maximise their margins.
It's brightly colouted, graphic and doesn't clearly display the benefits on the front but it does look nice. However, it is made in Britain which is great (dog food doesn't travel well) and offers support for digestive health, immune support and claims the food is complete – which means no other food is necessary to give a dog everything it needs.
Wagg is a highly affordable and convenient food, if it's something your dog responds well to then it's easy to replenish as it's easily available.
Jeff is not a complicated dog so the adult complete which we purchased should do him nicely, he is in good health but we have experienced a few things in the past that Jeff always has a way to tell us if the food he eats is good or not. First, let's look at the ingredients.
Wagg Adult Complete ingredients and composition
The ingredients are as follows
Cereals, Meat and Animal Derivatives (24.5% including 4% Chicken in Chicken & Pea disc), Oils and Fats, Derivatives of Vegetable Origin, Minerals, Vegetables (4% Peas in Chicken & Pea disc), Yeasts (MOS 0.1%), Citrus Extract (0.05%) & Yucca Extract (0.015%).
This does not make great reading considering how many quality dog foods we've seen over the years. The fact that cereals have been left vague (also means it's not grain-free), meat and animal derivatives is also left vague has left us speechless. This is meant to be chicken flavour so what other animal is in it and if only 4% of it is chicken then how can they try and pass this off as chicken?
No specific vegetables other than peas have been named so you're never sure what they're going to be eating and what on earth does 'derivatives of vegetable origin' mean? Right at the end, we see citrus and yucca which we know is to help with breath and flatulence so at least there's that.
No fish oils whatsoever which is a key ingredient of most top tier dry dog foods. We checked the additives and they were not there either.
We looked at these ingredients and we were not totally clear what exactly we were about to feed Jeff. It has passed food standards so we knew it was going to be 'safe' but that's just not very good.
All these ingredients end up looking like this:
Protein 20%
Fat Content 8%
Crude Fibre 3.5%
Crude Ash 8.5%
Omega 3 0.3%
Omega 6 1.5%
To be honest, these are within the right levels. Protein 20% is spot on, fat at 8% is great. Crude fibre is in there but it's unclear if this comes from the peas or something else. Some Omega 3 and 6 is included but it's unclear if this came from fish oil or some other source. The constituents do make it 'complete' and 'balanced'.
How did our dog take it?
Jeff lapped it up and licked the bowl clean. He loved it! It was eaten alone and with wet food mixed in without any issue. However, Jeff's soft but solid stools were no more and it became a lot wetter and significantly smellier. He also had some toxic gasses coming out of the rear end. However, he didn't see any skin problems.
Alarm bells for us and it was time to finish the test.
What's the kibble like?
Wagg Adult Dry complete kibble was small, easy to chew and had a satisfying crunch with a light powder to give an instant burst of flavour.
How much Wagg dog food should I feed my dog?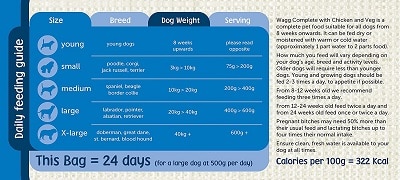 Weight between 3kg-10kg = 75g-200g
Weight between 10kg-20kg = 200g-400g
Weight between 20kg-40kg = 400g-600g
Weight heavier than 40kg = 600g+
Pretty easy to follow but you will need to do some maths in between those weight ranges.
Conclusion
We're not too impressed with Wagg dry dog food, to be honest. The ingredients left us with too many questions and Jeff's stools gave us a definitive answer that it was junk. He lapped it up and licked the bowl clean probably because the ingredients were heavily processed with the emphasis given on flavour to convince owners dogs to love it and therefore it's good stuff.
Related Articles