Dog paddling pools are a fantastic way to help cool dogs down during summer and to give them a different kind of exercise that they're used to. They can also be used as a type of hydrotherapy for dogs with mobility problems.
In this article, we give a shortlist of paddling pools we've tried and would recommend buying as well as a comprehensive buyer's guide for anyone looking for more detailed information about these products, their uses as well as dangers and points to consider.
Brand
Pecute Paddling Pool for Dogs
Yaheetech PVC Cat Dog Swimming Pool
Bramble Dog Paddling Pool With High Walls
Coco Jojo Pop Up Pet Bath Dog
PawHut Pet Swimming Foldable Bathing Tub
Image





Brand
Pecute Paddling Pool for Dogs
Image

Brand
Yaheetech PVC Cat Dog Swimming Pool
Image

Brand
Bramble Dog Paddling Pool With High Walls
Image

Brand
Coco Jojo Pop Up Pet Bath Dog
Image

Brand
PawHut Pet Swimming Foldable Bathing Tub
Image

Best Dog Paddling Pools Reviews
Below is a shortlist of pools we've tested and approved.
1. Pecute Paddling Pool for Dogs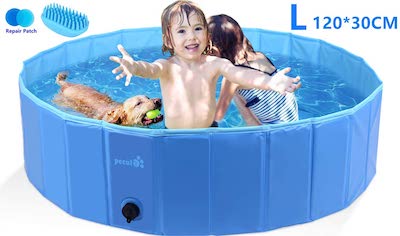 The Pecute Paddling Pool for Dogs is the best paddling pool for dogs. It's relatively cheap and thoroughly tested. The core plastic material is touch, scratch-resistant and won't wear down quickly. The PVC wraps around 0.5cm thick fibreboard which is what gives it its structure and sturdiness. 
This is not a flimsy pool with walls which will fold upon itself, it keeps its shape really well and can handle rough and tumble with minimal water loss. The structure allows this pool to fold away with ease and doesn't take much space in storage so it's ideal even if you don't have a garage or large storage area.
The drainage port worked with our simple hose pipe to fill up and drain away but it can still be filled manually if you needed to. The walls of the pool are not massive and most dogs can easily get themselves in and out themselves.
He isn't the most athletic of breeds so that should say something. However, a heavy dog ramp is probably a little inappropriate so we'd suggest carrying any dogs with mobility issues in. We placed the pool on grass but it does have a non-slip bottom if you are intending to put it on concrete which could get wet from the activities.
There are three sizes – 80 x 20 cm, 120 x 30 cm and 160 x 30cm. Be sure to check the buyer's guide for tips on the best size. For under £50 you can't get much fairer than this pool – it's a bargain and we loved it as did 800 other Amazon reviewers.
2. Yaheetech PVC Cat Dog Swimming Pool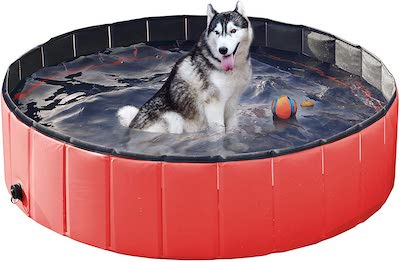 When we received this we believed it could well be the same model as the Pecute. However, we needed to give it the same thorough inspection. This model is made scratch resistant, UVA resistant (won't lose its colour in the sun) and cold resistance (doesn't seep out heat.) PVC is wrapped around a 0.47cm thick fibreboard which gives it a strong free-standing structure.
It's deep enough for a paddle and a seat for most breeds of dogs thanks to three different sizes. Its strong circular structure can handle a lot of activity and you won't see any sagging edges and unwanted water spillages. PVC makes it easily cleanable with a simple pack of wipes.
Many have praised this pool for its strength and we'd like to echo that statement, after we used it a couple of times during a heatwave there wasn't a mark on it anywhere. Even after folding it can be put back exactly the way it was.
This is a reliable pool which would surprise and delight any dog looking for a splash. It will also delight the owner as it's one of the cheapest dog paddling pools on the market at the time of review. 
3. Bramble Dog Paddling Pool With High Walls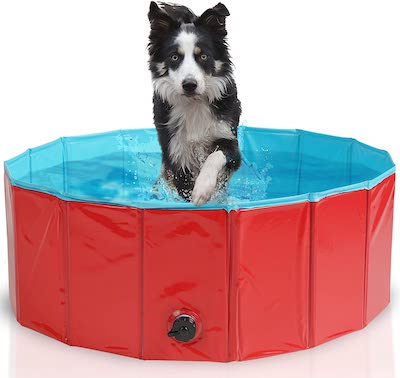 This model is still made the same as the others but the walls are 10cm higher which makes the pool a little deeper and designed for dogs who want to be able to swim easier rather than just stand and sit. It's perfect for dogs who want to be submerged more than other models, this is a big benefit for dogs who are more susceptible than others to the heat such as Bulldogs, Pugs and the like.
However, we found that the PVC plastic was not as tough as the other models and marks could be seen after a week of use by Jeff. The product is on the cheap side but longevity should be a factor for any potential shopper. For dogs who love to dig this may not be the one for you.
Despite that, for gentle breeds with well-groomed nails who love to actually paddle this is one of the better choices.
4. Coco Jojo Pop Up Pet Bath Dog
If you don't have a massive amount of space and you have a small low energy dog who just wants to cool down but necessarily wants to swim then this awesome pop-up bathtub is excellent.
Unlike the paddling pools, this uses a spring steel frame to keep its shape and it really does feel stronger than the others – it would need to be considered if we used it indoors! The outer and inner plastic is polyester which doesn't feel as strong but is strong enough for its low energy use.
This isn't just ideal for cooling down but also a place to be able to give your dog a wash. Judging by the reviews this was its most common use as many owners didn't want to ruin their own bath to do it.
Believe it or not, it comes with some accessories which are a mesh pocket (to hold the dog shampoo) and a leash retainer to keep them in place while they get a good scrub. You get a two for one with this product, a decent pool to help with the heat and a very convenient bathtub if you want to wash them. This is likely to be used all year round unlike the others!
5. PawHut Pet Swimming Foldable Bathing Tub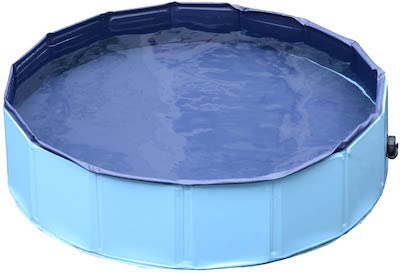 Another strikingly similar but quality dog pool is the PawHut pool. An excellent solution to give your dog some much-needed cooling and exercise in a fun and sturdy pool. Made with a strong scratch-resistant (but not scratch-proof) PVC and fibreboard to give its shape this pool can handle most rough play but it is not indestructible.
The height of the walls (20cm or 30cm) is perfect for most breeds to be able to leap in effortlessly and with enough depth that they don't crash into the bottom and damage it. The colour is a little bit plain with no attention given to the design but our dog didn't care about that as Jeff jumped straight in before we even had a chance to fill it up.
Our one gripe is that we found the drainage hole to be a little low which means that it does not drain all of the water out. We had to lift the pool after we'd finished with it and tip it out ourselves. A minor inconvenience, sure, but an inconvenience nonetheless.
There are two colours and six sizes available and it's usually found for less than £40 which is a decent price.
Dog Paddling Pool Buyer's Guide
Are water pools good for dogs?
Dogs can't cope with warm weather and heat as well as we humans hence dog pools are not only fun but a necessity for them. It's because dogs don't sweat and have to pant to get rid of the heat, plus their core temperature is already around 2 degrees higher than ours so they are already hotter.
In the natural world, canines would seek shade or find a water source to take a dip and swim in.
Heat convection and conduction
An article written by Discover Magazine highlights that wild dogs in Africa are slowly becoming extinct from the heat because they are unable to cool down effectively and global warming is pushing the temperature up year on year. This is an extreme example but it does highlight how poorly dogs handle soaring temperatures.
Domesticated dogs do not have the luxury of a river or lake available to them at all times so we humans can bring the water to them in the form of a small paddling pool.
Being submerged in cool water helps dogs with heat dissipation (conduction and convection) – this is the act of the body matching the ambient temperature. The heat seeps out of their atoms and into the atoms of the water. If they are surrounded by cool water then their bodies will also become cooler.
Bluecross summarises the effectiveness of even just standing in the water – "even getting them to stand in the water for a short time is a really effective way of cooling them down rapidly as dogs absorb and release heat through their paws".
Exercise
The second benefit of a dog paddling pool is the exercise they get, it's better known as "hydrotherapy". This benefits two kinds of dogs – dogs who can't exercise outside because of the heat and dogs who have mobility problems such as arthritis and hip dysplasia. Not all dogs can naturally swim but the pool doesn't need to be deep for them to help them out.
For the dogs struggling with the heat, the refreshing temperatures of the pool can help them be able to paddle around or even run around the garden if their coat is nice and wet. This can be invaluable during a summer heatwave as it's discouraged to walk them in hot temperatures but dogs still NEED exercise.
Secondly, dogs with mobility problems can enjoy the benefits of the resistance water provides to strengthen and engage the muscles and floating on the water takes the pressure off their joints allowing them to have a relatively pain free session of exercise.
Although most shoppers will be looking at paddling pools in the summer months for their dogs the benefits are so great that it's an ideal tool to have if you have the space for it.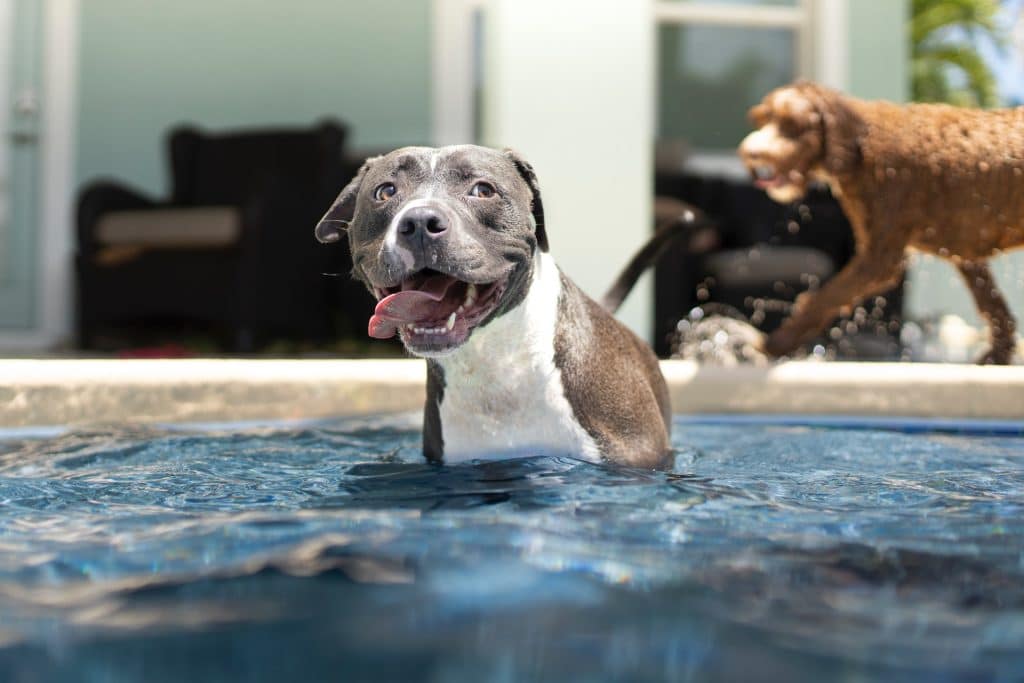 What type of pool is best for dogs?
As long as you're using a dedicated dog pool you can pretty much use it effectively. The biggest consideration is the size and depth of the pool so that it matches the breed of the dog who will be using it. That being said, they should never use it unsupervised anyway.
However, paddling pools for dogs can be quite heavy and cumbersome as they're made of stronger materials than paddling pools designed for humans.
There are three types of dog pools – PVC/plastic, inflatable and foldable. Plastic dog pools are far and away from the best quality as they are tough enough to be able to take a beating and protected from being scratched by their claws (this WILL happen). Inflatable pools are not recommended as the likelihood of a tear is high. Foldable pools are just that – foldable. Most plastic pools will already be foldable.
Therefore, the best type of dog pools are ones made with tough plastic.
What to look for before making a purchase?
The world of dog products is full of copycats with most products being rebranded or recoloured clones. But, there are certainly some products which are better than others depending on the owner's home and garden space, the kind of breed of dog they have and of the number of dogs who will be using it at a given time.
Here are some brief pointers to help you determine which one YOU should get.
Size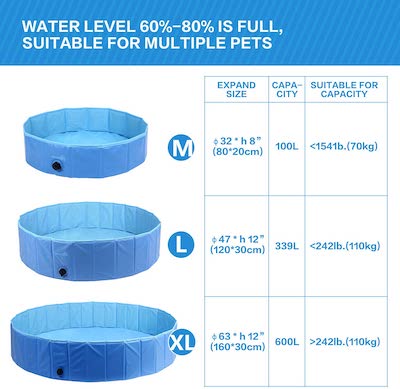 The overall size of the paddling pool should be appropriate for both your dog and the garden space it's going to be in. You should measure your garden to ensure that there is enough clearance around the circumference of the pool so that you can safely reach the dog no matter where they are in case they get into difficulty.
You will also want to avoid getting a pool that takes over your entire garden because this can cause issues with other users of your garden such as your children. From our experience, a dog paddling pool should not take up more than half of the space of the garden it's going to be in.
Depth
Do you want a pool for your dog to swim, paddle or be able to just stand? Dogs can still paddle in a pool that they can stand in with their head above water and this is the safest depth in our opinion.
However, the maximum depth of the pool can be ignored as you are in control of how high the water level is anyway. But, if you have a tall dog and don't want a product that they can't fully enjoy then measure your dog's height from paw to the spine and then purchase the pool that has a depth/height greater than this number.
How they enter
Most pools won't have a dedicated entrance for the dogs to walk up and then into the pool. Instead, what we're proposing is that you have a think on whether you're ok picking them up and putting them in yourself or with the use of a ramp.
Some dogs may just want to jump in themselves but be wary of the dangers of this and the potential damage it could cause with a badly timed leap.
How it is stored
These products are quite hefty when in use and take considerable space when not. It can be really annoying to put away if you just don't have the space for it. If you have a shed, storage area or a garage then great! That means you've got a lot more options but if you don't then consider getting a folding model. 
Quality of the structure
Unless you go for an inflatable (not recommended) then the pool keeps its shape with an interior skeleton which can be made out of MDF wrapped in plastic or a metal frame. Whatever you go for needs to be tried and tested. The only way really to find this out is with video reviews, read the manual and read the third party reviews on whatever website you buy it on. 
The quality of the structure should match the energy levels and size/weight of your dog. If you have a big, strong dog then it needs to be very sturdy to handle the waves they will create by jumping in and paddling.
What dangers are there with paddling pools?
Open bodies of water should be treated with respect even when we're talking about commercial products aimed at recreation and fun such as paddling pools.
Dogs drowning in pools is not uncommon and you should approach its use with caution and strict supervision. Even the most confident of swimmers can get tired and drown if they're not monitored, equally water intoxication is a real threat when dogs are exposed to water for a long time.
Therefore, the use of paddling pools should be limited and dogs should never be left alone in the pool. Accidents can and do happen – don't let it happen to your dog.
How do I get my dog in a paddling pool?
The way that these pools work you're pretty much on your own figuring this one out. The good news is that it's not that hard to do it. If you've picked up the correct size pool for your breed then they should comfortably be able to leap in if they're confident.
For first-timers, you're going to have to lead by example, get in and try and get them to follow with some treats. For really unsure first-timers then it's best to carry them in, get in yourself and then gently ease them into the water – if it's a hot day and they're struggling they will start to love it as soon as they realise how cool and refreshing it is.
Where is the best place to put the pool?
This one's easy. In our experience, we recommend placing it in the shade with enough clearance all around the pool for you to be able to get the dog at every angle. Placing it directly in the sun can cause your dog to be overexposed to the sun which can dry out the skin and potentially burn it.  
The pool should not be placed in a gangway which could cause issues for young children running around. Obviously, it should be far and away from any source of electricity. Most pools do have a non-slip bottom but we have always found it works best on grass. The other reason grass is so good is that when it's time to empty the water out it can seep into the soil.
Are kiddie pools safe for dogs?
Paddling pools designed for children are mostly inflatable which would be punctured and wrecked easily. They are indeed safe for dogs but it's probably a bad idea. You shouldn't allow a dog to swim in the same pool as toddlers and younger as it can only spell danger both physical and pathological.
If you want children and dogs to be in the same pool then an adult should be in the pool with them at all times. Anything else is just plain dangerous.
Last update on 2022-07-02 / Affiliate links / Images from Amazon Product Advertising API