Dog harnesses are a fabulous way to keep your dog comfortable and to ensure they won't be hurt if they pull. A soft and padded walking harness with a lead attachment is the preferred option for most dog owners now compared to using a collar and lead to control your dog. This is our full guide to the best harnesses for dogs of all sizes; please be aware that some of our recommendations may be suitable for puppies and others for older dogs. Check the sizes before your purchase to ensure the perfect fit for your dog.
Here at JugDog.co.uk, we have taken the time to review a wide range of dog harnesses: from the well known Julius K9 to the lesser-known Red Dingo. We aim to help you find the right harness for dog walking. We explore the best dog harnesses on the market at a range of price points. We hope we are able to help you find the perfect fit for you and your dog!
Table could not be displayed.
Best Dog Harnesses Reviewed and Rated
To help you to find the best dog harness we will list and discuss what we think the best dog harnesses are; to save you some time we've listed the better models at the top with other choices towards the bottom to save you from having to read our full article. However, it must be said that when we say it is the 'best' dog harness it may not be the best dog harness for you based on your dog's size and needs so make sure you search through to find the ultimate dog harness for you.
1. Best Overall – Julius IDC K9 Dog Harness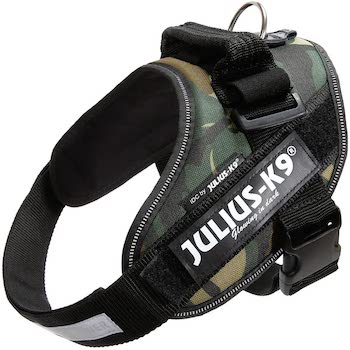 The Julius K9 is the best overall dog harness for us. This is the harness that our Jug, Jeff wears. Originally we were lucky enough to get a hand-me-down Julius K9 from fellow jug @Harlowthejug. We were so impressed that we bought one for ourselves once Jeff was ready for the next size up.
The Julius model is robust and made up of really tough material; it's easy to put on and take off your dog with a very secure and durable chest strap; it looks smart. The 'handle' attachment available on the back helps us control him if we need to and the cleverly placed INOX ring makes it easy to attach to the safety belt clip in our car or a dog tracker if you have one of those. A drawback to the Julius K9 model is the reflective side panels aren't quite reflective and it offers nothing in the dark which is a shame. Our Julius K9 can take a beating and his latest one lasted Jeff over a year.
It may seem expensive but we won't be needing a new model for a long time. The power harness also works well with dog collar cameras as the neck isn't totally covered. Julius K9 harnesses come in a wide variety of colours and sizes so you can get the perfect fit for your dog whatever their fit.
2. Toughest Harness – Ruffwear Harness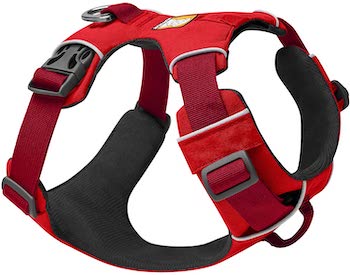 The Ruffwear harness is a superb durable type harness: best suited for adventures walking and rough and ready activities. This harness has been designed to give greater range of motion to deal with your dog's changing speeds, directions and contact with the outside world. Its unique design makes it easier and more comfortable to lift your dog over obstacles whilst walking, should you need to.
Shoulder, chest and belly straps are included for greater fit, safety and comfort for your dog. When wearing this harness it will evenly spread force across their chest when pulling or when lifting the pet over the aforementioned obstacles. Finally, the design is still pleasing on the eye despite all the extra features it has over some of the other harnesses. The three straps make it a perfect harness for dogs with mobility issues as it can handle the weight evenly.
The harness has strong, interwoven nylon straps which are constructed for strength without a weak point so owners that are wondering, 'will it last?' then the answer is yes. The padded material is also heavily breathable so you can make sure your dog will remain secure whilst wearing this harness on a walk.
From a price point of view, this harness isn't cheap and is more on the expensive side. However, as it is classified as a 'speciality harness' this price seems fair and you do get what you pay for. This front range harness is not designed for everyday quiet walking around the park; reviews suggest this is for an adventurous pet. We highly recommend this model for owners who get out on long adventurous walks with their dogs and those whose dog is more the active type like Spaniels (see also 'The Difference Between Show Cocker Spaniels And Working Cocker Spaniels'), Dalmatians and Collies.
3. Most secure harness – FIE Harness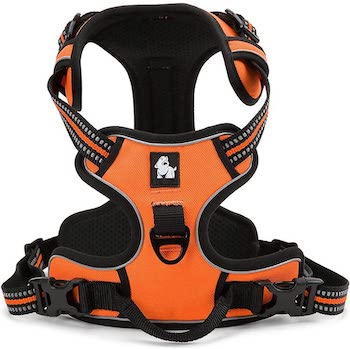 The FIE (fit into everyway) harness is a well-crafted model which ticks all the boxes to become one of the best dog harnesses on this list. One of the best for your dog's safety; we've found that this is one of the most secure harnesses we've ever tried on with our own dog, Jeff.
The FIE harness includes nylon webbing across your dog's chest with reflective material which is a fabulous feature for your dog's safety. The sturdy handle attachment will allow you to loop a car seatbelt through which means your pet can travel with you safely.
The FIE harness has two leash attachment points: a D-ring on the dog's back portion and the o-ring on the chest area at the front giving a range entry points for lead attachment and accessories if you have any.
This dog harness is made in 5 sizes to suit a wide range of dogs from small, medium to the largest types. The FIE harness comes in three bright colours: green, orange and black.
Lastly, we mentioned how this was our most secure harness in our tests because Jeff was unable to wiggle himself out of the harness at all. This is because of the strength and tightness of the wire/ropey bits and the positioning of the underbelly strap. Usually, dogs wiggle out when they are facing you and you're pulling the lead towards you. Security aside, the FIE dog harness is still an all-round wonderful dog harness and we suggest checking it out. It has a competitive price point and looks decent when fitted.
4. Best no pull harness – Truelove No Pull Harness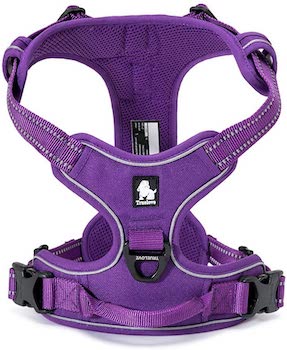 We love the Truelove no pull dog harness and found it to be a brilliant dog harness. One of the best features is the choice of positioning you have for the dog's leash (see also 'How And When To Use A Long Dog Leash'). You can put the leash toward the back or the front of your dog's body. The areas on the back make it much more comfortable for the dog itself and put no pressure at all on the neck, the whole point of a no-pull harness, while still giving you total control.
Having two leash attachment points also makes it easier to attach a GPS system should you wish to clip this onto the side. This harness has a light mesh pad for the areas which attach to the belly to give extra comfort which can really come in handy on longer walks. The adjustable straps also make it easier to get a perfect fit no matter what size your dog is; you still need to get the closest size to your dog fist though as the straps don't make the main harness smaller or bigger.
The Truelove harness has reflective areas which come in handy for a late-night walking should your dog be off lead or god forbid they got lost. On top of this, the Truelove harness is highly durable thanks to its high-quality nylon construction which gives you a long-lasting harness without the need to replace after a short period of time which you can find with some of the cheaper alternatives. A good quality dog harness is better value in the long run.
Overall, the Truelove no pull dog harness is up there with the best of the bunch and well worth a look. You will get everything you need and more when purchasing this harness and perhaps the only deciding factor is whether or not you like the way it looks as opposed to how well it works! If you are an owner of this please let us know your thoughts in the comments below.
5. Red Dingo Plain Harness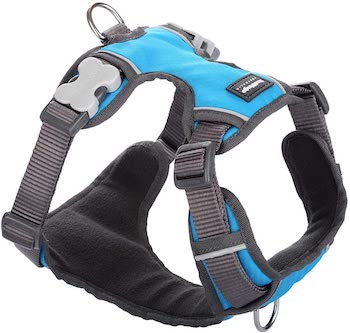 The Red Dingo plain strappy harness is an incredibly simple harness but with a difference. It's one of the highest-rated dog harnesses on Amazon with thousands of reviews by owners of different breeds so you can be rest assured this is a fantastic dog harness which has been thoroughly tested. It may not look much but it's been tried and tested and the reviews speak for themselves.
The Red Dingo harness is made using strong and durable nylon so it can take a tug or two. It's easy to clean as well so it's ideal for mucky pups. It's got a simple 'scrappy' or belt led design which doesn't make it the most fashionable harnesses but it has been designed to be secure similar to the FIE harness.
This front range vest is adjustable but not the simplest fitting so if you need to alter the strap outside and in a rush then the buckles and tie can make it tricky to get the adjustment done quickly. The plated carbon steel D ring clip is where you'd expect it and tough just like the others. Overall, this harness will do exactly what it says on the tin and has been verified as a decent choice by hundreds of reviews on Amazon – this makes it a relative risk-free purchase that won't blow you away but will keep you and your dog content.
6. Rabbitgoo No Pull Harness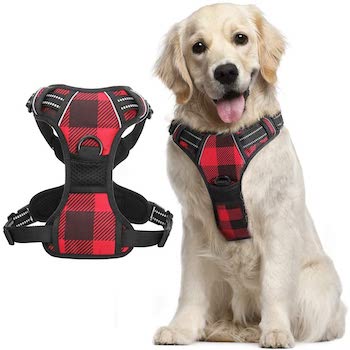 The Rabbitgoo no pull harness has many positive reviews on Amazon: with many happy shoppers citing the overall quality, ease of fitting, low price and smart looks among its best features. It's designed as a no-pull harness; the strap distributes the force evenly which doesn't put any stress on your dog's neck. The front range harness going across the chest of your pet is nice, thick and soft and actually rather stylish we thought; especially if you go for the orange or green colours.
This harness is available in a range of sizes from extra small, small, medium, extra-large, large and x-large which caters for practically any dog. You can then fine-tune the size to suit with two adjustable straps on the chest and neck – it's always important that the harness fits perfectly without too much play but not too tight that it becomes uncomfortable. On the back of the harness are two anchor points to further the comfort level if pulling occurs during your dog's training. If you decide to walk your dog in the dark it has reflective straps which can help with visibility.
We found the harness to be quick and easy to use even though it does look a bit strappy which is fantastic. When we tested this on our dog we found the fit to be exceptional and the product was well made and comfortable for the dog. When walking the dog the feedback from the harness to the leash was great and we felt that even when we needed to pull the dog back it did not cause any discomfort. We tried to get the dog to wriggle itself out of the harness and luckily he was never able to, therefore we can confirm that this does what it says on the tin!
Overall, this is one of the best dog harnesses you can get and has not just been positively reviewed by us but by over 600 verified shoppers on Amazon. The price point for the harness is also extremely generous and you can often get this for a snip at under £30!
7. dogOne winter coat and harness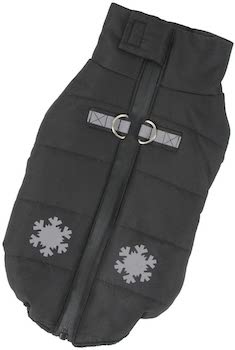 The dogOne winter coat and harness is a fantastic choice as it doubles as a winter coat and a harness which can save money from buying both of them individually. It has been made with built-in reflection panels to help when walking your dog in the dark and considering it's a half winter coat chances are it will be dark. The inner lining is heat-insulated and will protect your dog's back from cold and moisture when in use. This is the best harness if you live in a colder climate; this would be a great option to use if training your dog not to pull during colder weather.
With velcro fasteners below the chest area and adjustable drawstring cuffs on the legs; you will be able to get the best fit to suit your dog's comfort. It only comes in grey but the full size range is vast with 6 chest sizes; so you will be able to find the perfect fit for your dog.
8. Purple Lovely Heart my Dog Harness
The purple lovely heart my dog harness is a stylish padded dog harness. It has a fleece inlining to keep your dog warm. It's mainly catered towards small and medium dogs as it lacks the strength for medium to large dogs. If you want a harness that's a bit nicer whilst walking your dog then this is a superb choice at a great price.
The main portion of the harness is worn across your pet's chest, with the fastening across their back. There is a clip at the back available to allow you to attach their leash. This clip could even be used with a car safety belt attachment to allow you to keep your dog under control on car journeys. Although the list of features for this particular model are small; it does the job for a small dog and is available at a low price point. If you're considering making the switch from a collar and lead to a harness then why not give this a try?
9. SPORN non pull Dog Harness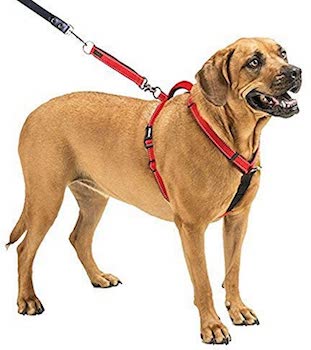 If you are looking to replace the traditional dog collar and lead but don't want to break the bank doing so then the SPORN dog harness is the right option for you. This simple light mesh harness is available in three sizes: small, medium and large. The main mesh vest is secure over your dog's chest and padded for your dog's comfort. One of the key features of this particular type is that the patented elastic mesh material is designed to 'squeeze and lift' if your pet attempts to pull whilst on the lead. Adjustable buckles allow you to ensure the correct fitting for your pet. The O-ring attachment will then allow you to clip the leash on and enjoy the walk. The price is low so it's worth trying this out with your pet to see if they enjoy this type.
10. Lifepul harness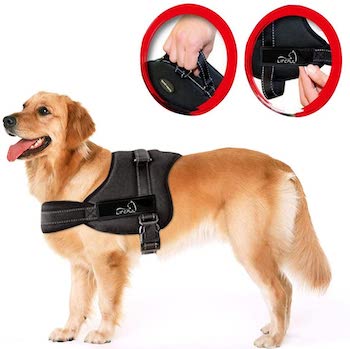 The Lifepul harness is a great alternative to a collar and lead for the largest dogs out there. This harness comes with a chest strap at the front that is larger and more padded than the others while it still retains its strength and durability on the top part. It's got a meaty handle and ring to clip the pet lead onto at the top. This heavy duty dog harness only comes in three sizes: medium, large and extra-large but this is ideal as we would only recommend this for a dog of the larger size.
One of the key features is having a handle at your dog's upper back which helps you maintain control and keep the dog from pulling its owners. The Lifepul dog vest harness leash connector D ring on the back is not only perfect to attach a lead but also suitable for a seat belt attachment to keep your pet safe during car journeys. It is easy to adjust the size to the straps to alter the fit across the front of the chest whilst in use. This vest is available in two colours: black or red and is available at a reasonable price.
11. Puppia Soft Harness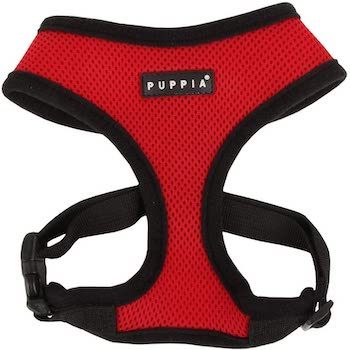 We really like the Puppia soft harness; we think it's a particularly good option for small dogs to use as a first harness when training. The Puppia dog harness is made from light mesh material and is extremely soft thanks to its padding and fairly strong (although we wouldn't recommend these for large size breeds). The harness puts no strain on the neck and allows any pressure or strain to spread evenly across your dog's chest when in use. We've used one of these on our Jug and due to it's adjustable strap it fits perfectly, so even if you have a 'chesty' breed like a Pug or Jug then this should be fine.
The D-ring at the back of the vest allows you to clip your dog's leash on. We think this is the right product to use when training a young pup as you can help your dog to remain under your control whilst knowing they're being supported to the full. There is no reflective material on this harness though so we'd suggest just using it during the day for training. This particular dog harness amazingly comes in over 17 different colours like light blue, vibrant orange or a luscious green. The sizing variety will allow you to find the perfect fit to use with your dog. With over 8000 positive reviews on Amazon this is a top quality alternative to a collar and lead.
12. Embark Active Dog Harness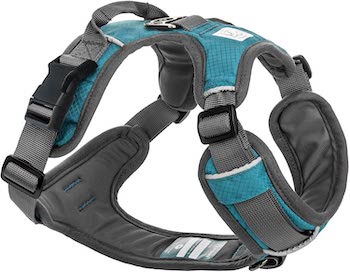 This is a great option to keep even the most active dogs under control. The Embark Active dog vest allows you to take your dog with you on any adventure you wish to go on. The harness comes with a built-in handle across the back to allow you to assist or help control your dog. Embark have improved the strength and function of their new product to increase the safety and durability whilst still remaining at a reasonable price point. It is easy to fit across the chest of your dog thanks to longer straps with extra adjustment; once adjusted you simply slip over your dog's head and clip it at the back.
Made from light, nylon material your dog will be able to move freely when wearing this for training, a walk or an adventure. In terms of training, the back and padding around the neck have been altered to help protect your dog's trachea from pulling, while the front no pull dog harness features can be used to teach your canine to stop pulling. Embark offer a full refund if the product isn't right for you so it's worth checking out this type to see how you and your dog get on with it.
Dog Harness Buyer's Guide
What is a dog harness?
A dog harness is different from the traditional collar or a slip lead as it wraps around their body to provide a more robust and comfortable way to attach a lead and walk your dog. Many people now choose harnesses to prevent dogs from pulling or to simply not choke the dog if they do happen to pull. Dog harnesses are also a key tool for dog training.
Best dog car harnesses are also a great way to keep your dog safe and in place when driving as you can get additional attachments which can work with the car safety belt.
Read: How soon after neutering can I walk my dog?
Benefits of a harness over a collar
Dog harnesses are designed to fit comfortably around your dog's chest and behind the neck down their back. They're usually designed so that it spreads pressure and tension evenly so that your dog isn't hurting themselves. Working dogs typically wear harnesses so that they can be brought under control easily whilst protecting their neck from being tugged harshly which can cause serious issues for the dog.
Related: Why does my dog walk around in circles
A harness benefits both the dog and the owner: the owner is in control as the dog is held firmly and if they suddenly pull they won't choke and secondly the dog is held much more securely and in comfort which makes being on a walk a more pleasurable experience. Have you ever seen a dog pulling on the leash and sounding uncomfortable? That could be avoided with a harness connected to the leash.
What to look for in a harness?
Harnesses come in different shapes, sizes, materials and accessories so it can be a bit confusing which option is actually the perfect dog harness. When we received the testers from the generous companies we needed to come up with some points and checks to help grade the harnesses and score them on individual merits before we came up with an overall score. So, here are some important aspects to search when you're looking to get a harness:
Strength
The harness needs to be strong and made using durable materials like nylon to handle the rough and tumble to allow you to enjoy your walks to the full. Check to see what the main material is and the strength of the o-ring for your leash clip as well as any buckles. Take a look for any reviews from users complaining a few weeks, months after making their purchase.
Comfort
Is the harness providing enough comfort for your dog? If you need to pull the dog when training, does the force get distributed across the front range of their chest? Is the front section made of a light breathable material? It became obvious to us when receiving the testers that some harnesses are made with the dog's comfort in mind where others weren't. Whether you have a small, medium or large dog you will want the harness to fit appropriately to allow maximum comfort across their chest and front legs; it is worth researching the type of harness to ensure fitting can be adjusted to your dog.
Safety
You will want to ensure the clip and leash can be attached securely on the type of harness you choose so that even the largest of dogs are secure. Reflective material; you're going to be walking your dog during the dark hours then we highly advise you get the type that has reflective material.
Easy to put on / easy to get off
You will want a harness that comes off just as easily as it can be taken off. We've had some harnesses in our time that have been like puzzles to get on and take off. The same is to be said for the clip attachment; you want to be able to get the clip on quickly to maintain full control during your walks. Choose a harness that is simple to put on and get off to save time and avoid frustration.
Value for money
As a dog owner you want to get what you pay for. You don't need to get the most expensive option but get the dog harness which is going to best fit your dog's lifestyle. You'll notice from our list that our top recommended harness (Julius K9) is neither the cheapest or the most expensive but the one we felt was simply the best for our dog Jeff. The best fit for large dogs would be a Lifepul harness whereas if you're looking to get out on adventures then Embark would be fit for you.
Your Thoughts?
If you have any questions or comments on the topic of harnesses dogs wear in general or on any of the types we have reviewed then we would love to hear from you. Perhaps you have a brilliant harness that isn't even on the list and want us to add? Whatever your thoughts are, good or bad, we want to hear them! Our comments section is just down below!
Last update on 2023-10-13 / Affiliate links / Images from Amazon Product Advertising API