Losing a dog is one of the most heartbreaking experiences of anyone's life. You wish and pray that your dog is safe and that someone sensible will find your dog and know what to do. The same can be said if you're the one who's found someone else's dog. Today's article is all about what to do if you find a lost dog to reduce heartbreak and the time it takes for reuniting.
If we all knew what the proper thing to do with a lost dog would be it would make a world of difference to both sides – the dog and the owner. Here's a simple guide on what YOU can do if you ever stumble upon a runaway or lost dog.
Get the dog under control and with you
This could be tricky if the lost dog doesn't have a collar or a lead but see if you can get the attention of the dog and if safe to do so keep the dog restrained and close to you before you take the next steps. This is to make sure that this scared and anxious dog doesn't run into a situation which could get them hurt like the road.
If you yourself are out on a dog walk then you can try and offer them treats if you have any or even use your own dog's lead to keep them under control if your own dog is great at being off the lead.
Use your better judgement to see if this can be done and if it can, do it safely. If the dog appears aggressive or dangerous do not attempt contact and just skip to the next step.
Check if the dog has a collar and a tag to make things much simpler by calling the number or visiting the address if it's nearby. You could also check if they have a dog tracker but there's not an awful lot you can do with that other than assume they could be nearby and heading towards the direction.
Call the council / local dog warden service
Every local council must provide a dog warden service and they will be the best equipped and fastest to be able to take the dog off the streets or your care and then work the channels to reunite them with their owners.
Be as descriptive as you possibly can and if you aren't able to restrain the dog then pay attention to the direction they were going before you lost sight of them. Any information you can give would be greatly appreciated.
Call local vets and rescue centers
Veterinarians and rescue centers should be the next people you call after the local council as they are also well equipped to come and get the dog. It's not their main job over there but these establishments still want to make sure that every animal is safe. Some might say they are unable to help which is why the council should be the first call you make.
Again, be as descriptive as possible and send pictures – they may use them on their social media platforms to speed up the process of reuniting the lost dog with their owner.
Your local vet may ask you to bring them in and in that case they can scan their microchip (hopefully they have one) and the rest should be easy and out of your hands.
Take them home
If you feel safe around the dog and are able to give the dog a safe haven temporarily and all of the other options have not worked out then taking the dog home for a bit can be a humane choice and the owners of the lost dog would appreciate that, I'm sure.
Once you're home with them give them some water and a nice meal to keep them calm and going. A toy to take their mind off it would go down a treat.
Note: Do NOT leave the lost dog unsupervised with any other pets or children.
Note: By law, you can't keep a stray dog no matter how long it takes to reunite the lost dog.
Post a clear picture of the dog and details when he was found on your social media and make sure it's sharable. Also, find any local community groups which exist especially ones in conjunction to the exact spot you found them. With enough luck and shares the owner of the dog will spot the post (they may well be looking for it) and send you a message for a happy ending.
Put out some found dog signs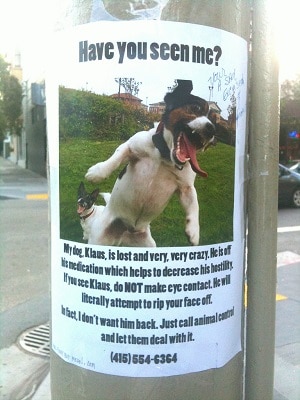 It may be old school but putting out found dog signs near the area you found him is still a great thing to do when you find a lost dog. If you get responses, verify them with a picture of them with the dog and don't just take their word for it.
Post on lost dog directories and websites
There are websites such as doglost.co.uk, lostdog.co.uk and even places such as Gumtree where you can share information out there. When it comes to finding lost dogs you simply don't know where the owners are going to look so covering every base is the best thing to do even if it seems like a waste of time
Conclusion
The best advice we can give with a lost dog is to act like you would want someone with your lost dog to act! It's a horrible experience and having someone organised and sensible taking responsibility for the lost dog can make things easier and quicker with minimal heartache. At times it may seem frustrating and it feels like you're getting nowhere but keep going through the points and eventually it will work and the owner and dog will finally be reunited. You never know, you may even get rewarded!
Related Articles