Most dogs quite like warm weather but can't tolerate intense heat for very long as their system of cooling down isn't the best so they'll try to keep in the shade or avoid it periodically. We have recommended dog cooling mats for many who live in warmer climates or own dogs who are particularly susceptible to overheating such as Pugs, Bulldogs and other brachycephalic breeds. 
A question we've been asked by those who have visited the cooling mat page is whether or not the use of deep freeze can be used to cool down a dog temporarily.
What is deep freeze and can you use them on dogs?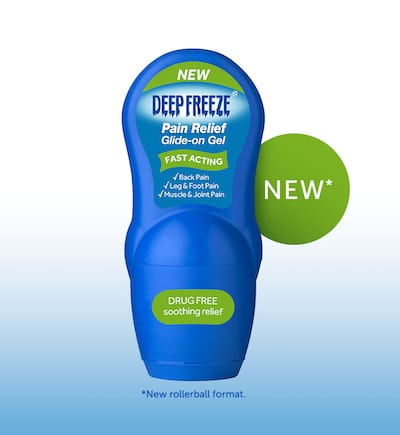 There are two kinds of deep freeze products – spray and cooling gel pack and the two of them are so different in terms of what they do and how they are applied that they may as well be two different products for this page.
Deep freeze gel packs
Deep freeze gel packs work similarly to cooling mats and bandanas and offer a cooling surface which absorbs the heat and turns the energy cold. They can be effective but it will only cool the surface it is placed on which can be small. You'd apply it to their bellies, presumably.
Deep freeze gel packs can work on dogs but it does stick to them and they could try and tamper and chew it so they shouldn't be used unsupervised. Therefore, although you can use them on dogs it really isn't the best method of cooling them down over cooling mats, paddling pools and just keeping them in the shade.
Deep freeze spray
Deep freeze spray is an aerosol which cools down the areas it's sprayed on and intended to help with joint problems rather than to deal with hot weather. At no point is this product advertised as such, in fact when you look at the warnings on the bottle:
For external use. Do not inhale. Do not use: On broken or irritated skin or with other skin products on the same area, If allergic to any of the ingredients, On or near the eyes or other sensitive areas, On children under 6 years. If you are diabetic, have poor circulation or a skin condition, are pregnant or breastfeeding, consult your doctor before use. If skin irritation occurs, stop using.
You can clearly see it's not intended for a lot of humans and should definitely not be used on dogs. The specific ingredients of deep freeze spray are Pentane. Butane 75. Denatured Ethanol. Levomenthol – none of these are any good for a dog's skin.
Conclusion
It's not recommended to use any form if deep freeze on a dog and instead using traditional methods such as a dog cooling mat, natural shade and plenty of water is more than enough. Never take any chances with a dog!
Related Articles