Washing your dog should be a regular occurrence to keep their hair and skin in good condition but the whole process can be laborious with a whole lot of mess. Some people don't like to wash their dogs in their own bathtub because it can be unhygienic and their hairs can clog up the plug, others refuse to let them go to the groomers because of the cost and trust issues.
This creates a bit of a problem but luckily there is a solution and that is with the help of a dog bath tub. These tubs are specially made to bathe dogs (and babies if you clean it properly) and are easy to put away and clean up after use. There are no clogged up plugs and you can just throw the water away after use.
The fact that they're portable means you can wash them anywhere in the house, garden or even garage so if there is any splashing then your belongings are protected. Just a note before you read any further, this article relates to home use dog bath tubs and not speciality groomer's bath stations!
We've used quite a few tubs as Jeff grew from a puppy and have been lucky to get a hold of a few adult ones. We've listed what we felt were the best and easiest to use and we've also included a brief buyer's guide on what our research has shown on best practices and tips and trick.
Best Dog Bath Tubs
1. Pidsen Foldable Dogs Paddling Pool and BathTub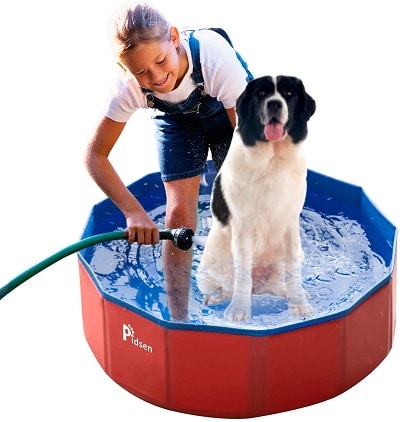 A great bath tub which doubles as a paddling pool and ideal for bathing your dog outdoors.
We start with a product which clearly has two uses – a paddling pool (which we have reviewed a fair bit) and a bathtub. There really isn't much of a difference between the two as all they need is to be able to hold a body of water and have high enough walls.
The Pidsen foldable bath tub works very well as a bathtub as it has high walls (the smallest is 8in) to stop a lot of splashing and to keep the water in (obviously). It's made of tough scratch-proof plastic which can take a beating from their nails while they move about and can be wiped down easily after being used.
To get the water out you can tip it over in the garden or use the drainage port. However, it can become problematic if you choose to use this indoors and the drainage port becomes useless and the bath is too wide to carry out without spillage.
It folds away effortlessly and takes very little space between uses.
Overall, the Pidsen foldable bath tub for dogs is a cost-effective, durable and high performing product which makes bath time a lot less stressful. All you've got to worry about is how to fill it up and drain it once bath time is over!
2. PJDDP Flexible Dog Bath Tub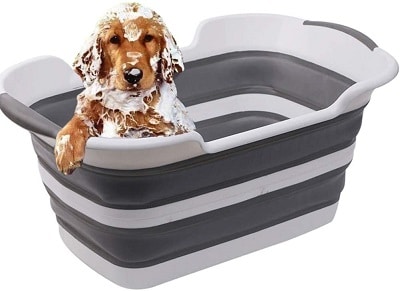 Futuristic fun
The PJDDP flexible dog bathtub is a purpose-built product to wash pets comfortably. It looks fantastic and a lot of effort has been made to make it easier to wash dogs without accidents and be efficient in the space it saves.
The main features are the raised sides to ensure your dog doesn't try to jump out and lowered middle walls for you to be able to get your hands in to do the washing. The high walls allow a lot of depth which can make shorter work of bath time because they can't move too much so you can focus on just getting the job done.
The tub is made with two different kinds of plastic which are PP (polypropylene) which is strong and rugged which protects your investment from being scratched and chewed. This plastic is used at the bottom of the tub where the dog will be sitting on. The second plastic is a thermoplastic elastomer (TPE) which is a flexible plastic that can withstand the heat and the impacts of weather.
The mix of these two plastics enables this bathtub to be collapse downwards which enables it to be highly portable and use very little space in the home. This feature shouldn't be underestimated as bathtubs tend to come in one solid construction which makes them take a lot of space when not in use,
Finally, the size of this tub and the strength of the handles makes it ideal to give your dog a bath indoors or outdoors as it offers superior splash protection from the high walls. You could easily pour the water down the sink or in the garden when done.
We aren't afraid to say that this one is probably our favourite to use as a dedicated tub if you aren't interested in other products which have additional capabilities such as a paddling pool.
3. Faulks & Cox Flexible Tub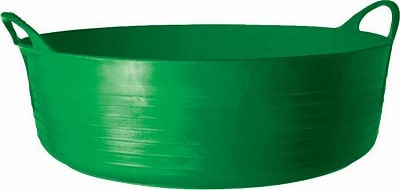 Simple, cheap and does the trick
Faulks and Cox take it back to basics by offering a cheap and rugged strong plastic tub with handles. It's not a dedicated dog bathtub (almost none of them are) but it ticks all of the boxes of what makes one suitable.
First, it's made of thick food-grade plastic which is UV resistant and frost resistant. These are important as the sun can degrade the performance of some plastics and frost can cause them to expand/contrast and sometimes snap.
The brownie points from us come from how tough it is and can withstand the normal fair wear and tear from a moving dog with nails. It won't be torn easily and become useless.
It's got high walls and enough space for 35l of water but you won't need that much for a bath to be fair.
After use, it can be easily wiped down. To empty the water you will need to carry it out carefully but it does come with strong handles which are not the same wobbly plastic as the tub itself so it's fairly stable. Splashes and spills shouldn't be an issue unless you overfill.
It's cheap and cheerful and all you'll need to give your dog a simple bath with no messing.
4. YLLYLL Collapsible Dog Bathtub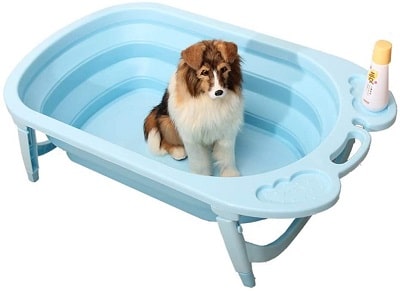 An intuitive and fantastic tub for those who want convenience and quality
This is similar to the PJDDP tub as it uses the same combination of TP and TPE to become completely collapsible whilst still being able to have a strong structure and tough enough to take the damage caused by nails.
However, this version has a LOT more features which are instantly recognised from the images and they are the legs, the lip at the top of the walls and a shampoo/conditioner station. This takes what we loved about the PJDDP and makes it even better.
The legs which come with it raised the bath from the floor and protects the bath from being turned over by an overactive dog. This is a common thing to happen and a massive pain for owners who choose to wash their dogs indoors.
Most owners would put their shampoos on the floor while washing the dog but this one allows them to be rested right next to the action for quicker access. It's definitely a nice to have feature but not essential. We did, however, find the convenience when washing indoors rather than outdoors as the bottles themselves can make the floor wet.
The bath collapses to a single level with one end being able to be hooked if you wanted it. It's an amazing product considering how much space is saved when compared with the solid structure models.
Lastly, this bathtub comes with a plug to drain the water which is a little inconvenient when using indoors but great when it's outdoors. However, it can be moved around easily with the handles if you just wanted to tip it away.
Expensive but well worth the money for those who just like having the best things.
5. WWLONG Summer Foldable Pet Dog Pool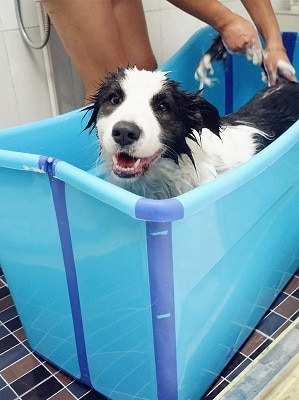 A deep and relaxing experience
The final entry is this curiously shaped yet incredibly versatile bath tub which can easily double as a cooling station in the summer.
It's curiously shaped with one side higher than the other to allow your dog movement but unable to escape easily if they're untethered. This tub is DEEP and the images don't do it justice. This makes it even easier to add a little extra water to make it easier to rinse the dog without splashbacks.
It's made of strong plastic but we felt not quite as strong as some of the others to be cautious if you have dogs who like to scratch. However, it folds easily and very thinly.
There are three different sizes to cater for most dogs and three colours to choose from which are green, pink and blue (all in pastel).
The drawbacks we found when we tested it with Jeff is the lack of handles to transport the tub and the drainage pipe on the side isn't great for indoor use. Therefore, we'd conclude that this is most suitable for outdoor use only or with the use of a hosepipe going outside.
Still, we had a great experience using this for around a week and wouldn't hesitate to use it again and we welcome any pet product manufacturers who try to do something different!
Dog Bath Tub Buyer's Guide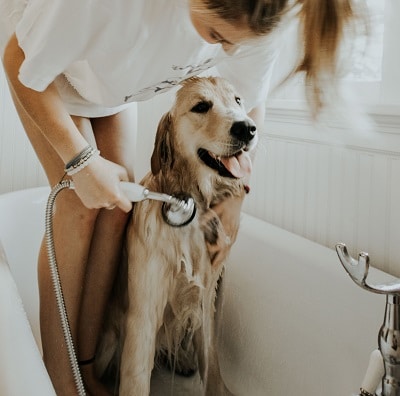 Welcome to the buyer's guide section of this article. The purpose of the buyer's guide is to support our argument why we've chosen our top list as well as offer some expert analysis on the product itself, its benefits and best practices on using them.
Benefits of using a dog bathtub
How have you been washing your dog so far? Are you researching ways to wash a dog as you're in the process of buying a puppy or adopting a dog? A lot of the benefits surrounding the use of a doggy bath rely on the context of the current situation. Here are a couple of situations where buying a separate tub for your dog can be beneficial
Protect your own bath from being wrecked
Most of our readers will have been washing their dog in their own bath and they're sick and tired of dog hairs clogging the plugs, dog smell stinking out the bathroom (dogs need to dry before you can start to 'smell' the lovely shampoo'), leaving a wet mess with a trail of wet destruction through the house and nail scratches in the tub itself.
It's just not nice no matter how careful you are being.
It's time for a change and getting a dedicated bath tub is the first step. No more hairs clogging up your drain or a wet mess because you can choose where to bathe them – many people decide to do it in the garden because then they can shake it off at their leisure and you can get rid of the water how you see fit!
Quicker to get it done
In our experience, using a dog bath tub made the overall experience quicker as we spent less time getting everything together – all the shampoos, towels, getting the temperature right and so on. We stopped dreading the time Jeff started smelling a bit off (we always think it's like biscuits) because now we know we can get the bath out, run some water and probably be over and done with in 15 minutes or so.
Helps make it more fun
The flexibility of most bathtubs we've used meant that we can make it a lot more casual, less stressful and ultimately more fun to use. If your dog enjoys a bath you will enjoy giving them one. Rather than drag them to a room they only associate with a bath we can now do it in the garden on a nice sunny day – this led Jeff to be a LOT less resistant when it came to bath time and meant we didn't have to chase him so hard with a towel afterwards – he could simply run around in the sun and shake it off in his own sweet time.
How do I choose the best dog tub for me?
Where it's going to be used
If you intend to use the tub indoors then a tub with high walls, lightweight structure and handles for carrying are essential to protect the home from splashes and that it's going to be easy to carry the tub to and from the source of water and again to empty the water.
If you plan to bathe your dog outdoors then you have a bit more flexibility with your choices as excess splashes are a little less of a problem and how you empty the water is easier.
Size of the dog
Dogs which are German Shepherd size or less have baths suited for their size but anything more than that may require a specialist purchase or just get a dog paddling pool.
Toughness
Bath tubs which are regularly used will take a beating from a dog's nails so be sure to purchase one with thick and tough plastic or you'll waste your money. Our recommended tubs are tough.
To make things easier you can use our best dog nail clippers guide to trim nails and extend the tubs lifespan.
Tips on using a dog bath tub effectively
Have all the shampoos, brushes, shower/hose heads and towels prepared before you begin. If you don't then you can find your dog trying to leap out whilst your fetching them.
Place the bathtub on a solid, flat floor which won't make the tub wobble with vigorous scrubbing.
Fill the tub with warm (not cold, not hot) water that does not go over their bellies. We recommend only filling it up to their knees. Alternatively, don't fill it up at all and simply let the water from the shower/hose head to fill it up.
Use a tether to keep them in place if they like to move around but do not be aggressive or they just won't enjoy the experience and be less cooperative the next time.
Do not overuse the tub. Dogs CAN be washed too much.
Give your dog plenty of attention, praise and treats when all is said and done. Make them want to do it again.
Empty the water when done down the sink or drain – don't empty it into the grass as the detergents can harm your lawn.
After the water has been empties be sure to wipe down the tub with anti bacterial wipes or spray as bacteria can grow quite easily.
Related Articles