The Clever dog camera is among the most searched for products in this niche and already features in our top 10 best dog camera list. It blends both functionality and excellent design at a price every dog owner can afford.
We've decided to make sure that the Clever Dog camera gets the attention it deserves by offering a more in depth standalone review for those who have this camera narrowed down but just want the final details before committing to purchase.
The Clever Dog Camera Review
At a glance
Wifi camera
High definition up to 960p
Two way audio
120 degree wide angle
Night vision
Cloud storage
Motion detection
Uses an iOS/Android app
Under £30
Wall mountable
What's the picture quality like?
The aperture all angle wide optical lens allows the owner to see everything right in front of the camera and the result is stunning. There is some importance stressed on the placement of the camera to get the clearest view, however, but with the stand and screws and possible wall mounting this shouldn't be a problem. But, do bear that in mind when purchasing the Clever Dog camera and monitor – if it's on a flat surface there may be some blind spots to placing it high above angled down is the best position.
Clever Dog decided not to attempt to go all the way up to 1080p picture quality so this is not a full HD pet camera. However, 960p is still pretty crisp and you can see all you need to see. Plus, having it slightly below full HD saves some battery life and you will barely notice the difference nor crave it. The spectacular wide lens makes night vision arguably better than most other cameras and a highlight of this product.
The one thing that lets it down is the lack of being able to pan and tilt remotely. This is only a problem in certain houses and rooms and many may read this and disregard it. But, if you're like us with an L shaped kitchen/living room then you're going to need two Clever Dog cameras as opposed to one well placed 360 degree camera or one which can be turned remotely.
That aside, the quality of the picture is excellent; when you look at the price it is quite the bargain. The wide lens is brilliant for big rooms but the lack of remote pan and tilt and 360 should make people with non-square rooms think twice. Wall mounting is advised for the best result.
App and features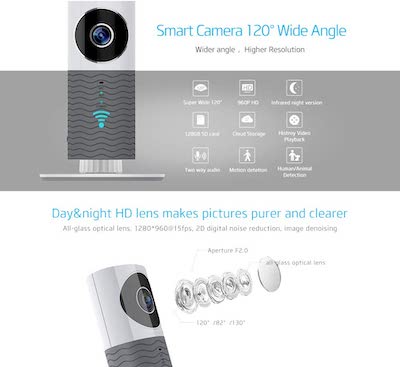 The app has a basic design as it doesn't do anything special, let's face it. It does load up quickly on iOS and very rarely do we find bugs. Occasionally there may be some connection problems but we found that closing the app and reopening fixes them – at the end of the day the Clever Dog camera relies on your wifi and some issues are beyond its control. If you have a sketchy wifi then this camera will be sketchy too.
There is a touch to talk option with two way audio which is good quality but the receiving audio on your phone is a bit tinny and can sometimes be too loud and out of your control so don't use this at work when you're not on a break or on public transport!
What's notably absent are any features that are specific to dogs which makes it a pseudo dog camera, really. It doesn't have any soothing canine specific lullabies, no treat dispensing apparatus – if you're considering this then you may as well also consider baby monitors and regular CCTV.
It needs to be plugged into the mains with micro USB. This is pretty standard but if you remember when we mentioned wall mounting? Well, this could be a problem. Luckily, micro USB is in wide circulation so you can easily find a longer cable to make it work.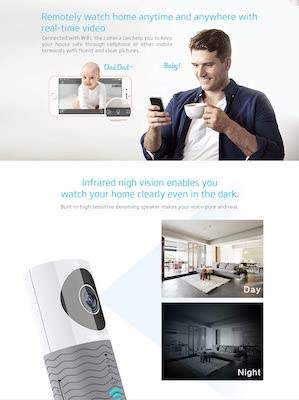 Technical details
Model: Dog-1W
Lens: Day&Night HD lens,1/3" [email protected], wide angle 80°
Video: H.264 CODEC, 720×576 image resolution.
Wireless Protocol: IEEE802.11b, 802.11g
Range: >10m
Transmission distance: Outdoor≤100m, indoor≤50m(unscreened and non-disruptive)
Power: Micro USB interface
Current: 100~220V 50/60HZ, 5V-500mA
Recording Video: Support , select"24h"or"when abnormal detected"
Storage mode: Micro SD Card, up to 32GB(7*24h Video can be saved )
Working environment: Temperature- 10~60℃ ,Humidity≤95%;used in indoor suggested
In the box
1x Wifi Smart Camera
1x USB Cable
1x Trestle pedestal
1x Bag of Screws
1x user manual and warranty service Card
So, is it worth the money?
The Clever Dog smart camera is an excellent choice for anyone looking for a dog camera to keep an eye on their pets when they're out of the house. By far the two best features are the wide lens and its exceptional price point. What brings it down is the lack of remote pan and tilt movement and no dog-specific features making it a normal camera as opposed to a pet monitor.
Clever Dog Camera
New Design: Wavy veins, you can control what's going on in your home no matter where you are.
Related Articles
Last update on 2023-10-14 / Affiliate links / Images from Amazon Product Advertising API