CSJ as a brand are perhaps not a household name like many of their competitors and you won't always find them in your local mainstream supermarket such as Tesco, Asda and Morrisons. In fact, before we got into the game of buying and reviewing dry dog food CSJ was not a brand we had naturally come across and it wasn't until we started reviewing other brands that we stumbled upon it.
Boy are we glad we did. Welcome to the Jug Dog CSJ dry dog food review!
CSJ Champ Dry Dog Food Review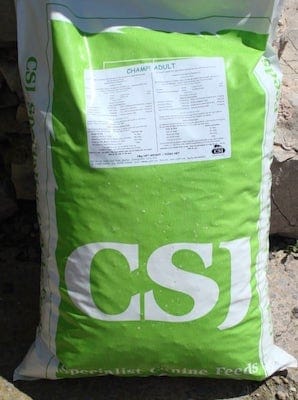 To be clear, CSJ offers a massive variety of dry dog foods from working, injury recovery and even for bitches in heat. Their Champ range is the one size fits all blend designed for the regular dog looking for quality nutrition without the bells and whistles.
There are two things that become apparent straight away – the plain look of the package and the low cost.
The plain packaging on CSJ Champ can be off putting to those who are susceptible to marketing techniques, it looks really bland to the point where one could be convinced that CSJ are a ragtag bunch who just put out poor quality food. It's easy to fall for the brands who go all out on the packet to reel people in with a facade of forensic ingredients, incredible benefits and a 'premium' kibble. This could not be further than the truth but do bear that in mind – it is not some rubbish found on the floor of some farm.
Second, CSJ Champ's price point is incredible when you consider the nutrition provided which will be detailed shortly. It's cheap because CSJ (presumably) don't have as many overheads as the like of IAMS and Purina. They're a specialist company who aren't as much in the mass market as some other brands.
Moving on to the meat and veg of CSJ Champ (pun intended) here are the ingredients:
CSJ Champ ingredients and composition
Wheat, Beef Meal, Barley, Chicken Fat, Chicken Liver Digest, Unmolassed Sugar Beet Pulp, Alfalfa, Peas, Brewer's Yeast, Salmon Oil, Yucca Schidigera.
There's nothing shocking in this list as you'll find it in most dry dog food – it's cost effective and nutritionally complete. Perhaps many dog foods use chicken as a base and not beef but that's a matter of taste. Beef does tend to be a bit fattier than chicken but that fact hasn't affected the composition much. The barley and wheat provide the carbs and means that it isn't a grain free dry dog food.
From our (Jeff's) experience with the food, we saw no change in Jeff's skin, fur and energy. We attribute this to the nutrients provided by the veg and herbs, specifically the sugar beet pulp (provides the fibre) alfalfa, peas, salmon oil (helps with joints and eyes) and Yucca (reduces bloat and flatulence). This is what we'd expect, mind.
Those were the ingredients and the following is the composition they amount to:
Protein 20.0%
Fat Content 10.0%
Crude Fibre 3.0%
Crude Ash 9.0%
Calcium 2.0%
Phosphorus 1.3%
Sodium 0.17%
CSJ have really hit the spot here with Champ. The protein is perfect, we have always found that a lot of brands pump it full of protein as many link protein with muscle and health but in fact too much protein is just not good. 20% protein and 10% fat is pretty good. It provided Jeff with loads of healthy instant energy.
How did our dog take it?
To summarise the most important aspect of CSJ Champ – the kibble has everything a normal dog would need to live a happy and healthy life. The ingredients and the volume of ingredients is pretty much spot on. Jeff tried CSJ Champ for a week and we're really pleased with how he got on – his stools were firm (don't underestimate stools as a sign of good health), his skin didn't show signs of irritation and he slept and ran about like normal.
With the amount of dry dog food Jeff's had the pleasure of testing over the years we can attest that poor quality dog food always shows itself in either the skin, stool or energy levels.
What's the kibble like?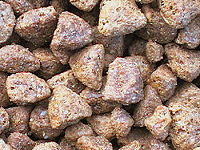 CSJ Champ's kibble is nice and small with a satisfying and audible crunch. It's lightly dusted which provides instant flavour and Jeff was happy to eat it at the first asking both on its own and mixed in with his favourite wet food. We know this is an important thing to test separately as some owners feed them just dry food and others a mixture. Whichever is your dog's preference they should be fine with this. We did, however, feel that small/toy dogs may struggle and Champ may be a bit too much for them.
How much CSJ Champ should I feed my dog?
Small e.g. Terrier (2-10kg) 55-180g
Medium e.g. Cocker Spaniel, Border Collie (10-20kg) 180-305g
Large e.g. GSD, Belgian Shepherd (20-30kg) 305-410g
Very Large e.g. Irish Wolfhound (30kg+) 410g+
Conclusion
CSJ Champ dry dog food is an excellent and cost effective balanced meal suitable for regular dogs with no underlying conditions and allergies. CSJ as a company have done a remarkable job of providing premium ingredients at a budget price. What's more is that CSJ's library of speciality blends is also worth considering as they will literally have something for everyone.
Our dog Jeff really enjoyed his time with CSJ Champ and we wouldn't hesitate to purchase again in the future.
Related Articles