This Arden Grange dry puppy food review forms a part of our largest best dry puppy food list. If you want to know which is best to follow that link.
A little about Arden Grange
Arden Grange is a long-standing UK based dog food manufacturer which began life in Sussex in 1996 by two renowned dog trainers with a lot of experience of the nutritional requirements of dogs to be at peak performance inside and out.
Their motto is "nutrition without compromise" which can be seen in all of their pet foods, not just the puppy/junior kibble we're discussing today.
Arden Grange Puppy/Junior Dry Puppy Food Review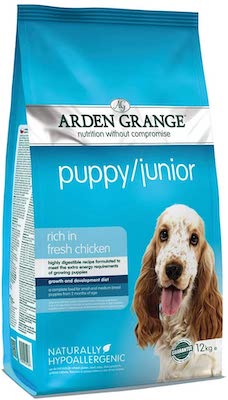 The product we're reviewing today is Arden Grange puppy/junior dry dog food chicken flavour. Arden Grange also provides weaning, sensitive and large breed versions.
Ingredients breakdown
This blend contains 18% fresh chicken with 18% meat meal which combines at 36% which is about average in total but the meat meal is slightly higher than other dry puppy foods we've reviewed. This is understandable but a little disappointing that the fresh chicken couldn't be higher and the meat meal reduced, the former is so much better than the latter. However, this dry food does provide a large amount of lean protein for your growing pup and enough to support healthy growth.
The carbohydrates and energy come from rice, maize, refined chicken oil, whole dried egg which is completely normal and nothing fantastic. They do not specify how much of the whole composition this is, however, which is very disappointing from a company which promotes nutrition without compromise. We are pleased to see the variance, though.
Now that we've moved on from those ingredients things get more positive and we feel this is where Arden Grange's expertise in puppy nutrition comes in. Linseed, krill and yeast are added to boost the mineral count, especially the linseed (known to us as a bit of a superfood) and krill which is chock full of hard to get nutrients. Beet pulp helps with fibre.
Prebiotics and antioxidants help your puppy develop a healthy digestive system and to properly deal with toxins in food- they help to not only absorb all of the goodness in this dry puppy food but to help boost their immune system during such a delicate time. Prebiotics should not be underestimated and should be included in whatever dry puppy food you do end up with.
Yucca extract is the final key ingredient in Arden Grange's dry puppy food – this plant help reduce bloat in your puppy, quells the smell of their farts as well as their poo. You can find Yucca extract in most puppy foods.
The ingredients needed to make a fine puppy meal are all there, we have a minor qualm with the use of chicken meat meal and oil but other than that everything they need is there. But does it contain anything more than most other competitors? Not really.
What's the kibble like?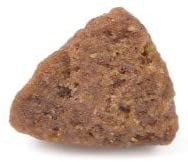 The kibble is the perfect size for small to medium breeds to easily chew and swallow without issues. It has a nice powder coating which provides instant flavour and it has the perfect blend of hardness for a satisfying bite but soft enough to be enjoyed with or without wet food.
Our Jug Jeff had this as a puppy and had no issues overlooking his usual brand for this test which for us signals that it does indeed taste nice.
Is it hypoallergenic and grain-free?
It is hypoallergenic but not grain-free as it contains rice and maize.
Is it cheap?
Unfortunately, Arden Grange is not on the cheap side of the market and does carry an above-average price. This is likely due to reduced mass production facilities, high supplier costs and lack of supermarket contracts that cheaper products have.
Ingredients list
Chicken (fresh chicken 18%, chicken meat meal 18%), rice, maize, refined chicken oil, whole dried egg, beet pulp, fish meal, chicken digest, whole linseed, krill, yeast, minerals, prebiotic FOS, prebiotic MOS, yucca extract, glucosamine, MSM, chondroitin, cranberries, nucleotides.
How much should I feed my puppy?

Conclusion
Arden Grange Dry Puppy food is a quality meal with everything a growing puppy will need at a higher than average price. However, this blend does lack a unique selling point which sets it apart from its competitors
Sale
For a full list of the best dry puppy food click here.
Related Articles
Last update on 2022-07-02 / Affiliate links / Images from Amazon Product Advertising API