As part of our mega roundup post covering the best dry puppy foods in the UK we've selected a few key brands to consider. This dedicated review is specifically for Iams for Vitality dry puppy food for small and medium breeds.
A little about Iams
Iams is one of the oldest cat and dog food brands in the UK and dates back to the 1950s. However, the founder Paul F. Iams worked in animal food research since 1946 and was at the forefront of improving the quality of food to improve the lives of every pet across the world.
This vast experience and constantly improving manufacturing process has enabled Iams to be at the front of most people's minds when shopping for dry puppy food as it blends both quality and affordability.
Iams for Vitality Dry Puppy Food Review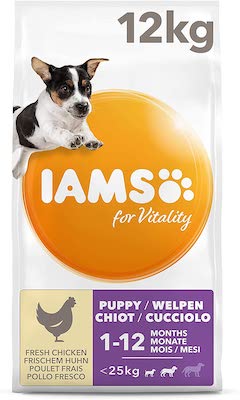 The below is an account during our use of Iams for Vitality for a Jug Dog when he was a puppy.
Ingredients breakdown
The main ingredient is chicken and turkey of which 19% is chicken. There is only 5% fresh chicken in the recipe which is low if you wanted to compare it with more expensive brands who use natural ingredients. The composition of the lean white meat is fine but we would have liked to have seen more fresh chicken and less chicken meat meal in our dry puppy food.
They will still get their ample share of protein, though, even if it is a little too heavy on the protein.
The carbohydrates come from maize, maize grits and rice. This is pretty standard which is neither good nor bad. The maize grits are not great. Having written several reviews on dry puppy food already we see these ingredients come up time and time again. What does this mean? It just means that this is the same as others and only the packaging differs.
Iams for vitality provides everything your pup needs to grow hence why it is labelled as nutritionally complete. Fish oil is added for a whole host of reasons – it helps brain development to keep them sharp and ready to be trained, it helps build strong and supple joints to allow them to run at full pelt all of the time and it also promotes a healthy and shiny coat. Fish oil is supplemented when the main meat is not fish.
A puppy's immune system slows down once off the mother's milk and so they will need antioxidants elsewhere which are provided by the prebiotics and generically named antioxidant blend with vitamin E. This helps them process toxins easier and reduces the stress placed on kidneys.
Fibre is provided from the beet pulp (3.3%) which keeps the colon moving and for healthy stools. Fibre can be a difficult mineral to get as it comes from vegetables but beep pulp is the main way dry puppy food manufacturers such as Iams get it in. However, beet pulp is the easiest and cheapest and not necessarily the best way to get it.
As far as the ingredients go there is nothing special in here and you could find this exact recipe in most mass-manufactured recipes. Iams for Vitality dry puppy food has some great ingredients that will benefit your puppy massively but not in a way 90% of other brands wouldn't be able to.
What's the kibble like?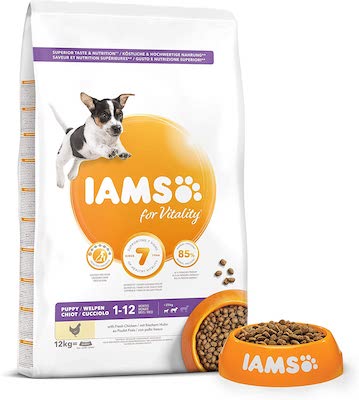 The kibble is perfectly sized and nicely powdered to provide a satisfying crunch and instant flavour. The triangular-shaped pieces also provide a great way to help clean their teeth while they chew. The recipe is good enough to be fed on its own or mixed in with your preferred choice of wet food. Always make sure there is fresh water at hand when they eat.
Is it hypoallergenic and grain-free?
It is neither hypoallergenic or grain-free as the carbohydrates come from rice. However, it is free of additives and preservatives and GMOs. The recipe is wheat-free but it is made in a factory with wheat.
Is it cheap?
Iams for vitality dry puppy food is indeed cheap and very affordable. Given the ingredients being complete and the low price it's arguable one of the most attractive dry foods you could get for your puppy and it's widely available in nearly every UK supermarket chain you can think of.
Therefore, if your puppy really likes it then it's easy to keep getting more and more.
Ingredients list
dried chicken & turkey 32% (including chicken 19%), maize, maize grits, animal fat, fresh chicken (5.0%), rice, dried beet pulp (3.3%), chicken gravy, minerals, fish oil, dried whole egg, fructooligosaccharides (0.21%), brewers' dried yeast.
How much should I feed my puppy?
WEIGHT
AMOUNT PER DAY
1 – 3 months
3 – 4 months
5 -7 months
8 – 12 months
0.5kg
65g
60g
–
–
1kg
100g
95g
–
–
2kg
160g
150g
95g
–
4kg
255g
235g
150g
80g
6kg
335g
310g
200g
105g
8kg
405g
375g
240g
130g
10kg
470g
435g
280g
150g
15kg
–
575g
370g
195g
20kg
–
–
445g
240g
25kg
–
–
–
275g
Conclusion
Sale
Iams Dry Puppy Food
IAMS for Vitality with fresh chicken for small and medium breed puppies is a 100% complete and balanced pet food that nourishes your puppy's healthy vitality & Supporting 7 signs of healthy vitality
Thanks for reading our Iams dry food for puppies review. We feel that the ingredients could be better but they are complete but if you're after something special and a little more natural there are better brands out there. However, it's good enough for any breed without special dietary requirements and the reasonable price still makes it one of the more popular brands.
For a full list of the best dry puppy food click here.
Related Articles
Last update on 2023-10-13 / Affiliate links / Images from Amazon Product Advertising API