Hello everyone, over the last month or so we have taken advantage of the Tails.com free two week trial for our Jug Dog, Jeff. It's been a month or so as since then we have decided to continue with Tails.com trial and we now pay for it. Read on if you want to find out what Tails.com is, what they offer and why we've decided to continue using them past the free trial period.
Who are Tails.com?
Tails.com dog food are suppliers and providers of bespoke dog food. They will take a consultation and ask a few questions using an online questionnaire about your dog and their dietary requirements, they will then make a recommendation on dry (or wet food) and send it direct to your door when you need it. Their food is geared towards what your dog loves and what's healthy for them.
Many of Tails.com's employees are dog lovers and owners as you can see from their about us page. They've also got educated nutritionists and vets which certainly helps to put your mind at ease that the food they provide isn't junk. It's not just humans that need to watch what they eat!
They're a relatively new company who trialled their first deliveries in 2014, as somewhat of a business owner myself I always try to support young UK start ups.
What is their service?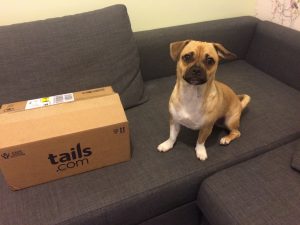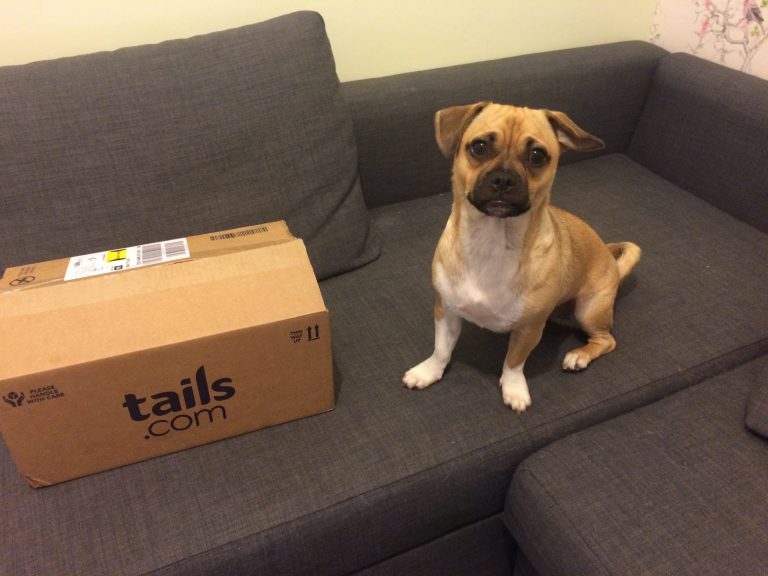 There's a video on their site that better explains the service here.
In my own words – Tails.com create a bespoke blend of nutritious food made specifically for your dog. Many breeds of dogs have different requirements – some are more active, some may have allergies and others may need to pay particular attention to what they eat because of age or health issues. Whatever your dog needs to the most they work hard to provide it in a handy delivery straight to your door. Essentially –
Nutritious and healthy food
Delivered direct to your door
Managed portions
Flavour to suit your dog's taste buds
Personalised
Highly customisable
It arrives at your door in a convenient box with the bag inside as well as the measuring scoop. Unfortunately, we threw away the box with the scoop inside so we've been managing the portions by hand. D'oh!
Tails.com dog food review
Enough about the company or the food. What do we at JugDog.co.uk think about the product and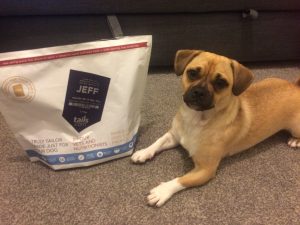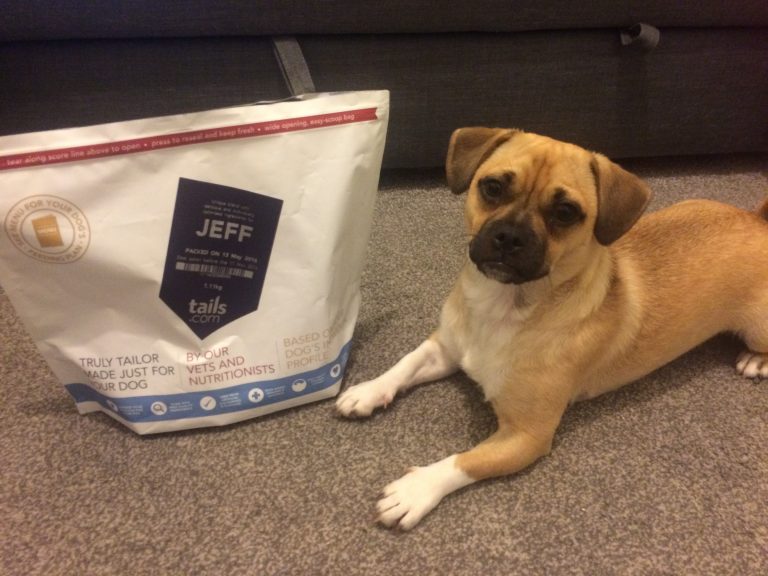 more importantly what did Jeff think?
Firstly, we found the online questionnaire dead easy to complete and we were pleased that the questions were not about us at all but were about what dog likes and what the dog needs. We found this to be a nice touch as we care deeply about keeping our dog happy and it was clear that Tails.com also cared about the happiness of the end user.
We made sure to answer the questions accurately and honestly and in the picture on the left is his profile. and on the right is his nutrition recommended. To be honest, we gave honest answers and we trusted their judgement and we went with their recommendations.
After that it was all about setting up the delivery and away we go.
Delivery was prompt and came in a secure box with everything inside. We received dry food only as it didn't suggest wet food despite us specifying Jeff has normally eaten wet and dry. We still mix the Tails.com dry food with Pedigree wet food pouches. This was particularly annoying as we still needed to go to the shops to buy the wet stuff despite Tails.com trying to be as convenient as possible. A source at Tails.com said they weren't sure if they were going to be offering wet food on the free trial so due to this the review is essentially only half complete.
Pedigree Wet Food Pouches
Pedigree Real Meals are the optimum meal for man's best friend, with healthy nutrients and a tasty gravy sauce / Good as a stand alone meal or combined with kibble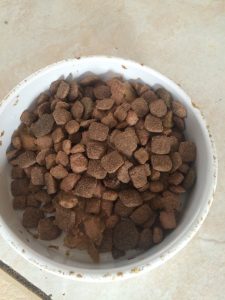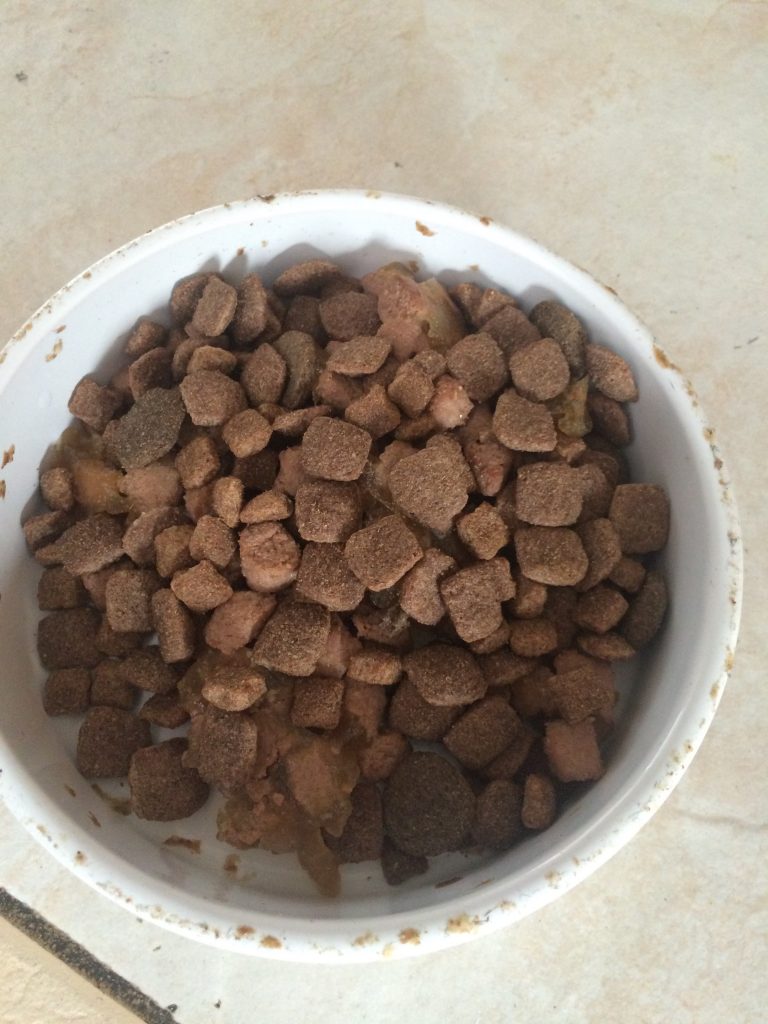 Now, the product. Jeff loves it. The kibble comes with different types inside as you can see from the picture, I liked the fact that it was varied and so does my dog. He wolfs it down and quite often asks for more…which we occasionally oblige to.
Because Jeff is quite young trying something new can sometimes lead to disaster – we can buy a whole bag of kibble and if he doesn't like it he won't eat it and we just have to throw it away. Other times Jeff can get quite ill and or tired if the food just isn't good. With Tails dog food this has not been the case and he has been in great spirit since.
He is well behaved, he has no problems with digestion and his coat looks and feels healthy. A big victory for us!
Because of the way the delivery works we no longer panic when the food runs out because it arrives within 1-2 days before we need it, the last shipment we had to adjust because he ran out sooner than we expected and the easy to use website allowed me to move the delivery forward.
As for the price, we pay in the region of £6-7 per bag which lasts us for just under the month. Considering it's a bespoke service and the kibble is of higher quality to what the supermarkets offer we found this superb value for money. Is this likely to change if they become more popular? Who knows, but for now we have no complaints about the product or the price.
To summarise, we absolutely love the service that Tails.com provide and Jeff loves to eat it. Although the wet food issue is a sticking point and may well be resolved at some point we have decided to carry on past the free trial as it has offered us superior food delivered conveniently at a very competitive price. You simply couldn't ask for more.
Related Articles
Last update on 2023-10-16 / Affiliate links / Images from Amazon Product Advertising API