As part of our series covering the best dog trackers we revealed that our top choice was the Tractive GPS tracker. This article is an individual page dedicated to discussing the features of the Tractive dog tracker and why we feel you should consider it when looking for a product to keep an eye on your dog's location when out and about.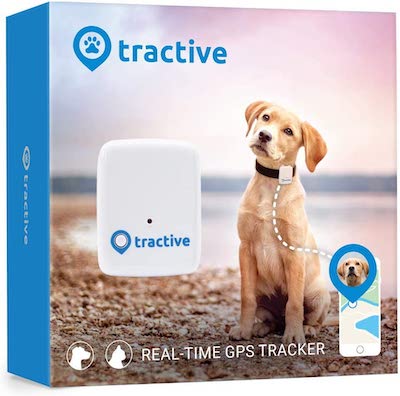 Quick summary
If you don't want to read the whole review of the Tractive tracker then here's a summary of why we think it's great!
Gives real time location tracking
In built activity tracker
Has an easy to use app
Lightweight and waterproof
Not expensive
Excellent battery life
How well does it track?
Tractive uses local cellular masts to relay location information so it is only as good as the signal in the area. This will be true for most dog trackers on the market. However, it does refresh every couple of seconds and the casing does not inhibit the signal which makes it reliable and fresh for the user.
Aside from current location, the Tractive tracker can allow the user to set Geofences easily so that you are alerted when they leave the area. With a refresh time of 2-3 seconds this is really handy but you'll have to make sure you take into account the delay and make the invisible fence slightly smaller than you would have. They can travel a fair distance going flat out for 2-3 seconds.
What's the app like?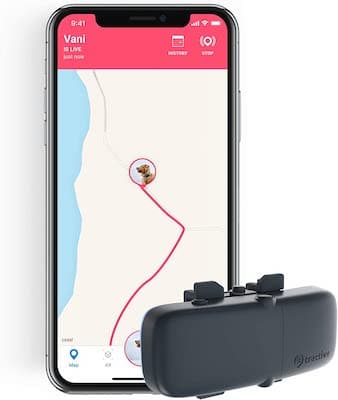 The Tractive app is perhaps the crown jewel of the product with its sleek, easy to use interface. The map API they use is easy to follow and resembles the sort of maps we are used to already via Apple, Google etc. Live tracking has a neat line which shows the route they've taken so far so if they've wandered off it can help with figuring out travel direction as well as the location.
Setting geofences is as simple as expanding your fingers on the screen (or mouse if you're using a browser). Location history is another feature which isn't always present in competitors which can be fascinating as you can spot habits and favourite spots.
The user experience is great and the app is lightweight on battery so it won't drain much but remember. Your location services don't need to be on, obviously.
It does continue to work when it's working in the background.
What's the tracker itself like?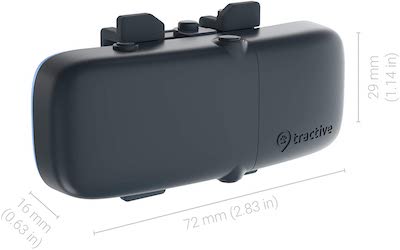 Weighing in at less than 30g and suitable for dogs who weigh more than 4kg they will hardly notice it's there and it won't interrupt their gait as they walk and run. The clip is strong and won't fall off easily and is totally waterproof so it can be used all year round.
A collar or a harness is essential though and a good one at that with little jiggling around or else the Tractive tracker will be a little annoying. If you use a harness it'll be almost completely anonymous to the dog as the 30g weight will be distributed across the chest and back and not just the neck like the collar.
There's not much to say really, it's ergonomically designed and subtle but you can buy custom cases from Tractive to add a bit of style if you wanted.
Activity tracker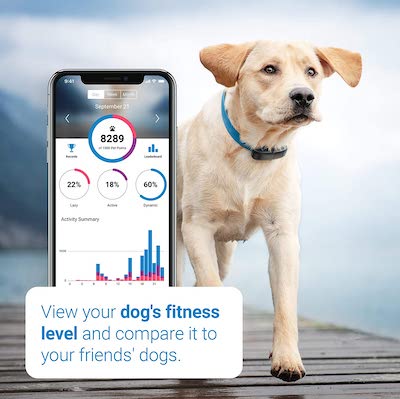 Not only will Tractive track location but it will also measure their activity to help you make sure they are getting adequate exercise every day. The interface is fantastic and shows you the times they were active and just how hard they worked – this seems like a pointless feature but for those who have a dog that NEEDS exercise daily or they will encounter health problems will find this indisposable.
How accurate is it? Who knows. A dog's body is different to a human and we know a lot less about metabolism and energy consumption so take the results with a pinch of salt. However, it can be used very effectively as a benchmark of what to aim for each day with their exercise.
A really cool feature if you ask me.
Subscription
Using the Tractive does require a subscription to be able to access the cellular data network and it is £3.30 or so a month. This is extremely cheap but still annoying and it will feel like one of those charity muggers direct debits you signed up for and forget. If you continue to use the Tractive then it's worth every penny but if you stop using it it can be very annoying. However, we don't mark this against Tractive as it's industry standard.
Conclusion
The Tractive dog tracker is one of the best dog trackers on the market. It's easy to use, ergonomically designed, has great battery life, the user experience in the App is outstanding and the activity tracking is intuitive and gives it a different dimension. Lastly, the price is extremely reasonable and a lot cheaper than a lot of its competitors. A steal!
Related Articles