Travelling by car with a dog in tow is sometimes a necessity. Even if you never planned on doing it or have worked hard to get a really nice car and don't want it ruined they will still end up inside at one point or another. It has to be said that the best dog walks are further afield from your home. It's also common for the vets to be too far to carry or walk. 
The biggest worry for many owners is the damage dogs can cause to the vehicle as well as the potential distraction. If they aren't tethered properly or allowed to wander the damage from their nails on upholstery can be costly and if they end up distracting you and you have an accident as a result then you're liable.
Scary stuff.
However, there are products out there to help eliminate both of these problems and they are car dog guards.
1. Arrow Heavy-duty Mesh Universal Dog Guard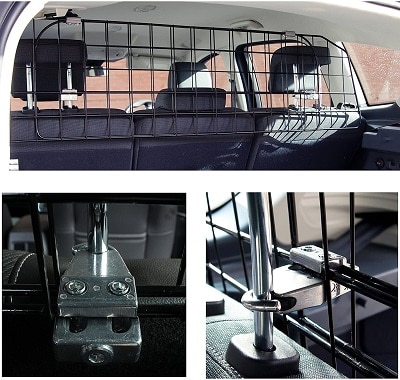 This is made with a solid steel frame which clamps on the vehicle headrests. The steel is welded together perfectly and has a nice powder coated finish which does add a little bit of class to a mundane product.
The clamps are easy to put and sit securely, there's little wobble involved and no way your dog will be able to get past it. It's strong enough to attach a lead to tether the dog if needed. The height of the car dog guard is 300mm which is tall enough to never let enough of a gap for the dog to go through but low enough that it is indeed universal and can even fit in city cars.
It has a telescopic design which enables the guard to be extended or shortened depending on the vehicle. To make it even more universal there are three sizes available with the difference being the length, they are 990mm, 1290mm and 1300m. We never tested the large version so we're not sure of the exact dimensions.
This is really well made and looks permanent such is the high standard of the clamps.
2. Sakura Headrest Dog Guard

This is an online bestseller which offers a thinner mesh guard at a budget cost. It's 300mm in height with extendable wings on each side to make it wider if needed. Without extension they are 106cm wide and fully extended is 145cm.
It attaches to the headrest with a corkscrew plastic pressure system which isn't as reliable as steel hooks or clamps we found it secure enough but perhaps wouldn't recommend it for those driving on all-terrain as the wobble can get irritating.
Due to the low cost, this product is likely to make any first-time shopper happy. Despite the criticism, this product will do the job of keeping your dog secure in the boot and protect your car from the chaos a roaming dog can bring.
3. AllRight Universal Car Pet Dog Guard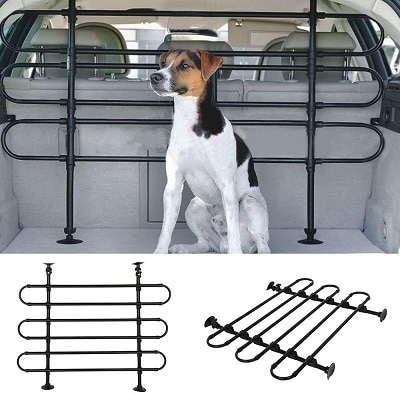 This is a universal car dog guard that uses pressure mounts to fit to the boot floor and the roof which enables it to fit perfectly to almost any make or model of a car. It has a solid steel structure with welded bars bent into a shape that will keep the dog secure and unable to roam freely during a journey.
It's easy to fit and assemble and had no problems testing it on a Citroen C1 all the way to a Range Rover. Ideal for those who may want to travel with their dog in different cars from time to time.
We feel it's not as good looking as the mesh ones but admit that that really isn't an important factor. The important factors are that it's cheap and works.
Read More: Best Dog Door Scratch Protector to Buy in UK 2022
4. Speedwellstar – Dog Guard Universal Car Headrest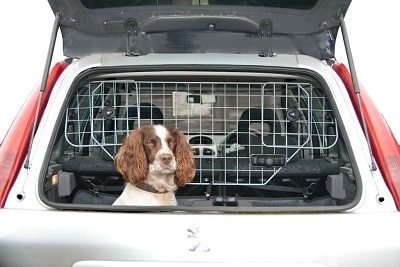 This model differentiates itself by adding an additional wing of mesh to the bottom (or the top depending on how you look at it) to add even more coverage to the dog guard. Fits securely to the headrests using plastic clamps which are easy to use and provide only a little wobble.
The additional wings are ideal for people with an unusually shaped back or for dogs who try their best to escape every time. Alternatively, it's great for people with multiple cars of different shapes but only want one car dog guard.
It's a little more expensive than the average but it has been constructed well.
Measurements * Width – 90 cm (35.5″) * Fully extended width – 130 cm (51″) * Height – 42 cm (16″)
5. Rosewood Dog Car Guard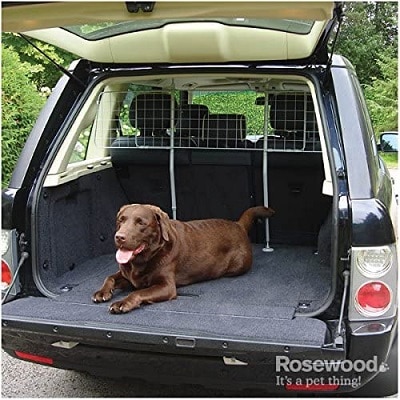 The Rosewood car dog guard offers a hybrid installation where it provides a mesh covering in the back but is put in place with pylons that sit on the floor and on the roof of the vehicle. This offers the convenience of the good looks mesh guards have but the stability of a planted product.
Comes with extended wings to increase the width and the pylons are adjustable making it suitable for most modern vehicles from city cars to SUVs.
Minimum height 760mm, minimum width 906mm and maximum height 1010mm, maximum width 1400mm.
6. Oypla Universal 1m x 1m Pet Dog Car Safety Guard Barrier Protector Net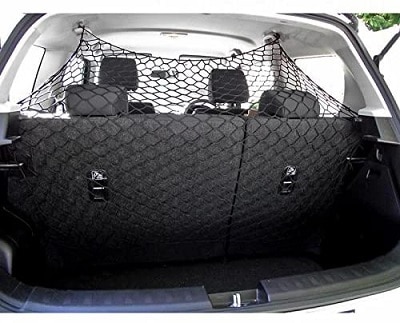 This is a plastic net which is a more casual approach to keep dogs from wandering the car without the need for heavy metal. This approach is best for dogs who are well trained and calm in the car that wouldn't try to wander but you want the 'safety net' so to speak.
It attaches to the car's interior handrails/hooks/clothes handles and drapes on the back seat.
The advantages are clear – net dog guards are significantly cheaper and easier to install with no risk of damaging your car. The drawbacks are also just as clear – they don't offer the same level of protection and a dog could tear it up quickly if they desired.
Car Dog Guard Buyer's Guide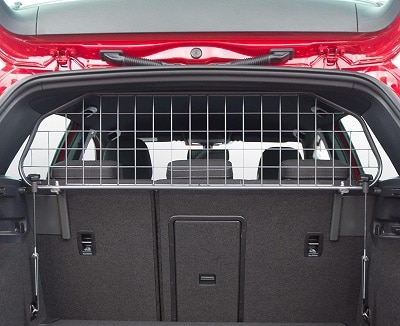 Is buying a car dog guard necessary?
You don't need a car dog guard if you're travelling with your dog but you will need something to safely secure a dog to be compliant with Highway Code Rule 57 which states
"When in a vehicle make sure dogs or other animals are suitably restrained so they cannot distract you while you are driving or injure you, or themselves if you stop quickly. A seat belt harness, pet carrier, dog cage or dog guard are ways of restraining animals in cars." 
As you can see, the Government recommend using a dog guard (and other products) to ensure compliance. If you have an accident and it is seen that your dog cause a distraction then you could be liable for all costs. FullFact who is an independent fact-checking charity confirms that this scenario would be classed as 'careless driving' which is an offence.
Therefore, you should most certainly invest in some kind of product be it a dog guard or something else. 
Read More: Best Extendable Dog Leads
Types of car dog guards and their uses
Mesh
A mesh dog guard is the most popular as it's lightweight, cheap and covers the gap above the headrest perfectly fine whilst still allowing great visibility. The drawbacks are that it may not be suitable for large dogs and the clamps against the headrest can rattle more than a barrier dog guard. The material is pretty much exactly the same as a crate.
Barrier
A barrier is larger and thicker which is usually mounted on the floor and the roof of your vehicle which is much stronger than a mesh handrest mounted guard. Barrier dog guards are recommended for vehicles which are likely to see rougher journeys and for owners of, particularly large and strong dogs.
Net
Net dog guards are a mesh piece of fabric or plastic that covers the area above the backrest without the need for metal. It's a casual approach for dogs who tend not to try to roam too much but you still want a visible deterrent to remind them not to try.
Will a car dog guard damage my car?
If used improperly and recklessly a metal dog guard could damage your car. The most common time for this to happen is during installation as you move it into the car. Dog guards are quite big and designed to get to cover the gaps your dog could get through so there can be little room to manoeuvre when it's in.
The top tip from Jug Dog to you is to cover the guard with a towel as you're putting it into the car and then remove it when it's installed. Once placed it should not damage the car, the type of metal in the headrest it clamps to is shiny and should not scratch.
Other times it can be damaged is when you use a barrier dog guard and the metal is too close to the back of the seats which can scratch during bumps. Make sure to leave enough clearance to avoid this.
If the dog guard has been installed carefully and properly it should not damage the car in use but this advice can't extend to people who drive recklessly.
Is it cruel to keep a dog in the boot?
It is not cruel to put your car in the boot as long as they aren't trapped in the darkness with the storage shelf on with limited to no protection from being flung about.
Using a dog guard and putting the dog in the boot gives them sunlight and visibility to see what's going on which can ease anxiety. Plus, the boot can be a comfortable please if they're tethered with a lead and a harness and they have plenty of soft blankets and bedding.
Tips on travelling with a dog using a car guard
Here are some quickfire tips to make your dog's experience as pleasant as possible during a journey in the back
Use a ramp to get them into the car if they're senior or have mobility issues
Put your dog's bed in the boot of the car or put plenty of blankets to make them comfortable and protect them from being hurt from sharp turning and sudden breaking
Ensure there is a small amount of clearance between the dog guard and the roof/sides of the car in case it hits during a sharp turning
Do not hang any objects on the guard or attach a lead to it as this could pull it down
Apply the breaks gently and never brake suddenly as the change of speed can throw the dog toward harm
Don't forget it can get hot in the back of the car so use air conditioning or open the windows
Don't put bowls of food or water with them for obvious reasons, instead invest in a water bottle. However, suitable toys are fine.
Keep them tethered when you come to a stop in case they leap out unexpectedly into danger