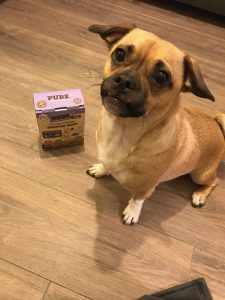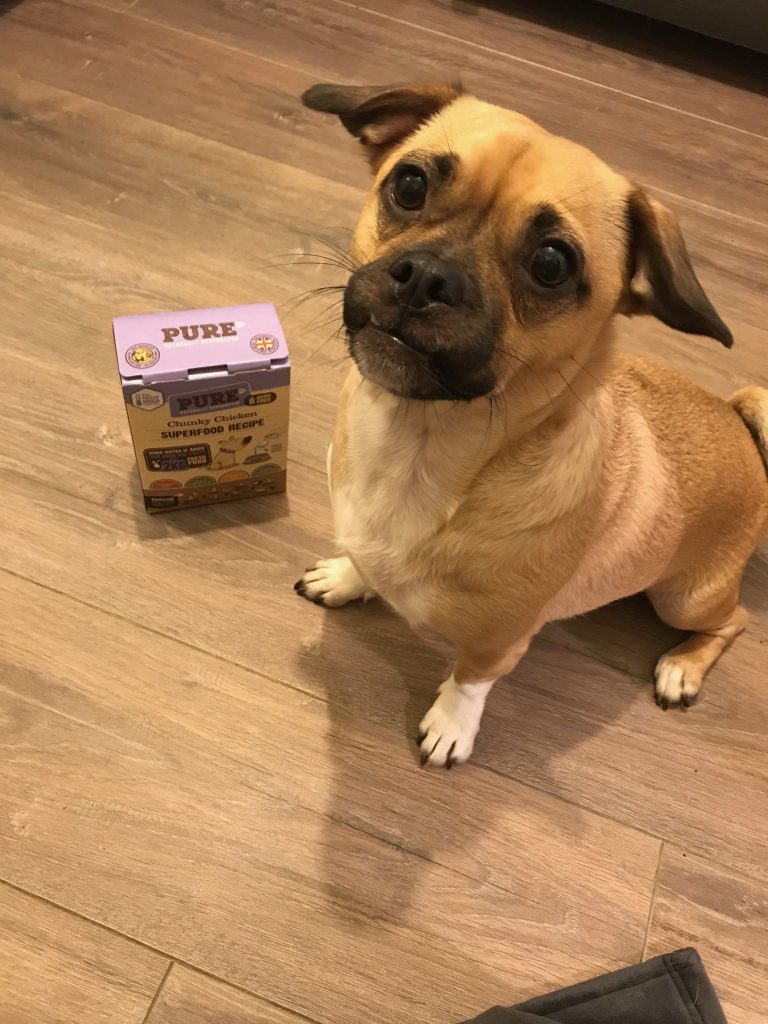 Disclaimer: We have received a free box of Pure Chunky Chicken Superfood from in exchange for an honest review. We are not affiliated with Pure Pet Food Ltd in any way.
About the company
Pure Pet Food Ltd are a Yorkshire based pet food company which began in 2012 by owners Dan and Mat. They specialise in dehydrated and freeze-dried food which is packed with nutrients and apparently tastes great.
The Review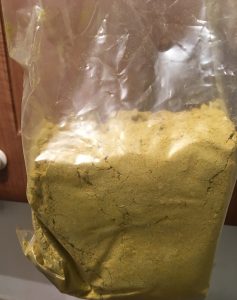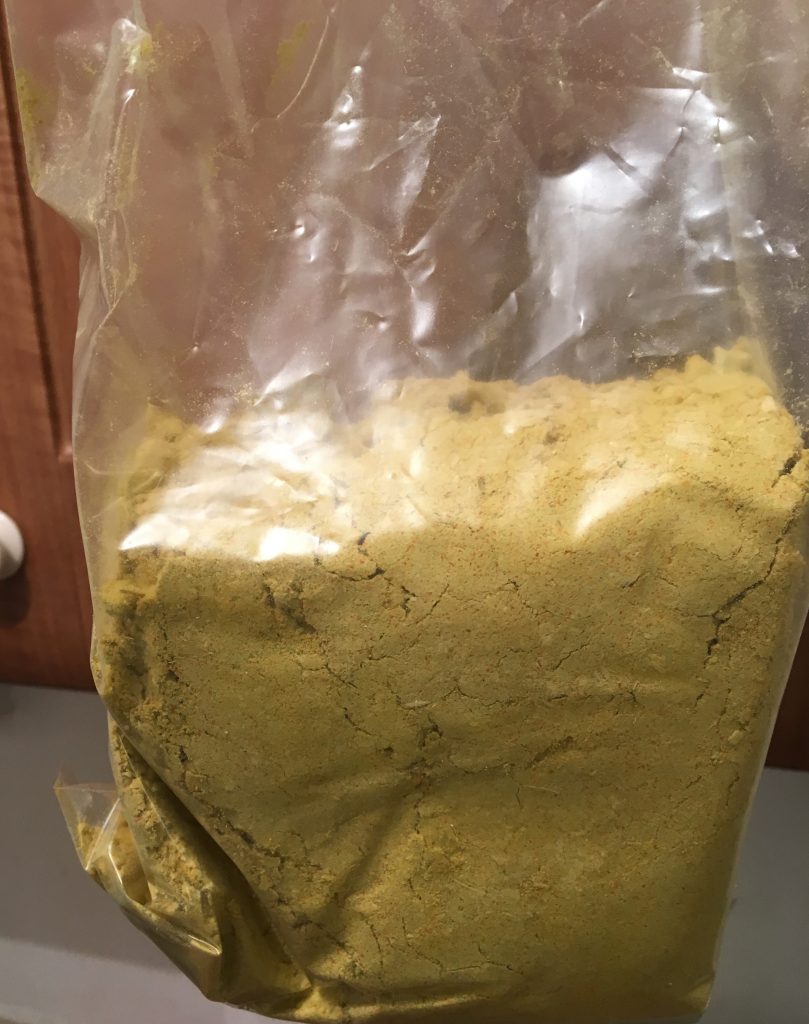 We received a 2kg pack of Chunky Chicken superfood recipe for our Jug, Jeff. It's a small box that contains what looks like a dog version of protein powder. If the company had not marketed the product so well, have a fancy website and a super informative box you would not think to feed this to your dog, let's face it.
From a nutritional point of view it has
29% protein
29% fat
1.6% crude fibre
4.7% ash
This adds to 64.3%, with 35.7% unaccounted for. I'm sure there's a reasonable explanation as to why they haven't listed all 100% – as this is what I would call 'specialised' dog food I think this is unforgivable – is it carbohydrates? If so, why not list it, by hiding it they're making it look more dodgy. This guy found the same thing back in 2015 and it's still an issue in 2017. In another area on the box the composition is 30% chicken, 5% parsnip, carrot, sweet potato and egg. Where's the rest? At this point I am very skeptical to feed my dog something with so many gaps. I wouldn't feed myself something with so many gaps.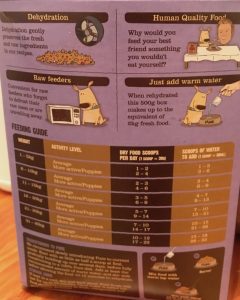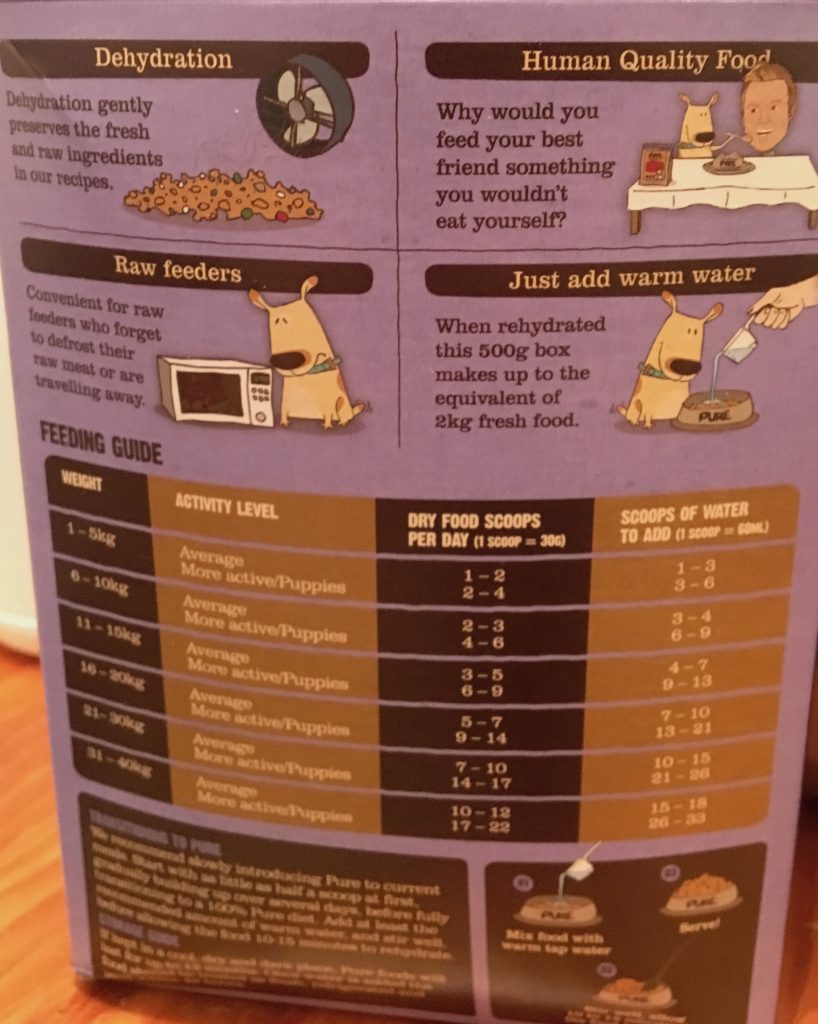 Anyway, to serve Pure dehydrated pet food you need to add warm water and leave for 15 minutes – which isn't very convenient but it could be worse. Second, they recommend transitioning the dog slowly to the food before they can be on it 100%. This is reasonable as it is quite a different food to usual. You get a handy scoop to do it and a detailed portion size chart on the back. This is set out whether you have an adult or a puppy to feed. Did I enjoy preparing it this way? No, I didn't – it wasn't convenient at all to drip feed the new food or waiting about for 15 minutes to do it. With Jeff he is either starving or he is not hungry – he didn't particularly enjoy waiting 15 minutes either.
As for the food itself Jeff loved it, he wolfed it down every single time and couldn't wait for more. I can't really comment myself on this one but he seemed to enjoy it. However, he never seemed to be full afterwards – he usually has wet food along with dry and perhaps the lack of bulk and fibre meant he didn't feel as full as he should. As a footnote to this – Jeff's farts were noxious which suggest that his tummy and his taste buds were not in total agreement.
As he ate more and more of it Jeff's faeces started to not look their solid self, coupled along with the smelly farts made us stop using this right in the tracks. I had my doubts over the missing ingredients, the inconvenience of preparing it and these new symptoms and thought enough is enough. On the back it says "Why would you feed your best friend something you wouldn't eat yourself?" and maybe they've shot themselves in the foot here because I definitely wouldn't eat this myself and I should never have given this to my dog in the first place.
Summary
There's an overwhelmingly positive response online for this product and as such you should take a balanced look on the product as a whole. You may be fine to feed your dog food that they enjoy as they may be fussy eaters. However, if you take great care on giving your dog a balanced diet then the missing nutritional and composition figures may concern you. It did with us and Jeff's tummy didn't seem to enjoy it either.
Related Articles