My wife and I got married in July 2017 and one of our generous wedding gifts was a weekend stay at a pet friendly lodge at Holbeck Ghyll kindly given to us by my Wife's brother. He knew we had a dog with us and kindly got a reservation at the Langdale pet friendly lodge at Holbeck Ghyll – interestingly, this room isn't listed in their Pet Friendly section on the website.
Location
Holbeck Ghyll is situated in The Lakes and it was a 1 and a half hour drive from where we live. Luckily we had time to tire Jeff out before the journey and he was good as gold despite the awkward traffic on the way. Be warned that once you get off the motorways the roads get very rural and dark and right towards the end they are very isolated, bendy and a bit dangerous. I would probably recommend doing the drive in daylight if you are an inexperienced driver or nervous.
Holbeck Ghyll is at an isolated part of The Lakes that's excellent for walking with incredible views. In terms of shops, restaurants and so on you will only be around 10-20 minutes drive away from Windermere which is a quaint little town full of boutique shops and places to eat. I would also say it's a very dog-friendly town as every other person we saw had a dog with them to the delight of Jeff. Sadly, the weekend we were there the weather was pretty wet so we didn't quite get to see as much as we would have liked but what we did see, we loved.
JugDog.co.uk tip: Be prepared for bad weather. If you have a dog with you many activities are weather dependant. Bring books, toys and games not just for yourself but the dog, too.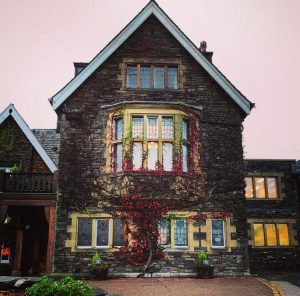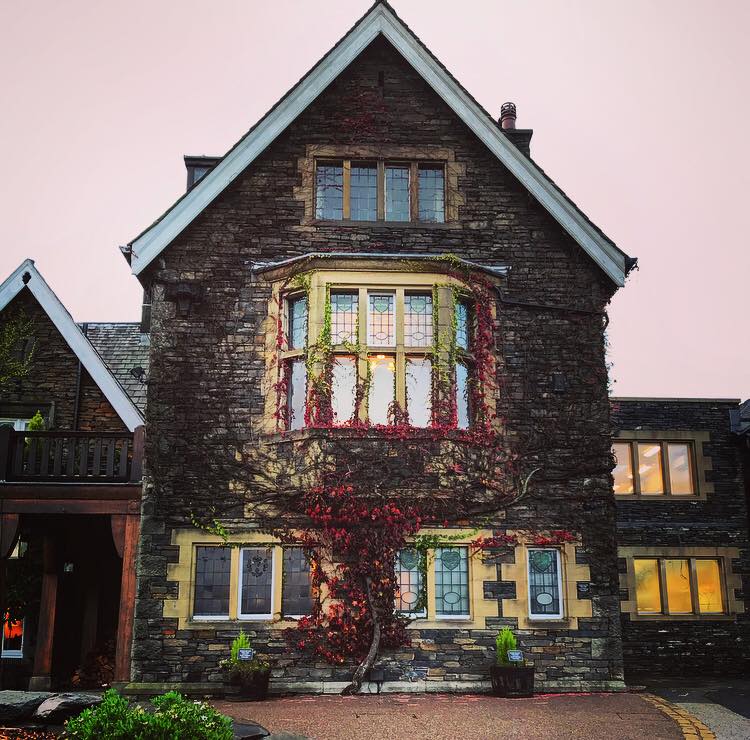 The Hotel and Grounds
Once we arrived we were greeted by a lovely gentleman at the front desk who explained everything to us and showed us to our lodge/room. Because we arrived in the night we didn't quite see just how stunning the place really was.
We didn't get to see much of the Hotel itself during our stay except for the grounds as they don't allow dogs in some areas and you aren't allowed to leave the dog alone in the room (you've got to leave him or her in the car). We didn't want to do that so we just didn't visit the hotel much. I am not sure where they stand on using dog crates, however I can't see that being a problem.
The grounds itself are stunning, there's a forest with a river going through it and fields everywhere. More than enough to keep even the most energetic of dogs happy. Just be ready for a mucky pup if you go during spring/autumn or winter! Thankfully, Holbeck Ghyll provide some towels for this very reason.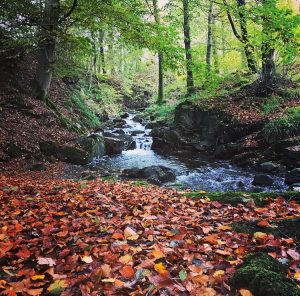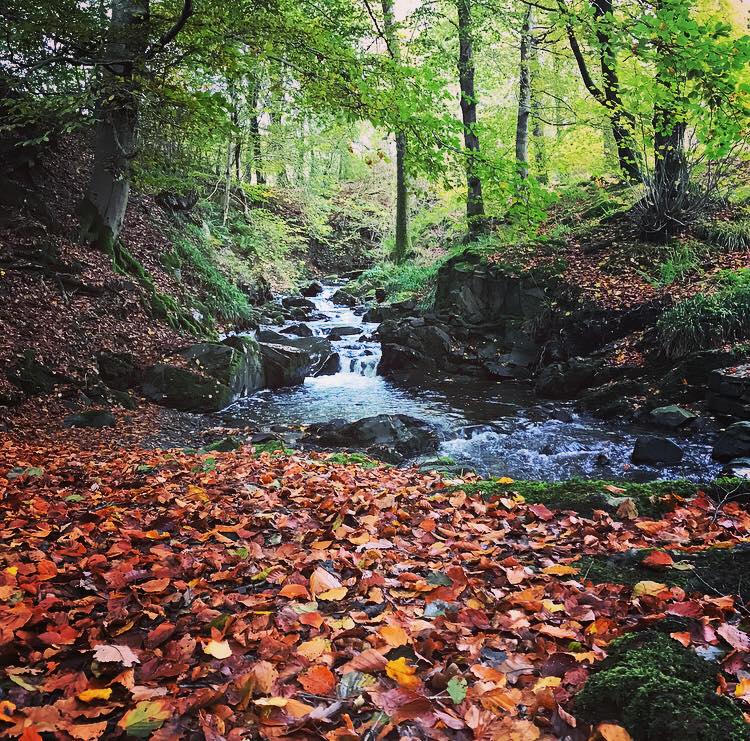 JugDog.co.uk Tip: If your dog isn't great off the lead, bring an extended lead so the can explore that little bit extra!
The Room
Wow! Considering it was a dog friendly package the room was amazing. Plenty of room for the three of us, furniture was all in good condition and two TVs. We also had windows which gave us a stunning view to read our books and relax, and we did plenty of that! The bathroom and toilet was also superb and definitely a four star rexperience. Holbeck Ghyll kindly gave us a dog bed and two bowls for food and water for the pooch which was a nice touch and definitely helped. The bed in the room looked like a queen sized bed but was in fact two beds put together, although the middle where they came together did sag a little bit it was still a very relaxing sleep.
If you're wondering if there's a handy place for your dog to do their business then you have a front balcony area which isn't fully sealed so you may need to chaperone them on a lead or you can use the rear outside area which can be sealed if you make sure to close the two gates. On one occasion we found the gate had somehow opened itself and Jeff almost escaped. Holbeck Ghyll isn't surrounded by any roads so there was very little risk of an accident but we'd still recommend to double check before you let your dog out alone.
We had clumsily forgotten Jeff's toys which led him to being a bit bored and frustrated at first, luckily there's a great pet store in Windermere called Lakeland Pet Supplies which sorted us out.
JugDog.co.uk Tip: Don't forget to bring your dog's favourite toys, you may enjoy the relaxation of doing nothing all day but your dog might not!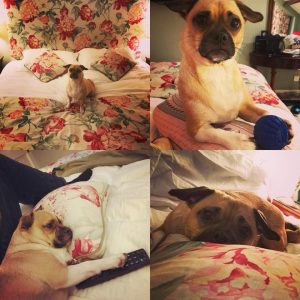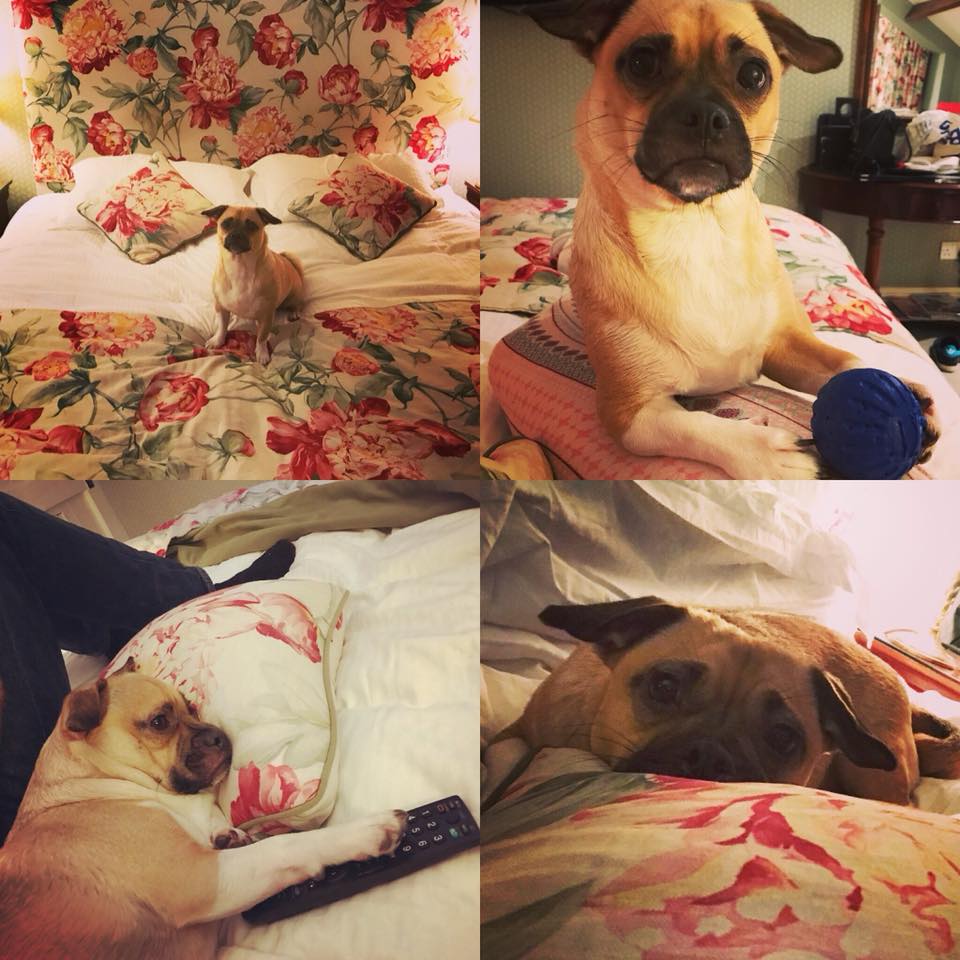 Bonuses
Holbeck Ghyll is a superior hotel in many people's eyes and have a reputation to uphold. You can get a fabulous breakfast brought straight to your room every day which was fantastic for us as we didn't want to leave Jeff in the car while we enjoy ourselves, the breakfast will also cater for vegans. They also provide all of the creature comforts you'd expect such as toiletries, tea and coffee making facilities. They also threw in some dog treats and poo bags which we really appreciated!
Holbeck Ghyll Review
We loved our stay at Holbeck Ghyll, it was a perfect little get away that all three of us enjoyed. It's great for people and dogs and a gorgeous town with plenty of shops is only a short drive away. At JugDog.co.uk we would highly recommend Holbeck Ghyll for anyone looking to get away with their pooch!
Related Articles