Here you'll find our great recommendations for best dog harnesses for your Jug and other dogs of all sizes, please be aware that some may be suitable for puppies and others for adolescent and adult. Check sizes before your purchase.
Harnesses are a great way to keep your Jug comfortable while out and about and won't be hurt if they pull. Harnesses are ideal for the modern dog as it is much more friendly than taking them for a walk with a collar.
What is a dog harness?
A dog harness is different to the traditional collar as it wraps around their body to provide a more robust and comfortable way to attach a lead and walk your dog. Many people now choose harnesses to prevent dogs from pulling or to simply not choke them if they do. Dog harnesses are also good for dog training.
Best dog car harnesses are also a great way to keep your dog safe and in place when driving as you can get additional attachments which can work with the safety belt.
Benefits of a harness over a collar
Dog harnesses are designed to fit comfortably around your dog's chest and behind the neck. They're usually designed so that it spreads pressure and tension evenly so that they aren't pulling and hurting themselves. Working dogs typically wear harnesses so that they can be controlled easier and protects their neck from being tugged harshly which can cause serious issues for the dog.
Basically, a harness benefits both the dog and the owner – the dog is held firmly and if they suddenly pull they won't choke and secondly the dog is held much more securely and in comfort which make being on a walk a much more pleasurable experience. Have you ever seen a dog pulling and sounding like they're being strangled on a walk? That could be avoided with a harness.
Best dog harnesses
So with all of the different types and benefits of owning a harness it's now time to list and discuss what we think the best dog harnesses are, to save you some time we've listed the better harnesses at the top with other choices towards the bottom to save you from having to read all of our writing. However, it must be said that when we say it is the 'best' dog harness it may not be the best dog harness for you and exploring all the options is a great idea.
Julius IDC K9 Dog Harness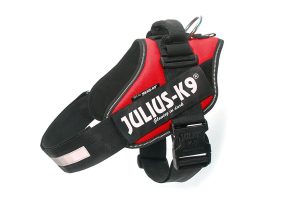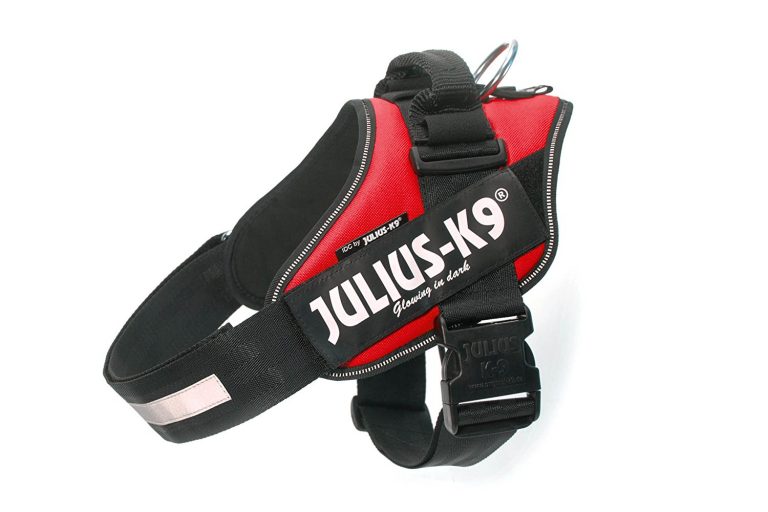 You may notice that this is the harness that our Jug, Jeff wears and still wears today. Originally this was a recommendation from fellow jug Harlow before we bought one for ourselves because we saw how the harness was still in very condition even though it had been used for a year at this point. It is robust and made up of a really tough material, it's easy to put on with one very secure and durable buckle and take off and of course it looks great. The 'handle' on the back helps us pick him up and control him if we need it and the cleverly placed INOX ring makes it easy to attach to our car's safety belt or a dog tracker if you have one of those. The one drawback is the reflective side panels aren't quite reflective and it offers nothing in the dark which is a shame. Be sure to add your own LED strips if you want night time effects.


It can take a beating and has lasted Jeff well over a year, it might seem expensive but in our eyes we won't be needing to replace this for a long time.
Julius K9 harnesses come in a wide variety of colours and sizes so it is a great harness for small dogs and large ones.
Truelove No Pull Harness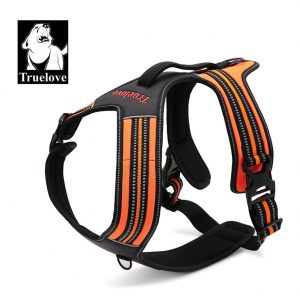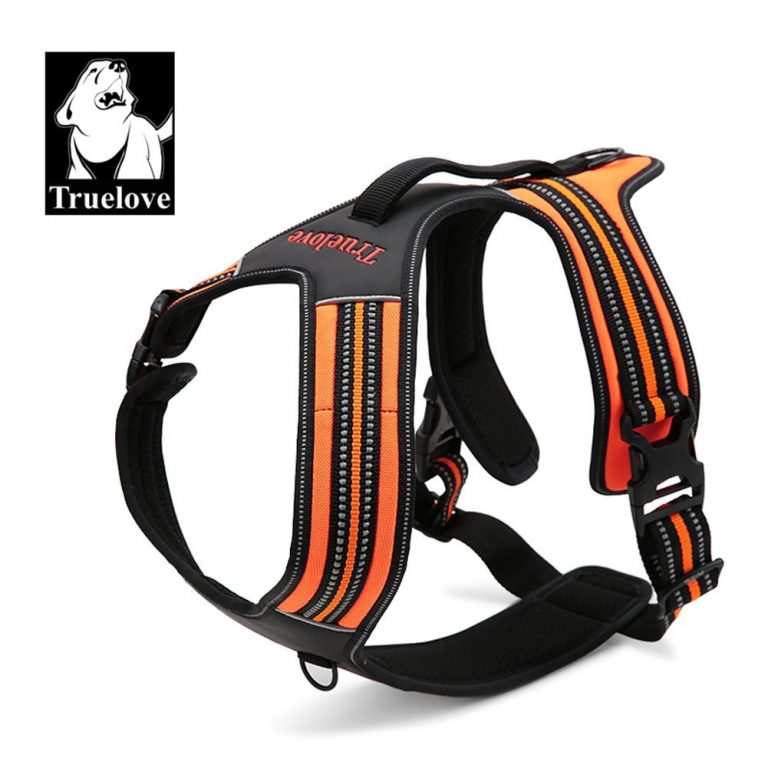 We bloody love the Truelove no pull harness and found it to be one of the best dog harnesses you can buy. The best part of the Truelove harness is the choice of positioning you have for the leash. You can put it toward the back or the front. The areas on the back makes it much more comfortable for the dog itself and puts no pressure at all on the neck (whole point of a no-pull harness) while still giving you, the walker, total control. Having two leash attachment areas also makes it easier to attach a GPS system which doesn't come with a native collar on. Anyway, I digress. This harness has a soft pad for the areas which attach to the belly to give extra comfort which can really come in handy on longer walks. The adjustable straps also make it easier to get a perfect fit no matter what size your dog is (you still need to get the closest size to your dog fist though as the straps don't make the main harness smaller or bigger!).
The Truelove harness has reflective areas which comes in handy for a late night walk should they be off lead or god forbid they get lost. On top of this, the Truelove harness is highly durable thanks to its high quality nylon construction which gives you a long lasting harness without the need to replace after a short period of time which you can find with some of the cheaper ones. Please don't buy the cheap ones, a good quality one is much better value than them.
Overall, the Truelove no pull dog harness is up there with the best of the bunch and well worth a look. Has everything you need and more in a harness and perhaps the only deciding factor is whether or not you like the way it looks as opposed to how well it works! If you are an owner of this please let us know your thoughts in the comments below, good or bad!
dogOne winter coat and harness
The dogOne winter coat and harness is a fantastic option as it doubles as a winter coat and a harness which can save money from buying both of them individually. It has built in reflection panels to help when walking your dog in the dark and considering it's a half winter coat chances are it will be dark. It only comes in black but there are six sizes available so there is perfect size for your dog.
Purple Lovely Heart my Dog Harness
The purple lovely heart my dog harness is a stylish padded dog harness. It has a fleece inlining to keep your furry friend warm. It's mainly catered towards small and medium dogs as it lacks the strength for larger breeds. If you want a harness that's a bit nicer looking than usual then this is a superb choice at a great price.
OneTigris Tactical Dog Vest
The OneTigris tactical dog best gets a mention because it's so tough, robust and has excellent features to keep your dog under control. It may not be flashy like the others but if you want one that gets the job done brilliantly then this is the one for you. It has almost the same features as the Julius-K9 but has waterproofing thrown in and a metal clip for extra safety.
Comes in one colour and only two sizes – large and small so be sure to check your dog's size before purchasing.
COA Cheap Dog Harness
If you want to try a harness but don't want to break the bank doing so then the COA cheap dog harness might be worth a shot. It may not be the best dog harness to stop pulling or the most comfortable dog harness but it will do the trick. It's padded, easy to put on and take off but may not be appropriate for long term use. Comes in three sizes and one colour – black. This is an ideal harness for small dogs.
Cheap Dog Harness
The Non-Pull Harness is an instant solution for dogs that pull when walked
It uses the 'squeeze and lift' theory that tightens on the dog when they pull on the lead. This will ultimately deter the dog from pulling and will return them to normal controlled walking. A sliding security cord lock prevents over-tightening
The patented chest mesh design allows unrestricted movement and the padded "Sherpa sleeves" provide additional comfort to eliminate rubbing while still keeping you in control
Lifepul harness
Possibly the best dog harness for large dogs, the Lifepul harness is a favourite at JugDog. It's straps on the front are larger and more padded than the others while it still retains its strength and durability on the top part. It's got a meaty handle and ring for your lead at the top and it pretty much ticks every box. Only comes in three sizes, medium, large and extra large so this isn't even an option as a harness for small dog.
This is a safe and comfortable option for your dog and at its very generous price one we recommend to at least check out.
Puppia Soft Harness
Perhaps one of the best harnesses for small dogs is the Puppia soft harness; It's been approved by veterinarians which is always a good sign! It's extremely comfortable thanks to its padding and fairly strong (we wouldn't recommend these for larger breeds, see above for them!). The harness puts no strain on the neck and allows any pressure or strain to spread evenly across the chest. We've used one of these on our Jug and due to it's adjustable strap it fits perfectly, so even if you have a 'chesty' breed such as a Pug or Jug then this should be fine.
Comes in a myriad of colours so there's definitely a fit for your taste out there!
Embark Active Dog Harness
We love this one at Jug Dog. The Active Dog Harness by Embark is a great harness for highly active dogs who need to be secure at all times without the risk of the harness slipping off them while pulling (it can happen). It's easy to get on in the first place by just slipping over your dog's head and then adjusting the head and neck. Stylewise it's also a nice looking harness which is a big plus and your dog will be turning heads on a walk. Lastly, the price point for this harness is excellent considering the high quality harness you'll get. One to consider for sure.
Best car dog harnesses
Most harnesses can be used in the car with an attachment which can clip on to the ring and attached to the safety belt, however there are specifically made car dog harnesses you can buy.
Sleepypod Clickit Utility Dog Car Harness
The Sleepypod Clickit Utility dog harness is a specifically made harness for car travel and one of the best rated harnesses out there. The 'wide webbed' design makes it secure and stops your dog from being thrown around in the car during a journey. What sets the sleepypod apart from the rest is the rigorous safety tests and safety passes it has received. Your dog will be just as safe as a human passenger with this outstanding car harness. We simply couldn't recommend this any more and should be classed as an investment rather than a purchase.
Looking for leads to go with your harness? Try the out:
Last update on 2018-04-22 / Affiliate links / Images from Amazon Product Advertising API