We continually strive to be a one stop shop for all your doggy questions, our next one is a question from Susan, 36, from Lincolnshire who asks "Can you take dog on buses? I can't drive and I want to visit some dog parks a bit further out from where I live, a taxi won't take me but will my local bus provider?" This is a great question which won't just affect Susan so we thought we'd do the research and find you the answer so that you and your pooch can have great days out knowing which bus routes and operators are dog friendly.
Which buses can dogs take?
We've taken a look at the information the various bus providers have in regards to these factors
Can guide dogs ride the bus
Can regular dogs ride the bus
Is there a charge for taking dogs on buses
Can dogs take the bus with restrictions
Are all dogs banned from the bus
Arriva
Arriva's policy is fairly straightforward and is partly dog positive. There is no charge for taking dogs on buses with Arriva and that includes assistance and regular dogs. However, allowing dogs to take an Arriva bus is at the absolute discretion of the driver which means that if the bus is packed or that driver simply doesn't allow dogs then your journey could end there.
You should consider calling the local Arriva office and asking the driver on the day if they'd take your dog to save some time.
Stagecoach
Stagecoach allow guide dogs and assistance dogs to take the bus at any time, non assistance and guide dogs are allowed to ride the bus at the absolute discretion of the bus driver.
You should consider calling the local Arriva office and asking the driver on the day if they'd take your dog to save some time.
First Bus (England and Scotland)
First Bus allow assistance and guide dogs to take the bus free of charge. Regular dogs are allowed to take a First bus at the driver's discretion so long as they are on a lead at all times and muzzled if they are likely to be dangerous.
Mega Bus
Mega Bus have a stricter policy and only allow guidance and assistive dogs on their journeys. These dogs should wear their harness or identification jacket when travelling so that passengers recognise the type of dog.
Strathclyde Partnership for Transport (Arriva Scotland West, Glasgow, Western Buses)
The SPT have given much clearer guidelines than most when it comes to whether or not can dogs take buses. Guide and assistance dogs are allowed unrestricted but other dogs are at the discretion of the driver on that journey. They may allow one dog per deck (dog must be on the upper deck), but they are not allowed on long distance motorway type journeys.
National Express
The National Express dog policy is to allow guide and assistance dogs only on their journeys. They do not offer any more information than that but if you do take your guide dog on a National Express bus then take their harness and/or identification jacket with you as a precaution.
Go-Ahead
The Go-Ahead group do not have clear guidelines online for their bus dog policy. What we have definitely found is that they do allow guide and assistance dogs on their coaches but there is no mention of regular dogs. As a large operator we have made the assumption that they do not allow regular dogs on; at best at the driver's discretion.
Translink
Translink have really given their dog policy some thought and it can be very confusing, let's take a look:
Other than guide/assistance pets, access with Translink is at the discretion of the driver
Pets are allowed free of charge
Only guide dogs and assistance dogs allowed before 09:30am
Only one pet at a time
Pets must be small enough to be kept under the seat, around the feet of the owner and provide no obstruction
All pets taking the bus must be clean, trimmed and on a leash at all times
All pets must be on the floor
Dogs deemed dangerous are not allowed at any time
We really appreciate Translink's effort here, despite looking as if they are being strict they are in fact being very clear which leaves less confusion for dog owners wanting to take a bus. Other bus operators take note!
What to consider before taking your dog on a bus
We have yet to see any bus operator that does not allow guide dogs or assistive dogs on their journeys, if you have one of these types of dogs do not worry whether your dog can take the bus. However, if you have a 'normal' dog this is where it gets tricky; not all operators allow them on and when they do there are some restrictions to consider please refer to the section specifically relating to that operator for detailed information.
The biggest factor for most operators is the 'driver's discretion' which means that they can make a personal judgement whether they think your dog is likely to cause discomfort or even danger for other passengers. Our advice from JugDog is:
Make sure your dog is on a good quality leash and a strong harness
If your dog is not well behaved around people do not attempt it
If you have a nervous dog then don't attempt it
Make sure your dog is clean and presentable
If you have a medium or larger breed consider a different method of travel
Consider adding a muzzle to your dog
Have treats at hand to keep your dog's attention
If you have very small dogs such as 'toy' breed consider a pet carrier or dog crate
Many people will wrongly assume a 'pitbull' type dog is dangerous, assume they will say no if you have one of these breeds
If it's a long journey ahead remember to make sure your dog is well fed (wet and dry dog food) and watered
If it's a hot day, consider not making the journey at all
Bring tough toys they can chew on quietly and in without moving around (not balls or toys like that)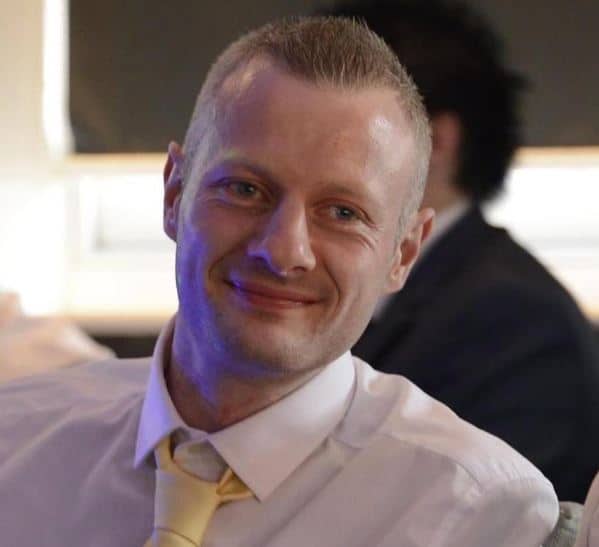 Ronnie is the JugDog site editor and a dog expert who has lived and worked with dogs his entire life. Living in St. Helens, UK with his wife son and Jug Dog Jeff Ronnie spends most of time researching the answers to the burning questions of the dog community as well as reviewing the latest and greatest dog products.